Does Improv Have a Place In Streaming Comedy? 'Middleditch and Schwartz' Show That It Might
Streaming services have become something of a haven for comedy: raunchy standup specials, offbeat sketch shows, and thoughtful sitcoms, but until today, live improv comedy had been a largely untapped medium for the platform. Netflix's Middleditch and Schwartz shows that longform improv can live on a streaming service.
What makes Middleditch and Schwartz so unique is the fact that it's the first time that longform improv comedy has reached a TV audience this way. Shows like Whose Line is It Anyway and Wild n' Out have shown short-form improv games-a format that should be familiar to anyone who's gone to a show at the Upright Citizen's Brigade or a local improv troupe.
Actors Thomas Middleditch and Ben Schwartz, both improv veterans from Chicago's Second City and New York's UCB respectively, create absurdly funny short two-man plays with a complete story arc based solely on stories that they get from the audience at the top of each performance.
The duo take the mundane stories about wedding planning, law school finals, and going for a job interview and make compelling and hilarious stories filled with multiple (admittedly sometimes confusing characters). Where a solid hour-long standup set from a comedian can take years for even a pro to write, Schwartz and Middleditch can silly their way through with gravitas.
What's most fascinating is feeing how the pair can make random details spring up throughout the story. In the second story, a passing mention that Harrisburg, Pennsylvania might have aliens sculpts the whole story from a scene in the world's silliest law school class trying to figure out how online contracts work to a heartwarming tale about a family sacrificing their Yu-Gi-Oh loving son to an extraterrestrial.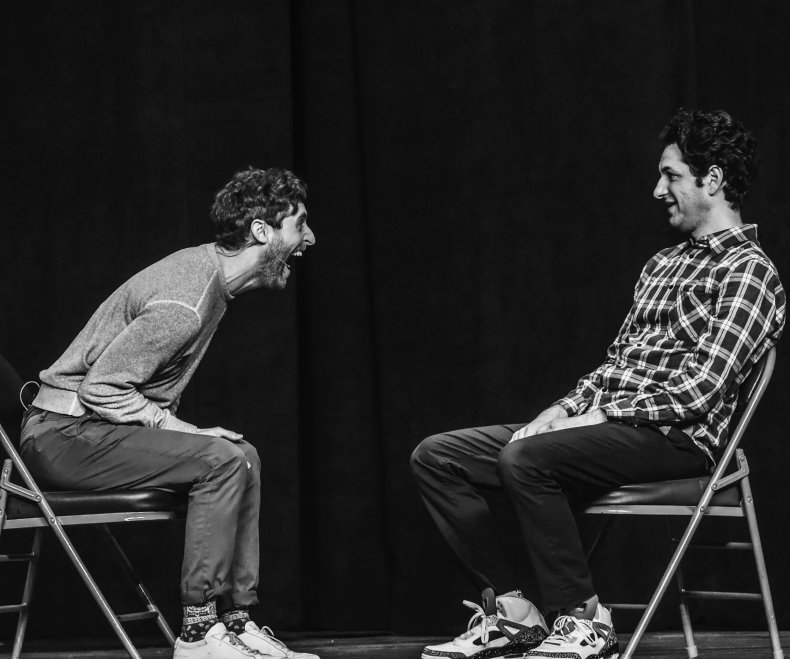 What's perhaps most entertaining is seeing Schwartz and Middleditch trying to figure out each character as they go. During the "Parking Lot Wedding" show, there's a moment when Schwartz introduces himself, even though Middleditch had already assigned the character a name. The pair struggle to remember what Schwartz's name is before the crowd yells it out. The whole show is spontaneous, but moments when the two are trying to help the other out are the most amusing.
The moments when the two break are much funnier than when they riff on a terrible best man at a wedding or an alien living in a law school closet. This happens the most in the third episode, "Dream Job."
After learning that an audience member is interviewing for an internship with Saturday Night Live, the pair parody the dystopian reality of automated video job interviews that so many millennials are familiar with. Middleditch portrays a Lorne Michaels-like character at various points in the sketch, but about halfway through Middleditch breaks. "This character makes me nervous," he says. It's a human moment in an otherwise ridiculous show.
What makes the breaks funnier is that they're more prone to make the performers laugh. The fact that the two have performed so many ridiculous characters like the clown-killing "short" Paul or the overly excited Maryland law student that they're mostly unphased by ridiculous characters. Seeing Schwartz break out of a scene after Middleditch mimes wiping his rear end to ask, "How do you wipe in real life? For real," has the whimsy of two children playing pretend, rather than two professional improv partners.
In the same scene, the characters play Rock, Paper, Scissors, but it's really Middleditch and Schwartz playing. Schwartz breaks to tell Middleditch that he thinks he will actually beat him, and the two share the exchange as friends, and Middleditch seems genuinely afraid for the made up consequences of his loss, and the fact that it's all pretend makes the moment authentically funny, even though the stakes are nonexistent.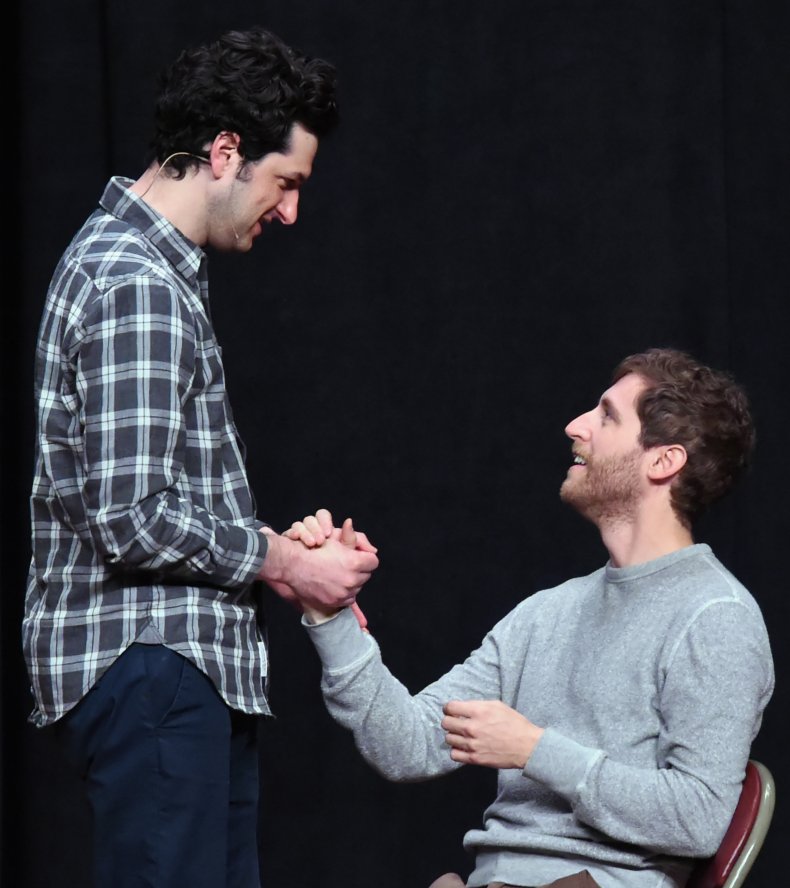 Middleditch and Schwartz works because it has the in-the-moment feel that live improv is supposed to have. It's not a perfectly planned sketch show like I Think You Should Leave or a tight hour of comedy like John Mulaney's Kid Gorgeous. It's silly and strange, and will hopefully open the door for new and more offbeat improv to come to the platform.