Netflix Movies 2021: These Are All the Original Films the Streamer Is Teasing With New Promo
Entering 2021, many people made goals to achieve something each week. Some of our Newsweek staff is committed to reading 52 books. Others have vowed to incorporate healthy living into each week, be it through workouts or meal prep. And Netflix has blown us all away with a promise to release at least one original film per week in 2021.
The streaming platform released a trailer on Tuesday that teases 27 of the anticipated releases, though the full list sports many more titles (and likely many left to be announced). There's still much to be learned about all of the below films. Some release dates haven't been announced, and trailers have yet to imply the plots. We've outlined what we know of each of the films Netflix is already talking about below.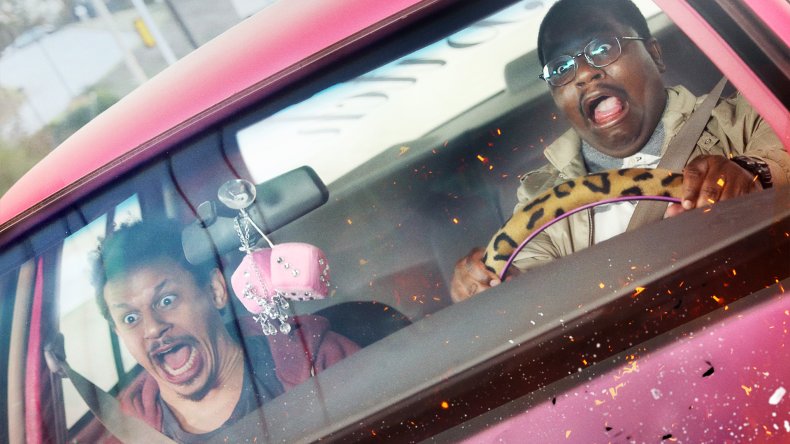 Red Notice
Ryan Reynolds, Gal Gadot and Dwayne "The Rock" Johnson will star in this crime film that's centered on a global art thief scandal. There's no release date or trailer for this one yet, so it may be a while before we know the action-packed outcome.
The Harder They Fall
This Western promises action, too, when one man's sworn enemy is released from prison. Regina King, Jonathan Majors and Idris Elba are just a few of the greats who will show up for an Americana throwdown.
Thunder Force
With Octavia Spencer and Melissa McCarthy, there's sure to be unforgettable moments of action and comedy. Thunder Force features at a society where heroes and villains walk among the people of Earth. And estranged childhood friends may have the key to protecting the places they love from total disaster.
Bruised
Halle Berry will not only star in this emotional film, but for the first time she also directs. Berry plays an MMA fighter-turned-mother who is struggling with a custody battle and the future of her career.
tick, tick...BOOM!
Lin-Manuel Miranda, Vaness Hudgens and Andrew Garfield will take the screen in this musical adaptation of Rent creator Jonathan Larson's stage musical that follows a waiter working toward his big break. Will Jon, a music-loving writer with a dream of making his own name on Broadway, be able to complete his musical script? Or will his life crumble before him as he turns 30 and tests his own patience, and that of those around him?
The Kissing Booth 3
This teen favorite franchise will pick up with Joey King and Jacob Elordi facing college in a whole new way. King's character, Elle, got into two of her dream schools. Attending each of one is her boyfriend and her best friend. To complicate things, they're brothers. Which school will Elle choose, and will her relationship last?
To All the Boys: Always and Forever
In the same vein, Lana Condor and Noah Centineo return for one of the most talked-about Netflix film franchises yet. The third installment of To All the Boys I've Loved Before will focus on college and life plans, too. When Lana's character, Lara, travels, her perception of life and her future may change. Will her relationship with Peter follow?
The Woman in the Window
Based on the thriller novel of the same name, The Woman in the Window, starring Amy Adams, focuses on a woman confined to her home with an anxiety disorder. Stuck inside with agoraphobia, Adams' character finds comfort in observing her neighbors from her New York City window. When she witnesses heinous acts, her life changes.
Escape From Spiderhead
One of the most unique plot lines in Netflix's new lineup features Chris Hemsworth, one of two inmates stuck in a prison where they're subjected to scientific experimentation. The story will see the men examining their own past when they're given "emotion-altering drugs," according to a Netflix press release.
YES DAY
This film follows Jennifer Garner and her fictional family as they give their children full control of their plans for an entire day. The parents can't say no, and the kids have a lot in store.
Sweet Girl
Jason Momoa is a broken father and widow in Sweet Girl, a film that will follow his wife's untimely murder and the father's last hope to protect his motherless daughter.
Army of the Dead
This zombie film may be the opposite of what you'd expect. Instead of running from danger, this group of survivors chooses to venture into zombie territory in order to pull off a dangerous heist.
Bad Trip
Eric André, Lil Rel Howery, Tiffany Haddish, Michaela Conlin travel across America pulling pranks on unsuspecting bystanders. Prepare to laugh and cry tears of disbelief at some of the stunts they attempt to pull off.
O2
A woman, seemingly without memory, wakes up inside a confined box in a medical unit. She is short on oxygen and hope but must find a way to piece together her past—her way out.
The Last Mercenary
A tough dad and a confused son is the center of The Last Mercenary. The film will see a former secret service dad attempt to free his son from being wrongfully accused of huge crimes against the French government.
Kate
It's not often you begin a movie knowing the lead character is going to die. At least, that's the plot of Kate. A "criminal operative" is poisoned, Netflix writes in a press release, and she has only 24 hours to get back at her enemies who have seemingly killed her.
Fear Street
This trilogy of films centers on R.L. Stine's book series of the same name. A group of teenagers could be the next fatality in a generation-spanning curse of sorts that inflicts tragedy on their town. So, can they change their own fate and the fate of those who will come after them?
Night Teeth
You're definitely going to be questioning your next Uber ride after Night Teeth. A driver meets two women during a night out in Los Angeles. When he drives them home, they turn out to be horrible passengers.
Malcolm & Marie
Zendaya stars in this Hollywood love story. When success finds a new-to-film couple, they celebrate their successes. But nothing is as easy as it seems. One night of celebration turns quickly when their relationship is challenged by their conversations.
Monster
Monster, based on a book of the same name by author Walter Dean Myers, tells the true story of Steve Harmon, who was once a successful film student. Harmon, who will be played by Kelvin Harrison Jr., shocked his Harlem community when he was charged with murder at just 17 years old.
Moxie (March 3)
This film directed by Amy Poehler may be your new coming-of-age obsession. A high school student dives into her mom's teenage past of rebellion and finds inspiration to change her own school. A 16-year-old student named Vivian ghostwrites a zine and distributes it at school.
The White Tiger (January 22)
Priyanka Chopra Jonas is featured in this Netflix original film that follows a poor Indian man as he climbs the ranks in wealthy society and business. The White Tiger is inspired by the book of the same name, written by Aravind Adiga.
Double Dad
Double Dad takes a page out of Mamma Mia!'s book with a father-search for the ages. A teen hasn't spent much time outside of her hippie commune, but she takes it upon herself to find out who her father is. To her surprise, there are two possibilities.
Back to the Outback
A group of captive Australian animals plans their escape from the reptile house at a local zoo. They're sick of being entertainment for humans, so the creatures plan a trip across Australia to find their own freedom. Many of the animals are surprised when their zoo enemy, a koala, decides to come with them.
Beauty
This music-centered film follows the life of a young Black woman who wants to make it big in the music industry. To find fame, though, she's asked to compromise some of her unique characteristics.
Don't Look Up
One of Netflix's largest celebrity casts thus far—including Leonardo DiCaprio, Jennifer Lawrence, Rob Morgan, Jonah Hill, Tyler Perry, Timothee Chalamet, Ron Perlman, Cate Blanchett and Meryl Streep among others—will follow two novice astronomers who are responsible, somehow, for warning the entire world of impending galactic doom.