Top 10 Most-Watched Netflix Movies in August 2021
August 2021 may have seen theaters try and bounce back with movies like The Suicide Squad, Free Guy and Candyman, but many preferred to stay at home and fire up the latest Netflix movie.
To feed those viewers, Netflix had something for everyone. Horrors like Black Island and Blood Red Sky were on the Netflix top 10 most-watched charts alongside teen romances like The Kissing Booth 3, kids animation Vivo and throwback action flickThe Last Mercenary?
But which of these was the most watched this month? Read on to find out.
The top 10 most-watched movies on Netflix in August 2021.
10. Black Island
Spooky season may still be a month away, but Netflix ramped up its horror movie slate in September starting with Black Island. It's a chiller about the strange goings-on on an island, linked in some way to an orphaned student and the mysterious teacher he is falling in love with.
9. Rurouni Kenshin: The Beginning
The timeline of these live-action manga adaptations might be a bit confused by the time of this sequel/prequel, but that has not stopped fans from enjoying another high-octane installment in the franchise.
8. Blood Red Sky
At this point, skeptical horror viewers may think we have told every vampire story there is to tell. But then Blood Red Sky comes along and mixes vamp tropes with a plane hijacking drama to create something that took Netflix accounts by storm this month.
7. Aftermath
Every month, Netflix likes to release at least one movie with a massive crazy plot twist to get the internet talking—a Deadly Illusions, for example. The latest addition to this twist canon is Aftermath, a thriller based on a true story about some very weird things happening to a couple after they move into a new house.
6. Sweet Girl
Sweet Girl may have only just been released to negative reviews, but Jason Momoa fans have managed to get the movie to the top of Netflix top 10 charts across the world. Anyone who likes the idea of watching Aquaman himself as a grieving father on an ill-advised revenge mission can stream it now.
5. Beckett
Not a remake of the 1964 Oscar-bait historical drama starring Richard Burton, but a 2021 thriller starring John David Washington fresh off his role in Tenet. This new movie sees him in plenty of trouble across glamorous European locations, though this time he is an American tourist being hunted down by Greek police.
4. Resort to Love
Remember Christina Milian, the '00s singer behind hits like "Dip It Low" and "Between Me and You" and 2013 Dancing with the Stars contestant? Since her pop career faded, she has become an actor, with her latest starring role sees her playing a singer who takes a gig at a hotel where her ex-fiance is staying after her career goes into a nosedive.
3. The Last Mercenary
Viewers may associate him more with the straight-to-VHS days, but Jean Claude Van Damme has made it into the streaming era with The Last Mercenary, in which he plays a French secret service agent turned (you guessed it) mercenary—but a mercenary with a taste for bizarre wigs.
2. The Kissing Booth 3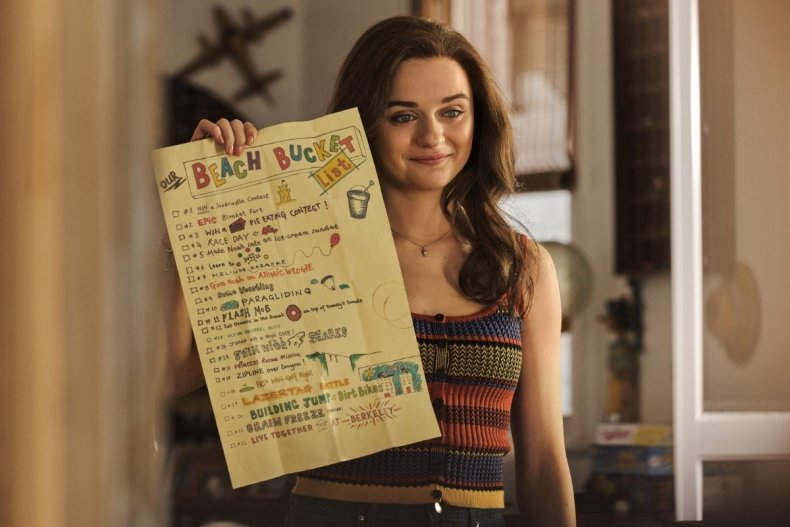 Netflix somehow managed to spin The Kissing Booth, a forgettable rom-com revolving around a high school "kissing booth" (which isn't a real thing) into a trilogy about a teen love triangle. The third film sees the central trio head to college, but that does not stop them from having plenty of romantic drama.
1. Vivo
Jason Momoa, Joey King and Jean Claude Van Damme may have fought a good fight to be the most-watched movie on Netflix this month, but ahead of them all was a small tropical rainforest mammal called Vivo. Lin-Manuel Miranda plays this musician kinkajou in an animated comedy that has been charming children across the world.