In Netflix's 'Murder Mystery,' Jennifer Aniston and Adam Sandler Reunite for First Time Since 2011
The new Netflix movie Murder Mystery reunites Adam Sandler and Jennifer Aniston for the first time since 2011's Just Go With It. A combination whodunnit and romantic comedy, in Murder Mystery the comedic duo play husband and wife Nick and Audrey Spitz on a belated honeymoon to Europe.
In Murder Mystery, premiering June 14, Sandler plays a New York City detective and Aniston his mystery-loving wife. In the first trailer, she can be spotted reading a novel by Mignon G. Eberhart, who wrote dozens of mystery novels from 1929 to 1988. Her most famous character was Sarah Keate, a nurse who solved mysteries with her boyfriend, Detective Lance O'Leary—a possible source of inspiration for Sandler and Aniston's dynamic in Murder Mystery.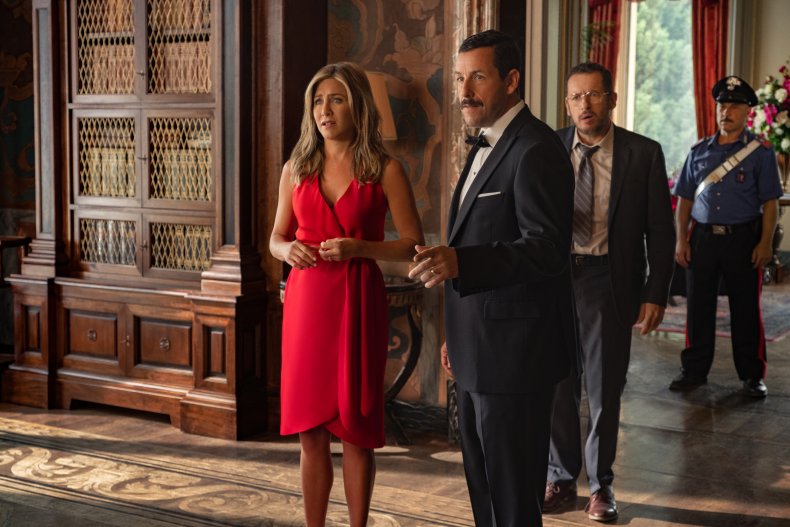 After the posh Charles Cavendish (Luke Evans) invite the couple to the yacht of an eldery billionaire, they find themselves taking the fall when the wealthy man is murdered. The trailer is loaded with allusions to murder mystery tropes, including a possible reference to Agatha Christie's The Body in the Library when Aniston calls out a plot point from the made-up murder mystery novel Death in a Library.
Aniston is a fan of the mystery genre, the actor told Today: "I love Agatha Christie." Together with Sandler, the two described how they met and their working relationship.
The duo met before either had seen their greatest successes—years before the premiere of Friends. Sandler recounted their first meeting, in a diner, to Today. "30 years ago, at breakfast, she was chewing louder than anybody at the restaurant." Aniston and Sandler have been friends since, but rarely find chances to work together.
In their last collaboration, Just Go With It, Sandler and Aniston played best friends and coworkers, who must pretend to be married during a vacation to Hawaii in order to keep up Sandler's character's lies. In the end, the two discover that the fake marriage has engendered real love. It ends with a wedding.
While Murder Mystery is more of a comedic thriller, complete with Sandler firing a pistol at a mysterious masked man, it shares Sandler's penchant for luxurious resort locations, this time visiting the Italian resort town of Portofino.
"Anywhere I can be in a bathing suit," Sandler said. "I throw the Speedo in the wash, get it as small as I can get."
Murder Mystery is Adam Sandler's sixth movie with Netflix—after The Ridiculous 6, The Do-Over, Sandy Wexler, The Week Of and The Meyerowitz Stories—and will be available for streaming on June 14.