When Netflix released the original feature film Bird Box last December, it was all anyone could talk about on social media. It even sparked the dangerous trend of people wandering around outside while blindfolded—dubbed the Bird Box Challenge—as the film's lead actor Sandra Bullock does throughout the thriller.
The full scale of Bird Box's impact has finally been revealed.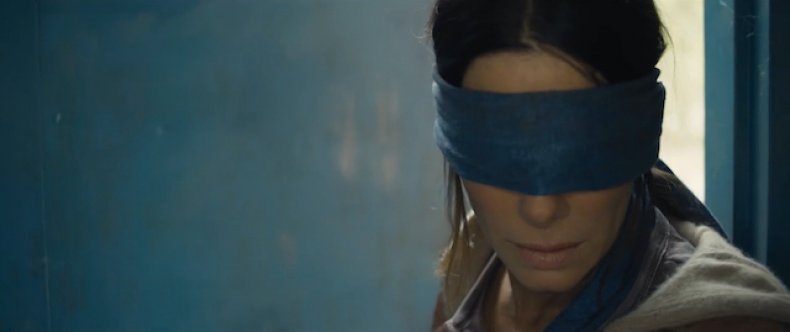 Netflix revealed more than 80 million subscribers watched the movie. That's nearly half of the platform's 158 million worldwide subscriber base. The data was included in Netflix's third-quarter earnings report, released Wednesday, and included the figures for viewership across original films and TV shows from October 2018 to September.
Bird Box wasn't just the most-watched film on Netflix over the course of a year, it was the most-watched title overall. The second overall ranking original was Murder Mystery, a comedy featuring A-listers Adam Sandler and Jennifer Aniston, which received more than 73 million views, followed by the award-winning series Stranger Things with more than 64 million views.
Other titles listed among the top 10 films included Triple Frontier with 52 million views, The Perfect Date with 48 million views, Tall Girl averaging at 41 million views, The Highwaymen and Secret Obsession tied with 40 million views, Always Be My Maybe with 32 million views, Otherhood with 29 million views and the Frye Festival documentary, The Greatest Party that Never Happened, receiving roughly 20 million views.
For original television series, following the highest-ranking Stranger Things came The Umbrella Academy with 45 million views, La Cases de Papel with 44 million views, both You and Sex Education with 40 million views, Our Planet with 33 million views, Unbelievable with 32 million views and Dead to Me, When They See Us, and Elite averaging 30 million, 25 million and 20 million views, respectively.
Netflix only began disclosing viewership stats for programming in January, and it's worth noting that the streaming giant doesn't follow the Nielsen or box office metrics typically followed by broadcasters and movie studios. The figures also may not be a full representation of the company's actual most-watched titles as it does not include licensed content. "We select a few titles to highlight each quarter, but they are not meant to be a comprehensive list of top performers," a Netflix rep confirmed to New York Times Thursday.
Regardless, the current top 10 movies and shows included in Netflix's latest earnings report hint at the potential rewards of projects featuring an all-star cast, considering the highest-ranking titles include some of Hollywood's most elite players.
There's a chance the listed top 10 could be bumped from their spots with the release of more films and shows featuring Hollywood A-listers like El Camino: A Breaking Bad Movie, featuring Aaron Paul, and Meryl Streep's Netflix debut The Laundromat, both of which released this month.
More heavy-hitters are on the pipeline, including George Clooney, who will star and direct in the Netflix film adaptation of Lily Brooks-Dalton's novel, Good Morning, Midnight, which started production in October, as well as multiple Ryan Murphy-directed series like Hollywood, starring Darren Criss, and Ratched, featuring Sarah Paulson, slated for a 2020 release.