Netflix Shades 'Roseanne' and ABC: Watch 'One Day at a Time' 'if You're Suddenly Looking For' a Family Show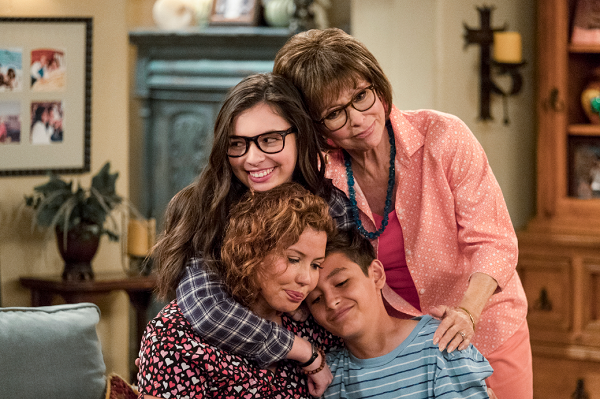 Roseanne is canceled and now you're out of a PG-sitcom that tackles social issues from the perspective of an everyday, average Joe, working-class family's point of view. Fret not, Netflix has a solution.
In an effort to capitalize on the all the Roseanne fallout, the streaming network suggested on Wednesday that fans mourning the loss of the ABC show could heal their hearts with a similar sitcom, currently available on Netflix: One Day at a Time.
"Reminder: @OneDayAtATime is a sitcom about a tight-knit, working class family that tackles extremely topical social issues in a smart and innovative way. Ya know, if you're suddenly looking for a show like that…" the network tweeted.
The series, which stars Justina Machado as lead protagonist Penelope, follows three generations of a Cuban-American family as they face the day-to-day victories and struggles of life in America. Machado's character, the matriarch of the family and a military veteran, "journeys through the triumphs and tribulations that come with raising two strong-willed, mega-millennial children, all the while enlisting the 'help' of her old-school mother and her building manager-turned-invaluable confidante," according to the show's synopsis.
The series touches on a number of topical elements of today's society, from single parenthood, divorce, LGBTQ issues, and racial disparities to striving for more on a blue-collar budget.
Isabella Gomez and Marcel Ruiz play Machado's TV-children Elena and Alex respectively, while Rita Moreno stars as Penelope's mother Lydia.
The 13 episode comedy series first debuted in January 2017.
Despite initial plans to ax the series, Netflix announced it would produce a third season of One Day at a Time after fans and the National Hispanic Media Coalition rallied together and issued an open letter pleading for the sitcom's renewal, according to a Deadline report in March.
Calling the series "a guiding light—the true north in and for an industry grappling with issues of diversity, equity, and inclusivity," the NHMC said the show aided in "shifting the public narrative of Latino Americans" while also "setting the standard for positive and equitable representation of Latinos in television."
Roseanne was canceled on Tuesday after ABC's star comedian Roseanne Barr posted a racist tweet in reference to President Barack Obama's former Director of Public Engagement and Intergovernmental Affairs Valerie Jarrett.