'The Princess Switch 3' Director On How Vanessa Hudgens Played Three Characters
It's the most wonderful time of the year, and by that we mean when Netflix drops all its latest Christmas content.
This year fans will be treated to not one, not two but three characters played by Vanessa Hudgens in The Princess Switch 3: Romancing The Star.
Hudgens reprises her roles as Margaret, Stacey and Fiona, and this time the gang is tasked with solving a heist.
But how exactly did the makers of the movie pull off this modern take on The Prince and the Pauper? Director Mike Rohl explained to Newsweek.
How Did Vanessa Hudgens Play Three Characters in the Movies?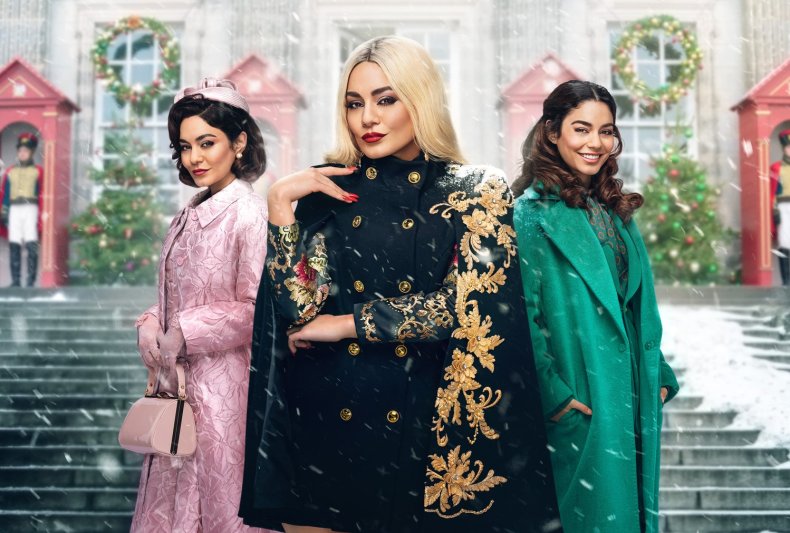 "You could say the tripling and twinning was the most challenging part of the movie to shoot, and you would be right," Rohl told Newsweek.
He commended Hudgens for her commitment to all three of her characters and revealed just how much work it took to pull off.
"Playing one character is a huge responsibility. Playing three characters elevates that responsibility profoundly," he said.
"The workload and the energy it takes to succeed becomes a challenge that needs to be appropriately managed.
"Vanessa is a very experienced professional who prepares and delivers her roles to a very high standard."
To successfully act out all three of her parts in scenes together, Hudgens required three body doubles.
Each marked out one of Hudgens' characters with Charlotte Coggin standing in for Stacey, Alexa Lee marking Fiona and Rebecca "Becky" Wong as Margaret.
"During the blockings, Vanessa, me, and a few key crew members would work out all her characters' actions," Rohl explained.
"The three doubles would take notes and prepare to repeat all of her moves and mannerisms."
It has been done in this way since the first movie in the franchise as Rohl continued: "We learned the best way to attack the doubling and tripling was to shoot out each character entirely in a scene before moving on to the next one.
"This allowed Vanessa to deal with her workload in small packages that were easier to track and focus on. My job was to support her through discussions related to each character's goals, arcs and tactics.
"I commend her dedication to taking responsibility for keeping each character distinct and relatable and, above all else, straight in her head."
The scenes in which Vanessa plays all three characters are then finally brought to life in post-production, using visual effects techniques to blend them all together.
The Princess Switch 3: Romancing The Star is available to stream on Netflix now.