Yoo Young-chul, a South Korean serial murderer known as the "Raincoat Killer," is the focus of a new Netflix documentary series titled The Raincoat Killer: Chasing a Predator in Korea.
In the early 200s, Yoo killed nearly two dozen people, some of whom he bludgeoned to death with a hammer.
The three-part series from American director/producer Rob Sixsmith unpacks the case through interviews with various people who were involved in the investigation.
The documentary features testimonies from victims' families, as well as detectives, prosecutors and forensic experts. Other officials featured include profiler Kwon Il-yong, who analyzed the mental state of Yoo at the time, and Kim Hee-sook, who led the examination of Yoo's studio apartment at an office/residential building (known as an "officetel" in Korean), and burial places of the victims.
Who Is 'Raincoat Killer' Yoo Young-chul?
According to a contemporary report in Korea JoongAng, Yoo was an unemployed 33-year-old man with a criminal record when he was arrested in July 2004.
Yoo confessed to a series of murders that took place from September 2003 to July 2004, targeting the elderly and female massage parlor workers.
Records at the time showed the murderer was convicted on 14 separate counts of robbery and rape since high school.
Yoo got married to a masseuse back in 1992 and they had a son together. His wife was reported to have divorced him in 2002 while he was serving time for a rape conviction.
After he was released from prison in December 2002, he started dating a woman but she also left him after learning of his criminal history, the Korea JoongAng Daily reported in July 2004.
He was a self-proclaimed "smart person" who claimed to have an IQ of 140 and was known for faking ailments to try to get police to lower their guard, such as during his December 2002 arrest. At the time, he pretended to have an epileptic fit and attempted to make an escape after he was hospitalized.
Yoo also reportedly feigned having epilepsy during his arrest in July 2004, and managed to briefly escape before he was arrested again 12 hours later.
Among the items police found at his residence at the time of his 2002 arrest were various DVDs of Korean films, including Public Enemy (Gonggongui jeog), which sees a detective track down a banker who murdered his parents.
The authorities were also reported to have found a collection of stories and articles about firearms, according to a July 2004 Korea JoongAng Daily report.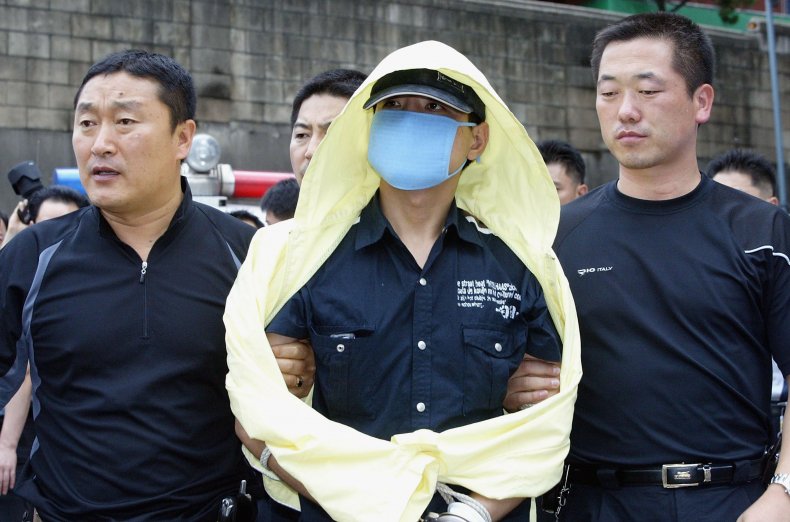 Yoo Young-chul's Serial Murders
At the time of his 2004 arrest, Yoo claimed to have killed 26 people.
Prosecutors in Seoul also said at the time that Yoo claimed he ate some of the internal organs of his victims to "cleanse his spirit," in a statement to police.
The Third Criminal Division of the Seoul District Public Prosecutors Office said: "Yoo testified that in order to cleanse his spirit, he ate some of the internal organs from the bodies of four of his victims. We have yet to secure evidence of this, however," the Chosun Ilbo reported in August 2004.
"It is difficult to believe Yoo's statement because serial killers tend to exaggerate," prosecutors noted at the time. "Yoo thought if he hadn't been caught, he would have murdered 100 more victims. He doesn't show any particular signs of reflection on the nature of his serial killings."
Prosecutors also revealed Yoo planned his crimes after reading an article about another South Korean serial killer, Jeong Du-yeong, while he was in prison on rape charges. Jeong killed wealthy people in different parts of the country from June 1999 to April 2000.
Following his release from prison in September 2003, Yoo was reported to have purchased weapons and tested his crimes on dogs before his first killing on September 24 that year.
His first victims were an elderly married couple who were both university professors in Seoul. Police said at the time that Yoo confessed to bludgeoning them in the head with a hammer on September 24, 2003.
Just over two weeks later, he snuck into a home in the South Korean capital and killed three other elderly people using a hammer, while in November 2003 he broke into two more houses in the city, murdering several elderly residents.
After then, Yoo moved into a studio apartment in western Seoul and called 11 masseuses to his residence and killed them. He was reported to have cut up their bodies and torn off their fingertips to prevent them from being identified, before he stuffed the body parts into plastic bags and them in different mountainous locations around Seoul.
Motives Behind Yoo Young-chul's Killings
When Yoo was young, he lived near a wealthy home. But he felt discouraged because of "his family and economic environment," and "those feelings transformed into hostility against the rich," prosecutors said.
The serial killer allegedly murdered women because his ex-lover betrayed him. Prosecutors also said that he killed women who had jobs similar to that of his previous lover "out of a retaliatory spirit."
A psychologist who interviewed Yoo at the time explained: "Yoo is not mentally ill. But he shows typical signs of an anti-social disorder in which individuals establish their own unique belief systems on distrust in social and moral norms."
Where Is Yoo Young-chul Now?
In December 2004, Chief Judge Hwang Chan-hyeon from the Seoul Central District Court Criminal Settlement Division 21 sentenced Yoo to death, the court's maximum sentence, for murdering 21 people.
He has since been held at a detention center, with his death penalty confirmed but not yet implemented.
As of November 2019, Yoo was known to be among around 60 death row inmates whose penalty had not yet been executed.
According to a December 2007 report by South Korea's Yonhap news agency, there has been a hold on death penalties in South Korea since the presidency of Kim Dae-jung, the late Nobel Peace Prize winner who began his term in 1998.
Capital punishments continued to be withheld under the following presidency of Roh Moo-hyun from 2003 to 2008.
The last time the death penalty was carried out in the country was back in December 1997 during the administration of former president Kim Young-sam.
The Raincoat Killer: Chasing a Predator in Korea is available to stream on Netflix now.