Netflix Scam Email: Phishing Message Seeking Updated Payment Info Reported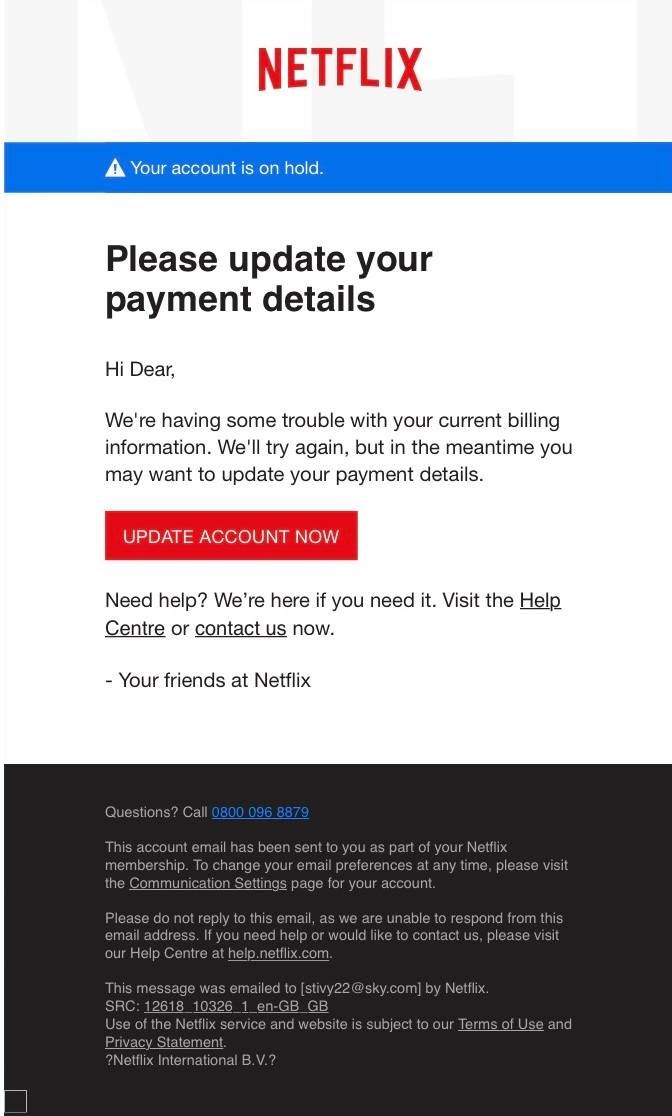 When it comes sharing personal information online, it's hard to decipher what's legitimate and what's a potential scam. A "new" Netflix email scam is making the rounds, according to one police department in Ohio.
The "Netflix" scam email asks users to "please update your payment" details with a notice that your account is on hold.
"Here's an example of an email phishing attempt that I received," Ohio's Solon Police Department wrote. "Criminals want you to click the links, so that you voluntarily give your personal identifying information away. It is very successful. Don't put your guard down. Contact the source of the email by another method that you trust, to make sure your accounts are maintained. Don't click the links. The links could also be a way to install malware on your computer."
While there are no official numbers of how many people have received the email, phishing attempts for any major company is common, and Netflix says users need to be vigilant in protecting their personal information.
In a statement to Newsweek, Netflix said, "We take the security of our members' accounts seriously, and Netflix employs numerous proactive measures to detect fraudulent activity to keep the Netflix service and our members' accounts secure. Unfortunately, scams are common on the internet and target popular brands such as Netflix and other companies with large customer bases to lure users into giving out personal information."
According to Netflix, the company would never ask users for personal information via email. "Personal information" includes credit card numbers, payment information, social security numbers or a member's account password.
"Netflix may email you to update this information with a link to our website, but be cautious of fake emails that may link to phishing websites," the company says. "If you're unsure about a link in an email, you can always hover your cursor over the link to see the linked URL at the bottom of most browsers."
Netflix said there are several ways to keep your personal information safe. Use a unique password that you update regularly; be aware of phishing attempts; report suspicious activity; sign out of unused devices; and report any flaw to the company.
Other signs to watch out for are informal intros, like "Dear sir" or "Hello," without names attached, grammatical mistakes or anything that seems out of place.