Netflix is finding new ways to innovate the way we watch its movies and television programs—and this time Seth Meyers is to thank.
The streaming service confirmed to Newsweek Monday that Meyers' new stand-up special Lobby Baby will have a button allowing viewers to skip jokes about politics, which, invariably, will be at President Donald Trump's expense.
The innovation follows in the footsteps of Netflix's interactive movie Black Mirror: Bandersnatch, which allowed viewers to effectively create their own plot by choosing scenes they wanted to watch.
The idea of a "skip politics" button was something Meyers' himself thought up, the comedian told CNN. "It dawned on me that because it was on Netflix, there would be this opportunity to put in technology that would allow people to skip it. It was a way to build in the response to anyone who would say, 'Oh, let me guess there's going to be jokes about the president.'"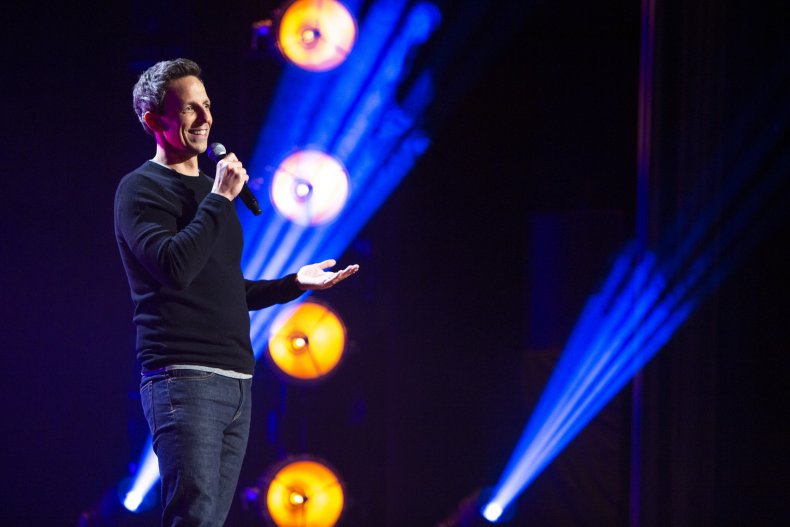 According to CNN, the button will work in a similar manner to the "skip intro" button that appears at the bottom of the screen and allows users to skip the title sequences of certain programs on Netflix.
Robbie Praw, Netflix's director of stand-up comedy, told CNN "we're thrilled [Meyers] was able to take advantage of the Netflix experience in such a funny and innovative way."
The button, said Meyers, is meant to be "another joke" in the comedy special and he doesn't expect that viewers will actually "skip politics." But the option is there.
Seth Meyers: Lobby Baby, which premieres Tuesday, will extend some of the Trump-themed comedy seen on NBC's Late Night with Seth Meyers.
The former Saturday Night Live star, like many of his late-night talk show compatriots, has managed to produce plenty of material from the Trump presidency over the last three years.
Most recently, late-night monologues have been dominated by the House of Representatives' impeachment inquiry into Trump, stemming from a phone call with Ukrainian president Volodymyr Zelenskiy in July. Trump is accused of withholding military aid to Ukraine and pressuring Zelenskiy to investigate former Vice President Joe Biden and his son Hunter for corruption.
Trump has denied the claims and has publicly insisted it was a "perfect" call.
"Stop saying 'perfect!' When you over-compensate like that it only makes you sound guiltier," Meyers quipped last week after Trump again described the call as such.
This article has been updated to reflect Netflix confirming the "skip intro" feature to Newsweek.