Netflix Streaming Doc on Blockbuster's Demise Leaves People Pointing Out the Irony
Netflix will stream a documentary about the last Blockbuster movie rental store in a move Twitter users are calling "ruthless," as they react to the news with jokes and memes.
On March 15, the streaming platform will air The Last Blockbuster, a documentary about the last remaining Blockbuster store in Bend, Oregon, which was initially released in July 2020.
Blockbuster once had around 9,000 stores worldwide and in 2000, the company had the opportunity to buy Netflix for $50 million. Former Blockbuster CEO John Antioco turned down the offer. As of April 2020, Netflix was worth $194 billion. In 2010, Blockbuster filed for bankruptcy protection, and now only one retail store remains.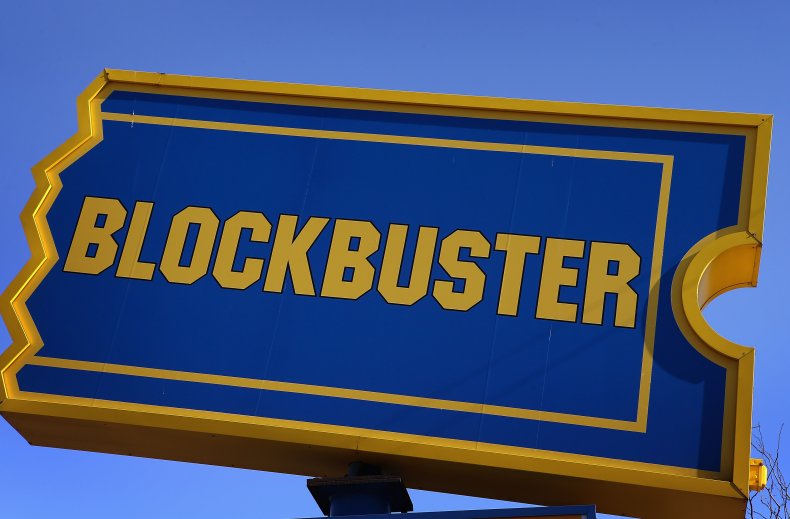 The irony of Netflix streaming a documentary about the downfall of Blockbuster is not lost on the team behind the movie.
The Last Blockbuster's Facebook page said: "A lot of people know that Blockbuster had the chance to buy Netflix early on and they passed on the opportunity... In an ironic twist of fate, our movie The Last Blockbuster is coming to Netflix one week from today."
The post added: "We are beyond excited for people to get to see this tribute to era of home video on the world's largest streaming service. Just don't forget to rewind it when you're done watching it and bring it back by noon on Wednesday."
Twitter users have reacted to news of the documentary being released on the streaming platform by labeling Netflix "evil" and "ruthless" for telling the story of the downfall of a company they believe Netflix is responsible for.
Twitter user @itskeyon said: "This so evil cause they the reason why blockbuster out of business," in a tweet that has amassed more than 82,000 likes.
Twitter user @BrieBines said: "Is it evil or a full circle moment? Blockbuster had the opportunity to buy Netflix and they passed," and attached a GIF of drag queen Tatianna saying "Choices."
TV writer Eric Haywood said: "The documentary is just gonna be 90 minutes of Netflix standing over Blockbuster's dead body holding a smoking gun"
Twitter user Joe Ali said: "Netflix been smoking on that blockbuster pack for years and decided to make a movie about it. Ruthless"
Culture critic Clarkisha Kent said: "The collapse of Blockbuster was BIBLICAL I can't wait to watch this"
Twitter user @MissSamz said: "Blockbuster should have bought Netflix when they had the chance" and attached a meme of Zach Galifianakis laughing.