Netflix Thanksgiving Movies 2020: What to Watch
Thanksgiving is too often the forgotten holiday in American culture. After Halloween, we shift to an incessant obsession with Christmas, something that's reflected in retail store displays, radio programming and television advertisements. Unfortunately, the trend also reaches to streaming platforms like Netflix, which don't really have any Thanksgiving-themed films for you to watch on the holiday.
Netflix seems to pride itself on introducing a plethora of cheesy holiday films to its library as early as October. One, in particular, which was released in 2020, may be the closest you'll come to finding a Thanksgiving-themed holiday film. Holidate, which is rated TV-MA and definitely isn't suited for family viewing, covers just about every holiday. That might seem like a cheat, but it still makes it a possible contender for your Thanksgiving movie night.
Aside from that, though, you may be out of luck if you'd like to watch a family gather around a Thanksgiving table on Netflix. Instead, here are some films that embrace the idea of family as you connect with your loved ones, digitally or in person, for your 2020 Thanksgiving celebrations—assuming that Holidate isn't quite your style. Some of our selections are appropriate for all ages, while others should be kept to an adult audience.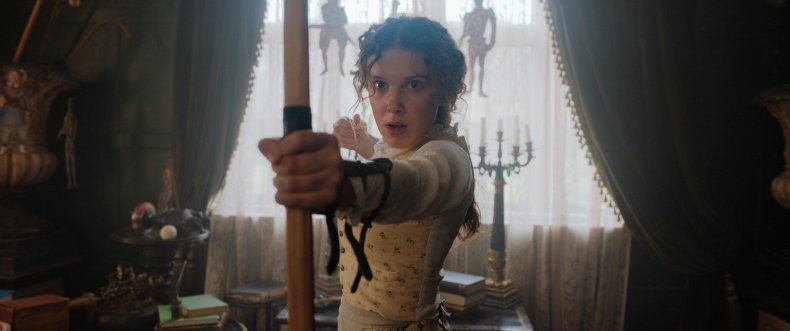 Enola Holmes
If you're looking for a fun, family film (particularly for older children) to watch this holiday, Enola Holmes is a good place to start. It's the story of a strong heroine, rooted in history and feminism that will remind audiences they don't need a partner to save themselves. Holmes stars Millie Bobbie Brown in a coming-of-age story that's laced with humor and centered on a quest to find what's most important to Holmes—her mother.
About Time
Films about family are easy to find, but few are as special as About Time. A family's secret power provides this love story with a unique plot that's hinted at in the title. This 2013 feature is sure to have you falling head over heels for the characters and their family ties, and hoping that it all works out, no matter how tricky the plot becomes.
Falling Inn Love
Thanksgiving is all about being grateful for the things you have and the dreams you hope to achieve. Netflix's original film Falling Inn Love puts a lighthearted spin on finding community in the unlikeliest of places. When a woman sets out to restore an old Inn, she's shocked to find she may find herself in the rotted home and small town.
Lady Bird
While there are jokes about religion, deeply felt coming-of-age drama and smart observations throughout Lady Bird, one element rises above the rest. Directed by Greta Gerwig and starring Saoirse Ronan, the 2017 film tackles difficult mother/daughter relationships, as the titular teen daughter tries to sort out her identity and hopes to break free from her family.
Operation Christmas Drop
If you're ready to dive into Christmas films, Operation Christmas Drop is a great place to start. Inspired by true events, the somewhat cheesy Christmas story looks inside an American military base as the soldiers stationed there try to deliver supplies to isolated communities on hard-to-reach islands. When the government questions the soldiers' intentions, love, gratitude and philanthropy unfold during a routine, political visit.
White Christmas
Get your singing voice ready. White Christmas is available to stream on Netflix to truly bridge the holiday gap this year. The iconic Christmas film is a family favorite for Americans all over, so it just had to be included in this list, even before Christmas truly strikes.
The Lorax
This animated film is perfect for family members of all ages, and takes a look at industrialization and the treatment of land. The eco-advocacy film sees citizens using up all of the trees on their land and the disasters that could come from it. It may give younger audiences better respect for nature and make you think about America's current conversations about conservation.
Betty White: First Lady of Television
There's nothing more American than Betty White, who is simply a national treasure (sorry, it's just a fact). White's life and best celebrity endeavors are preserved in a documentary about her life that may teach you something about the 98-year-old icon.