Netflix Previously Found Trans Community 'Substantially Underrepresented' in Its Content
As transgender Netflix employees plan to stage a walkout in protest of Dave Chappelle's recent comedy special, which included offensive statements about the LGBTQ+ community, a report has come to light showing that the company found the trans community "substantially underrepresented" in its output.
The report, published in February of this year, states: "Across films and series, 2.3 percent of stories had LGBTQ leads/co leads, with no differences by year. In sharp contrast, 12 percent of the U.S. population is LGBTQ, which reveals that Netflix substantially underrepresented this community in its storytelling."
However, the report does point out that "the lack of roles for transgender actors is commonplace in entertainment, with Netflix also reflecting this broader exclusionary pattern."
The findings also report that LGBTQ characters at every level of Netflix films and series were marginalized, particularly transgender characters.
"There are clear opportunities for Netflix to increase the inclusion and the diversity of LGBTQ cast across its content, particularly from an intersectional perspective," the report says.
With Netflix often vocal about its support for marginalized communities, the group organizing the walkout says that the company is failing to uphold these values.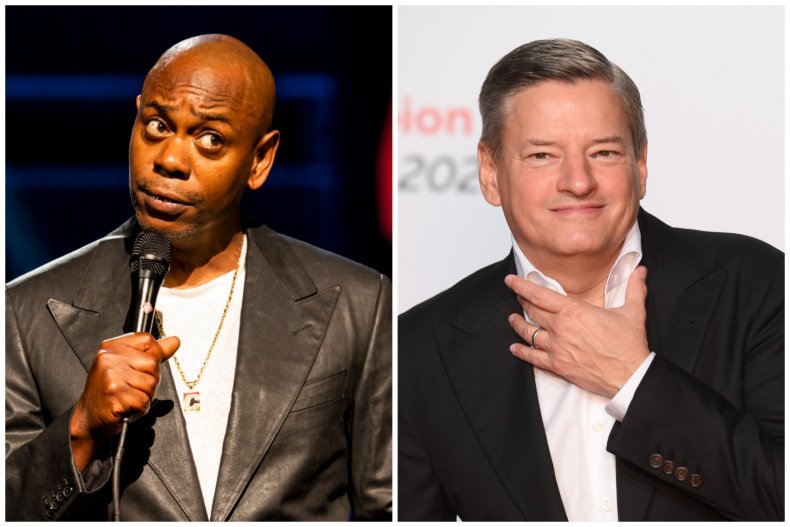 "Trans Lives Matter. Trans Rights Matter. And as an organization, Netflix has continually failed to show deep care in our mission to Entertain the World by repeatedly releasing content that harms the Trans community and continually failing to create content that represents and uplifts Trans content. We can and must do better!" a leader of the Netflix trans employee resource group (ERG) wrote in an internal organizing message, published by The Verge.
They added: "As we've discussed through Slack, email, text, and everything in between our leadership has shown us they do not uphold the values to which we are held. Between the numerous emails and non-answers that have been given, we have been told explicitly that we somehow cannot understand the nuance of certain content."
The situation escalated after Netflix reinstated Terra Field and two other employees who were suspended for attending a director-level meeting they were not invited to—days after Field's Twitter thread about the harmful nature of Chappelle's special went viral.
On October 8, co-CEO Ted Sarandos sent employees an internal email confirming that the special would not be removed from the platform and that he felt Chappelle did not cross a line with his jokes about trans people.
"Chappelle is one of the most popular stand-up comedians today, and we have a long-standing deal with him. His last special Sticks & Stones, also controversial, is our most-watched, stickiest and most-award-winning stand-up special to date," Sarandos wrote, per Variety.
"As with our other talent, we work hard to support their creative freedom—even though this means there will always be content on Netflix some people believe is harmful."
On October 11, Sarandos sent a second email to staff about the situation.
Part of the email stated: "While some employees disagree, we have a strong belief that content on screen doesn't directly translate to real-world harm."
In response to that statement, LGBTQ advocacy group GLAAD told Newsweek that "media representation has consequences for LGBTQ people."
"Authentic media stories about LGBTQ lives have been cited as directly responsible for increasing public support for issues like marriage equality," a spokesperson said in a statement.
"But film and TV have also been filled with stereotypes and misinformation about us for decades, leading to real-world harm, especially for trans people and LGBTQ people of color. Ironically, the documentary Disclosure on Netflix demonstrates this quite clearly."
Newsweek has reached out to Netflix for further comment.