Friday the 13th Netflix Movies: 7 Ways to Get Your True Crime Fix
On a day famous for bad luck and mysterious coincidences, here are seven ways to get your true crime fix this Friday the 13th that aren't Making a Murderer.
The Staircase
The Staircase began as a miniseries by Jean-Xavier de Lestrade, which first aired as a two-hour documentary special on Primetime Thursday in 2004. The now 13-episode docuseries premiered on Netflix June 8 and follows the trial, conviction, and appeals of a novelist, Michael Peterson, for the murder of his wife, Kathleen. In 2001, Kathleen was found dead at the bottom of a staircase in the Peterson's Forest Hills mansion. The Staircase begins with the fateful 911 call in 2001 and ends with Peterson's final hearing in 2017. Camera crews were given exclusive access to the accused's family, defense attorneys, and courtroom proceedings. The Staircase offers an intense account of the American justice system and will leave you with one daunting, unanswered question: Did he do it?
Mindhunter
From the mind of David Fincher, this true crime series is for anyone fascinated by serial killers and behavioral science. Mindhunter is the perfect period drama—set in the 70s at the very beginning of the FBI's Behavioral Science Unit the main characters, Holden Ford and Bill Tench, are based on real-life agents, John E. Douglas and Robert K. Kessler, who founded the BAU in 1977. Based on the book by Douglas of the same name, it offers somewhat fictionalized accounts of their work in which they traveled from prison to prison interviewing America's high-profile convicted serial killers. In Mindhunter, you will watch how the term 'serial killer' is first coined, as well as conversations with Edmund Kemper, Jerry Brudos, Richard Speck, and more, with dialogue taken directly from their real-life interviews. Mindhunter is a must-see for any true-crime fan.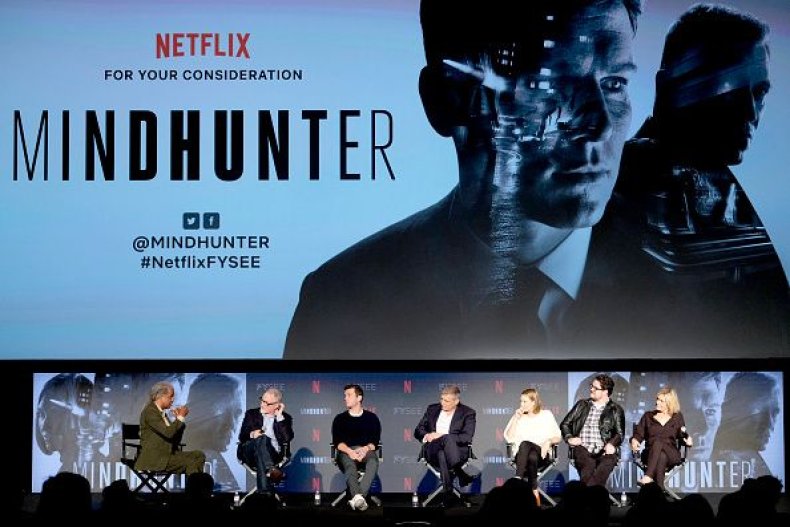 Evil Genius: The True Story of America's Most Diabolical Bank Heist
This true crime docuseries premiered on Netflix in May 2018. The series details the murder of Brian Wells, also known as the "collar bomb" or "pizza bomber case." A pizza delivery man, Wells walked into a bank in 2003 with the intention to rob it. All the while, he had an explosive device strapped around his neck. The device exploded while he was in police custody, killing him. The circumstances surrounding Wells' situation detonated along with him. Evil Genius explores the mystery surrounding Brian Wells, who he was involved with, and how he came to be the "pizza bomber."
The Keepers
An excellently researched and deeply upsetting documentary series, The Keepers is not for the faint of heart. This seven-episode Netflix original directed by Ryan White explores the unsolved murder of a nun and high school teacher, Sister Cathy Cesnik. Including long interviews with her former students, the series centers around their belief that her murder was not an accident but a cover-up of a larger conspiracy within the Baltimore Catholic Church.
Wild, Wild, Country
A true crime list wouldn't be complete without at least one cult. Wild, Wild, Country depicts the rise and fall of one of the 80s largest and most terrifying religious cults, Rajneeshpuram, located in Wasco County, Oregon. The community was led by controversial Indian guru Bhagwan Shree Rajneesh (aka, Osho) and his personal assistant Ma Anand Sheela. The six-part series explores their practices, beliefs, and their 1980 bioterror attack. Wild, Wild, Country includes extensive interviews with former cult members, the people of the town they terrorized, and Sheela herself.
Wormwood
A docudrama miniseries in six parts, Wormwood is based on the life and mysterious death of scientist Frank Olsen. Olsen was a participant in the not-so-secret government biological warfare program, Project MK-Ultra, and fell to his death in 1953. This is for anyone who's watched The X-Files and thought, "Is any of this true?"
Tower
Tower is a documentary about the 1966 shootings at the University of Texas at Austin, in which Charles Whitman opened fire from the top of the University of Texas Tower and held a campus hostage for 96 minutes. Including interviews and accounts from survivors and police, Tower is entirely animated, and perhaps one of the most unique and original documentaries available on Netflix.