Netflix's 'Boys in the Band' Creator Discusses His Groundbreaking Gay-Themed Play
When it debuted off-Broadway in 1968, the now iconic Boys in the Band was notorious, a play about openly gay characters who were neither window dressing nor the subjects of ridicule. It has come a long way, most recently being made into a movie now streaming on Netflix. In a newly released video, Charlie Carver, who plays "the Cowboy" in the play, interviews playwright Mart Crowley about how The Boys in the Band and gay life in general have changed over the years.
In 1968, the play was, in some circles and many squares, a succès de scandale. It took gay life out of the closet and put it center stage. There had been other plays featuring gay characters: Short works like Robert Patrick's The Haunted Host and Lanford Wilson's The Madness of Lady Bright, for example, had debuted off-off-Broadway in 1964. But The Boys in the Band was a little different, a full-length play in the vein of traditional works, like Who's Afraid of Virginia Woolf? A Walpurgisnacht, but with better window treatments, where they play "Get the Guest" but no "Hump the Hostess." Games are played, but fun was in short supply. Still, it presented a (mostly) unapologetic picture of gay life.
When Crowley got the idea for the play, he tells Carver, "I approached these people in the business about it, and they all said, 'What?! No. Get out of here.'" He was about 30 at the time and panicky about not having accomplished anything, so there was an element of frustration and desperation. This leads Crowley and Carver to talk about the importance their sexuality plays in their careers: the positives and negatives of coming out.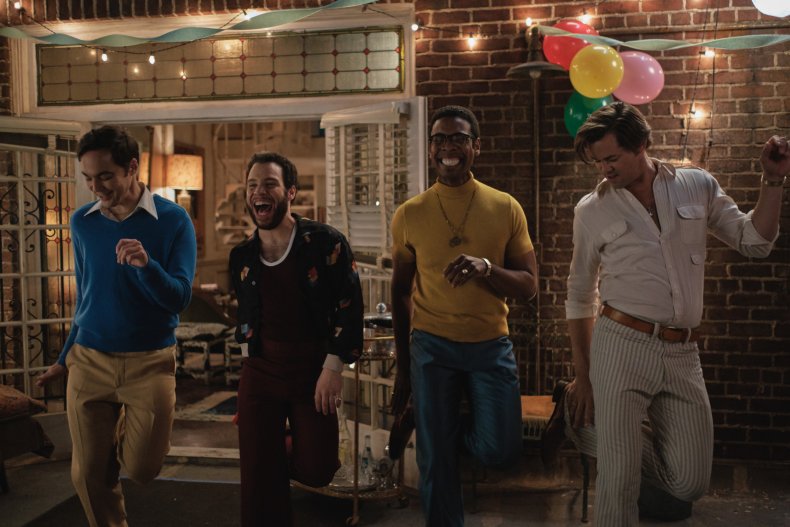 While The Boys in the Band was embraced by most fans and critics, Crowley also was criticized for presenting a negative portrayal of gay life. But the play has lasted. It has been revived many times over the years, including a high-profile, site-specific revival by the Transport Group in 2010 and, most recently, a Broadway debut in 2018.
Broadway icon Harvey Fierstein, who wrote such plays as Torch Song Trilogy, Safe Sex and the book for La Cage aux Folles, told Newsweek he had no problems at all with the play: "That was Mart's reality. What's important is that it got written."
What has really changed over the years is the number of gay-themed plays on and off-Broadway. In addition to Fierstein's works, Tony Kushner's Angels in America and Terrence McNally's Love! Valour! Compassion!—to name just two—have slipped easily into the canon. This past season also saw The Inheritance, Matthew Lopez's two-part post-AIDS-epidemic opus that was inspired by E.M. Forster's Howards End. Crowley tells Carver that "it seems that every play on Broadway and every musical has some gay element in it," everything from Rent to Kinky Boots.
Crowley died March 7, after having suffered a heart attack. While it was certainly not intended to be a farewell, this video is a nice companion to the Netflix movie. The interview—one of his last, if not the last—serves as a funny valedictory to his show and to theater in general.
The Boys in the Band is now streaming on Netflix.