Tiger King: Murder, Mayhem and Madness isn't your average true crime story. For the mystery fan, there's so much more than just a typical murder story. In fact, this one only features an attempted murder, at least. But the path to get there is probably unlike anything you've seen before.
The Netflix documentary series, which was released Friday, takes viewers inside Oklahoma's Greater Wynnewood Exotic Animal Park (G.W. Animal Park) and the man who ran it, Joe Exotic.
Exotic was sentenced to 22 years in prison this past January after being found guilty of two counts of attempted murder for hire, eight counts for falsifying wildlife records, and nine counts of violating of the Endangered Species Act, according to KIRO.
Viewers who are watching Tiger King might wonder what has become of the family attraction, now that its leader will be in prison for the foreseeable future.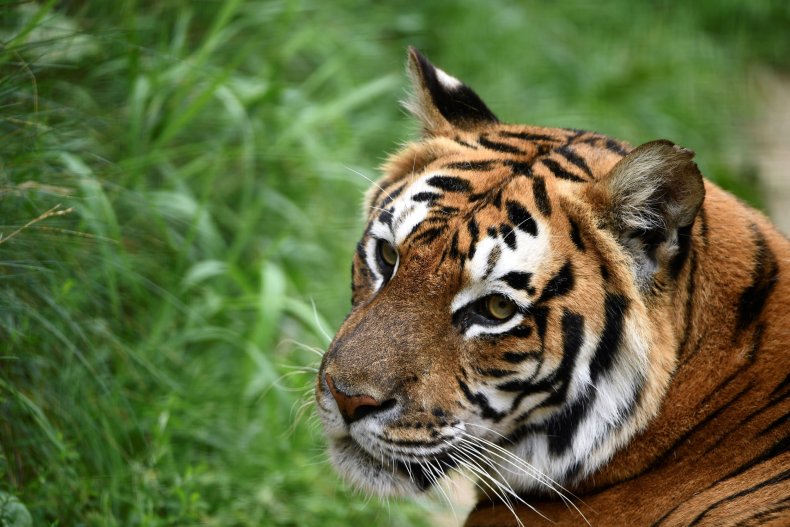 Exotic hasn't been the owner of the Greater Wynnewood Exotic Animal Park since 2016. This may be confusing, as the documentary is full of footage that Exotic filmed himself during the his time as owner of the attraction. The park in Wynnewood is still open to the public every day of the year, according to its website. The new owners have taken strides to distance themselves from the reputation of Exotic and the way he treated the animals.
Jeff and Lauren Lowe bought the park in 2016 and have since slammed Exotic's leadership. They even posted a celebratory message on the animal park's Facebook page in January when the former owner was sentenced, though it appeared to have been deleted.
"His tyranny in the animal world is over," the comment read, as reported by KIRO. "He will never own another animal again unless his cell has cockroaches."
Before the Netflix series, the name Joe Exotic (whose real name is Joseph Maldonado-Passage) may have sounded familiar. There are a few reasons why. Famously, he's a controversial tiger breeder known for his unique lifestyle. He ran for president of the United States as an independent candidate in 2016, and he also has a country music career. Exotic has been drawing attention to himself for years, as an internet personality and well-known character.
Attempted murder for hire wasn't the only charge that contributed to his prison sentence. Exotic's list of charges included types of animal abuse, among them shooting and killing five tigers--a violation of the Endangered Species Act, according to Texas Monthly.
In September 2018, he was arrested in a plot to murder Carole Baskin, an animal rights activist and critic of the animal park. The following month, he was denied bail before his trial. Exotic told Oklahoma News 9: "I am supposed to be in this country, born, raised, innocent until proven guilty, and I have been stripped of my clothes, my rights, my identity, my dignity," he said.
In a statement to the court upon Exotic's conviction, which also appeared on the web site of the Big Cat Rescue sanctuary that she founded, Baskin commented: "The conviction of Mr. Schreibvogel Maldonado Passage was made based upon only a handful of vivid examples of his malicious intent to murder me. The prosecution didn't need to present the daily barrage of threats to harm, rape or kill me that were my daily experience for the past ten years.
"The evidence showed that over the course of many years," she continued, "he has tried to coerce others into killing me, and in the end, resorted to hiring others to kill me. If he had succeeded in carrying out his murderous plan, you might be calculating now, what the value of my life had been. It's nothing short of a miracle that I'm able to stand before you today, and ask you to consider all that he was able to take from me."
Exotic hasn't announced an official appeal yet, though he did state he'd be taking the next steps to prove his innocence after his January sentencing.