There's an ongoing cultural conversation about American tiger captivity, and it's likely to continue after viewers watch Tiger King: Murder, Mayhem and Madness. The Netflix true-crime documentary series ties the crucial wildlife discussion together with a real-life, unhinged murder plot that was thwarted—and in the process, it raises dozens of ethical questions.
The series' subject, Joe Exotic (his real name is Joseph Maldonado-Passage), was most recently in the news for being sentenced to 22 years in prison on a number of charges, including two counts of murder-for-hire. The sentence was handed down after Exotic attempted to have his biggest rival, a tiger advocate named Carole Baskin, killed, but ended up contracting an undercover FBI agent for the deed, according to NBC.
That isn't even the strangest part of the Joe Exotic story, though. He owned around 200 tigers—among other exotic animals—at his Oklahoma attraction, Greater Wynnewood Exotic Animal Park. It's a controversial place, one that has a history of promoting questionable breeding and potentially abusive entertainment routines for all types of exotic animals. Some of the other charges that fed into Extotic's prison sentence have to do with animal abuse—including that he apparently shot and killed five tigers just to make room for more, which is a violation of the Endangered Species Act.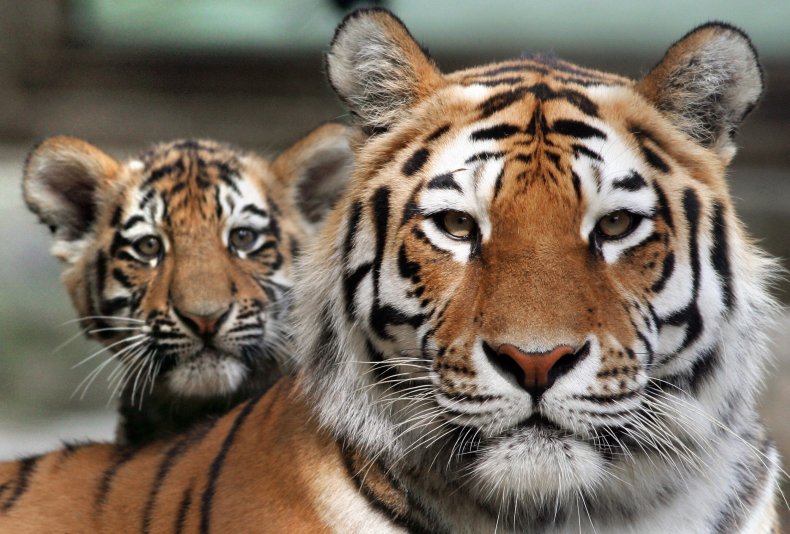 And Exotic's crimes are just one example of the kind of threats that face the tiger population today. The number of tigers in captivity in America is likely larger than the number of wild tigers around the world, National Geographic revealed in 2019. The outlet claimed that there are between 5,000 and 10,000 tigers are in captivity in America. Meanwhile, there are less than 4,000 left in the wild, the New York Times reported in 2016.
But is it even legal to own an exotic animal, like a tiger? Right now, states are responsible for setting their own restrictions on exotic animal ownership, but Tiger King might lead some people to question why there is no federal oversight.
The documentary series explains that Exotic made much of his money by breeding tigers constantly so he always had baby animals to show. Montages of photos featuring visitors with baby cats swarm the series, and it's noted that much of his funding came from touring the country with the animals. (Currently, Greater Wynnewood Exotic Animal Park operates under new leadership that's tried to distance themselves from Joe Exotic.)
There are many people who are vocally opposed to this type of animal exposure—including Carole Baskin, the woman who was the target of Exotic's attempted-murder plot. The series includes interviews with Baskin about her attempts to run Exotic out of business by filing animal abuse complaints, and about the 10 years of threats she had to fend off from him as a result.
Baskin has a public tiger sanctuary, too: Big Cat Rescue in Citrus Park, Florida. She says that she hopes to stop the breeding and captivity of big cats in America, and claims to provide a safe space for already-captured big cats to live.
She's far from the only person dedicated to making big cat captivity, and personal ownership, illegal. But, as mentioned earlier, state governments have total control over the issue; the federal government can only enforce the Endangered Species Act, which demands oversight to protect species that are at risk of dying out completely.
The United States Fish and Wildlife Service also aims to stop illegal breeding and trading, as well as "ensuring that breeding of tigers in captivity supports conservation goals," according to the organization's website. This may have been a loophole for Joe Exotic: He claimed to breed the animals in order to save them from endangerment, even if their only life was locked in captivity.
Currently, there's no federal U.S. ban on owning tigers, dangerous animals or exotic pets, according to the Turpentine Creek Wildlife Refuge.
Most individual states either ban all exotic pet ownership or require owners to have specific permits. Four states—Nevada, Wisconsin, Alabama and North Carolina—don't have any ban or regulations, according to this map.
Here's a full list of the states where owning a tiger is legal.
Without Permit:
Nevada
Wisconsin
Alabama
North Carolina
With Permit:
Maine
Rhode Island
Delaware
Pennsylvania
Indiana
Missouri
Mississippi
Oklahoma
Texas
South Dakota
North Dakota
Montana
Idaho
Banned, But Different Regulations on "Native Felines":
These are states that have specific regulations on small, non-domestic cats, animals that serve educational purposes, animals that were owned before the official ban and more, according to bornfreeUSA.org.
Virginia
West Virginia
Tennessee
Florida
Arkansas
Entirely Banned:
Alaska
Hawaii
Washington
Oregon
California
Arizona
Utah
Wyoming
Colorado
New Mexico
Nebraska
Kansas
Iowa
Minnesota
Illinois
Michigan
Louisiana
Kentucky
Ohio
Georgia
South Carolina
Maryland
New Jersey
New York
Connecticut
Massachusetts
Vermont
New Hampshire