Rebellion Across Europe Over Mandatory Vaccines, Countries Re-Entering Lockdown
New coronavirus restrictions across the Netherlands have sparked unrest in the country, with protests turning to chaos.
The Dutch government introduced a three-week partial lockdown last week to combat a surge in coronavirus cases.
According to Our World in Data, the Netherlands confirmed had a seven-day rolling average of 21,000 new coronavirus cases as of November 21.
Saturday night saw protests in The Hague in response to these measures, leading to the police taking the streets.
Protesters were seen lighting fires throughout the area, damaging property and hurling rocks and fireworks at police.
The police have said large groups of young people "deliberately sought confrontation with the police." They added that a total of 19 people were arrested and peace was restored around 1:00 a.m.
A total of five police officers were injured. Those in need of further medical assistance were transported by ambulance to the nearest hospital.
Police defended their actions and force used against the rioters.
They said: "The police are there for everyone. For a safer Netherlands.
"The police step forward and take action against rioters when criminal offenses are committed or when the health of bystanders and/or aid workers is endangered. To protect or enforce police officers may and must use force if the situation calls for it."
On Friday, protests also turned violent, this time in Rotterdam.
According to police reports, protestors attacked officers with stones and fireworks.
Four rioters were injured after being shot by the police and remain in hospital. Police added that warning shots were fired initially and that officers also sustained injuries.
A total of 49 arrests were made for public assault, incitement, and violation of the emergency order.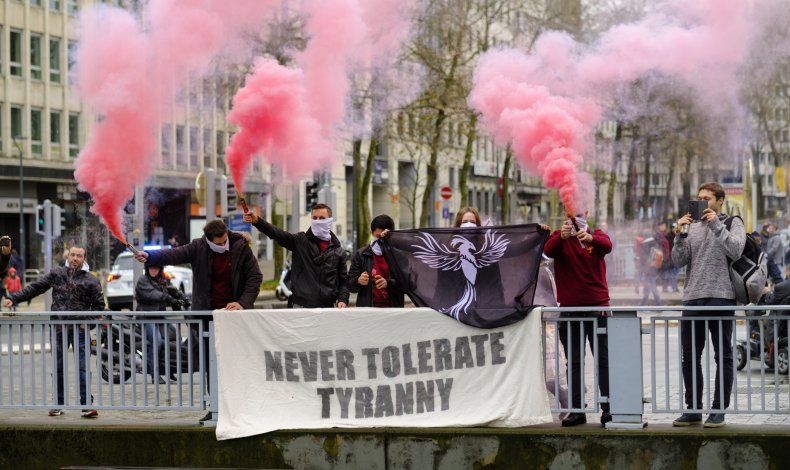 Justice Minister Ferd Grapperhaus condemned the violence across the Netherlands over COVID restrictions.
He said: "The riots and extreme violence against police officers, riot police, and firefighters last night in Rotterdam are disgusting to see.
"Protesting is a great right in our society, but what we saw last night is simply criminal behavior. It has nothing to do with demonstrating."
Introducing the new COVID measures on Friday, Prime Minister Mark Rutte insisted there was a great need to combat rising cases.
He said: "Tonight we are bringing a very unpleasant message with very unpleasant and far-reaching measures.
"The virus is everywhere and needs to be combated everywhere.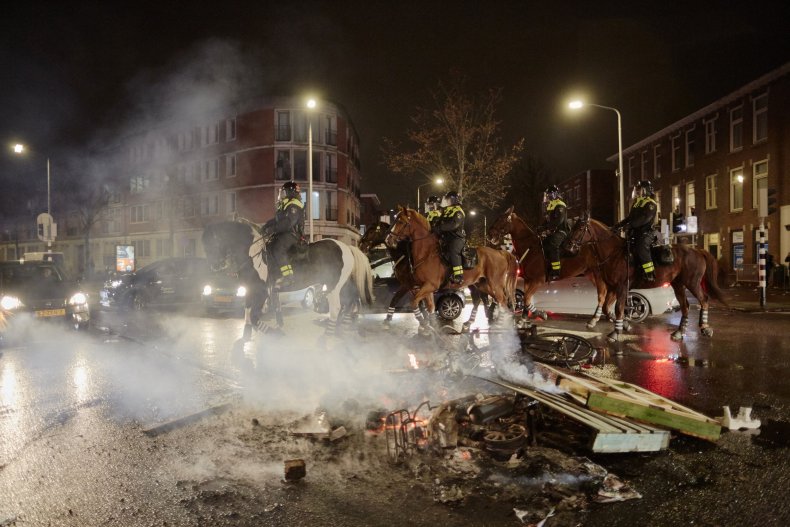 "I want every Dutch citizen to be asking, can I do more? Can I do better? We had hoped with the vaccines we wouldn't have to do this, but we see the same situation all across Europe."
The World Health Organization is concerned by the increase in coronavirus cases in Europe.
Regional Director Dr. Hans Kluge warned that the continent could see 500,000 more deaths if drastic actions are not taken.