Netizens Wonder Why Rue21 And Rainbow Are Still Open After Reports Say Forever 21 Plans to File Bankruptcy
Forever 21 is preparing to file for bankruptcy, Bloomberg reported Wednesday—and frequent consumers of the youth-forward store are not happy.
The news has since prompted fans of the women's clothing chain to take to social media, perplexed by why other—possibly less popular—retailers are able to remain in relatively good financial order.
The post quickly generated many responses ranging from supportive to outright disagreement, as well as an offering of potential reasons for the retailer's financial predicament.
However, as the comments on the news of the company's potential bankruptcy filing poured in from across the Twitterverse, Forever 21's longstanding rivalry with competitors such as Rainbow and Rue21—in the eyes of consumers—grew more apparent.
Others pointed out that Forever 21's filing for bankruptcy doesn't necessarily spell disaster for the chain, and that it might be able to keep open several of its brick-and-mortar locations.
Bloomberg also reported Wednesday that Forever 21 is undergoing a period of debt restructuring and is in talks with potential lenders. According to earlier reports by the Wall Street Journal, the company had been trying to avoid filing for bankruptcy since earlier this year by shutting down its Chinese e-commerce site and closing its stores in both Taiwan and France.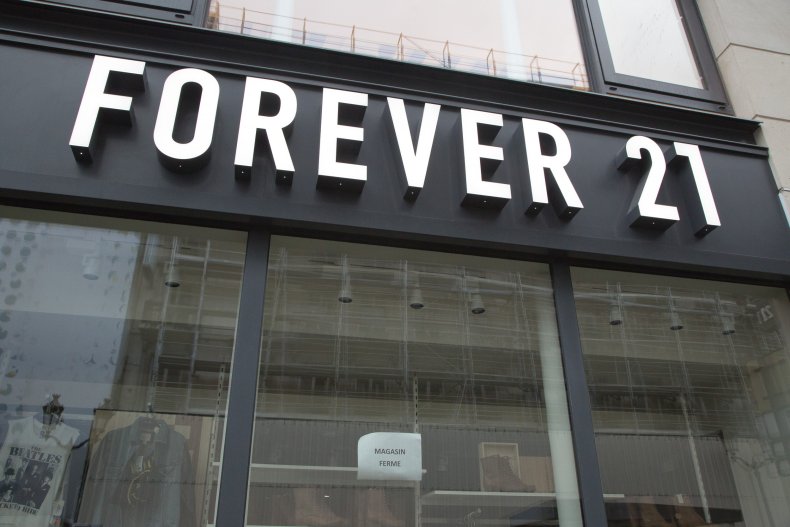 Rue21 has filed for bankruptcy in the past. In 2017, CNBC reported that the chain had "entered into an agreement with lenders to reduce its debt," and had already started shuttering the doors of 400 of its stores that April.
According to the company website, Forever 21 is the "fifth-largest specialty retailer in the United States," and the average size of their physical locations is 38,000 square feet—with the largest one standing at approximately 162,000 square feet. The original location opened its doors in 1984, bringing in $700,000 from sales in its first year. After many years of expansion, and with the more than 800 stores, the apparel chain maintains that it "remains a family-owned business."
Despite a wholesome approach to marketing over the years, there were many who took issue with the store's presentation of the clothes and products, taking jabs at sizing that may or may not be indicative of diverse body types.
And of course, there were those who, though feeling badly about what this may mean for Forever 21 employees, wanted to take advantage of the store's heavily-discounted items as soon as possible.