Four progressive Democratic members of Congress took the stage at Netroots Nation's annual convention on Saturday to sound off against the Trump administration and its crackdown on migrants at the southern border.
Representative Ilhan Omar relayed a quote from one of her Democratic colleagues about the conditions migrants seeking asylum face in custody at the U.S.-Mexico border, saying she was told, "If there were dogs in those cages, every single member of Congress would vote to make sure those cages didn't exist."
Omar was joined by three of her Democratic House colleagues on stage in Philadelphia, including Representatives Rashida Tlaib, Ayanna Pressley and Deb Haaland.
"I think it's really important for us not to normalize the behavior of this president and this administration," Omar said. "It's a constant pile of garbage that comes out of his mouth, the mouths of the people that speak for him, his administration."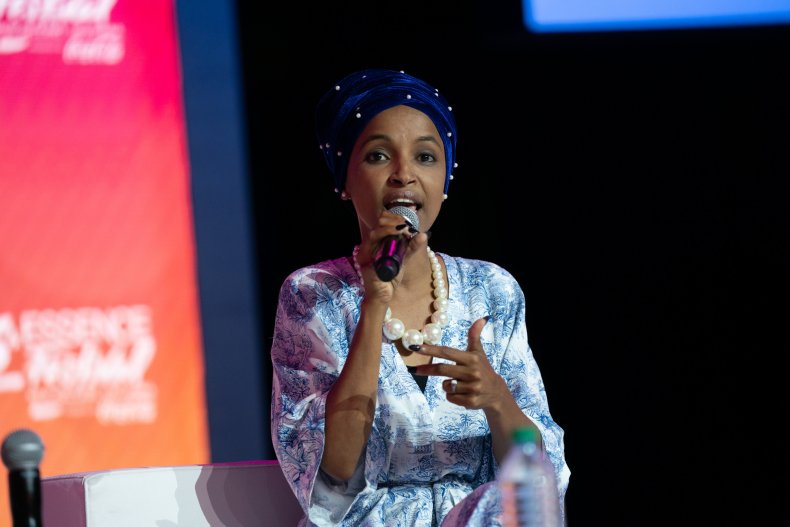 Pressley told the audience that she was disinterested with that "palace intrigue" that has consumed much of the coverage of the Trump White House's personnel turmoil.
Tlaib inveighed against immigration detention at the border, predicting that "a whole generation of children... will never forget what our nation did to them."
"There needs to be real comprehensive immigration reform in our country," she said. "It can't be about numbers and who to blame. It has to be about the children and the families that are devastated. It is devastating to see."
After Vice President Mike Pence visited a pair of migrant screening centers in Texas on Friday, he quickly informed the press of his initial impressions: "I was not surprised by what I saw."
"I knew we'd see a system that was overwhelmed," he said.
One of the centers was overcrowded and reportedly reeked from a lack of access to proper hygiene for detainees.
But panelists at the Netroots Nation event would not accept even the best version of detention facilities offered to migrants under the current system.
Pressley said that even if you improve the horrid conditions inside processing centers, which have been documented by the government's own internal Homeland Security watchdog, migrants are still left to languish.
She observed that "if we improve the conditions of a child in a cage, they are still in a cage."
"What is happening in these ICE facilities [is that] they pilot how they can abuse privacy rights, how they can abuse human rights, and they scale that up," Pressley alleged.
In part due to the misadministration of immigration resources at the border, congressional Democrats have grown increasingly vocal about the prospect of impeaching President Donald Trump.
Tlaib, whose introduction to the public after her election included an admonition to "impeach the motherf---er," voiced these claims once more on Saturday and reflected on how her outspoken calls for impeachment have moved public sentiment.
"We're gonna impeach the M-F-er, don't worry," she said. "We went from 'Oh, let's not talk about it' to close to 80 members of Congress coming out and supporting an impeachment inquiry in to this president."
However, 80 representatives would still be far short of the 218 needed in the House to indict a sitting president. Beyond that hurdle, actual removal of a president would require a two-thirds majority in the Senate, where Democrats would fall at least 20 votes shy at this point.