Nets Owner Hopes Kyrie Irving Gets COVID Vaccine 'as Soon as Possible'
Joe Tsai, the owner of the Brooklyn Nets, wants Kyrie Irving to get vaccinated against COVID-19 "as soon as possible."
"Either he has to be vaccinated in order to come back if the New York mandate is still in place. And don't ask me when they may or may not change the New York mandate," Tsai told ESPN on Friday. "Again, if you ask the people that are making decisions at the city level, they are going to say we are going to rely on science, rely on what the health department tells us [in order to proceed]."
Since the start of the NBA season, Irving has refused to get vaccinated against the novel coronavirus, which has prompted the Nets to bar him from playing with the team, the team's General Manager Sean Marks announced earlier this month.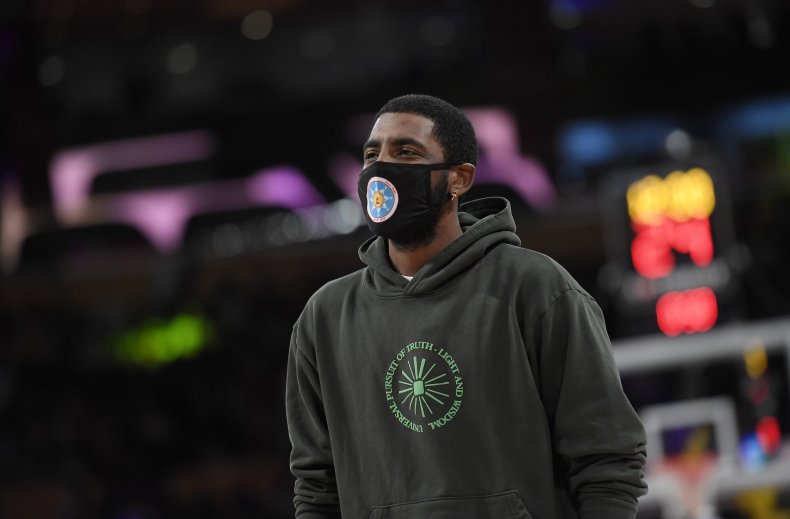 "Given the evolving nature of the situation and after thorough deliberation, we have decided Kyrie Irving will not play or practice with the team until he is eligible to be a full participant," Marks said in an October 12 statement. "Currently, the choice restricts his ability to be a full-time member of the team, and we will not permit any member of our team to participate with part-time availability."
Prior to Marks' announcement, Irving was prohibited from playing in any of the Nets' home games due to New York City's COVID-19 vaccine policy.
During the recent interview with ESPN, Tsai said he has not spoken with Irving since the team's announcement on October 12 but noted that he respects Irving's stance against the shot.
"Obviously Kyrie has his own belief so I respect that. But we have to make a team decision. This is not a decision about him. This is a decision about where we go as a team," Tsai said. "And it is just not tenable for us to have a team with a player that comes in and out, no home games, only away games. What do you do in practice then?"
While some have criticized Irving for his stance in opposition to the vaccine, a group of protesters recently rallied outside the team's area, the Barclays Center, displaying signs that said: "Stand with Kyrie."
Tsai told ESPN that he doesn't believe that the protesters were actually basketball fans and instead sought to turn Irving's situation into a "political issue."
"They're hijacking the issue, but it's dangerous because we have a life and death situation. The fact is, if you are not vaccinated and you catch COVID, you have a much higher probability of getting very, very sick and end up in the ICU and possibly die," he said. "That's the consequence."
The seven-time NBA All-Star point guard recently defended his decision to refuse a vaccine and said "I am doing what's best for me," during an Instagram live video.
"I know the consequences here and if it means that I'm judged and demonized for that, that's just what it is," Irving said. "That's the role I play, but I never wanted to give up my passion, my love, my dream just over this mandate."
Newsweek reached out to the Brooklyn Nets for comment.