Woman's Hangover Became Mystery Illness That Left Her Blind and Paralysed
A woman who contracted a rare disease that left her paralyzed from the waist down and visually impaired had initially put her symptoms down to a hangover.
Annabelle Moult, a 39-year-old woman from Buckinghamshire in the U.K., first fell ill with a rare autoimmune disease known as neuromyelitis optica (NMO) in 2007 when she began suffering symptoms including severe eye pain and a headache on a weekend after going out with friends on the Friday.
Her situation worsened when she collapsed in the middle of the night a couple of days later, and Moult was taken to hospital by her husband, Danny.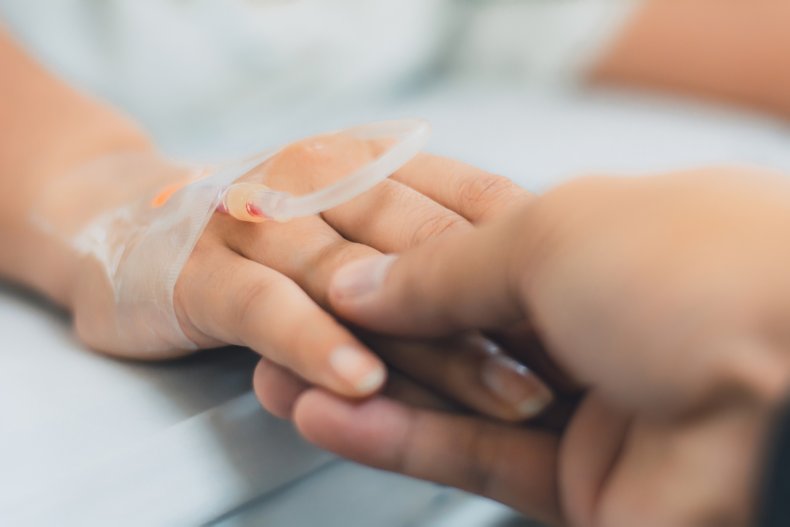 "I went to bed and woke in the night for the loo, but my legs gave way and I screamed for Danny to help and we went to hospital," Annabelle told The Sun newspaper.
Moult's condition began to get worse, including the loss of her eyesight. A brain scan showed swelling, and although a doctor couldn't explain what was happening, Moult was told she wouldn't be able to see again.
Then in her mid-20s, Moult had lived a sporty, active life before her condition set in. "My whole world changed," she said.
Moult was given steroids to help with the swelling and gradually her eyesight began to improve, and she began working hard on physiotherapy. However, she was still unable to walk and her steroid medication meant her body weight began to increase.
She was discharged and went to live in a converted room in her parents' house, where she had to re-learn everyday routines like washing and getting dressed. Determined to carry on doing what she enjoyed, Moult and her husband went on a planned holiday to Jamaica.
"Danny had to carry me to the pool every five minutes, but he didn't complain once," she told The Sun.
Meanwhile, doctors continued to work to provide Moult with a diagnosis. Eventually, in 2009, she was diagnosed with NMO. It's a disease in which the immune system attacks healthy cells in the central nervous system—particularly the optic nerves and spinal cord.
This causes symptoms such as eye pain, loss of vision, weakness or paralysis of the arms and legs, vomiting, and bladder and bowel problems, according to Johns Hopkins Medicine. The condition is regarded as incurable, though medicines and other treatments can help. These include steroids and immunosuppressant drugs.
The rare disease can vary in the severity of its symptoms, while some people may suffer relapses more often than others. According to the National Organization for Rare Disorders (NORD), the prevalence of NMO is approximately 1 to 10 per 100,000 people.
Moult said the diagnosis didn't make much difference as she had already been learning to adapt to her new life. "But it was almost a relief as it meant I could get further information, help and support without being an unknown entity," she told The Sun.
After getting off steroids, she began to feel better and pursued as active a lifestyle as she could with her wheelchair, pushing and motivating herself. Since stopping medication, she says she lost 112 lbs.
She also continued to see the world with her husband, visiting Hong Kong, South Africa, and Japan.
Today Moult is an ambassador for NMO charity NMO U.K. and has become a mentor for others in similar situations.
"I have never been happier, more content with who I am, more motivated, I believe in myself and I know that I am enough just being me," she wrote on her website, Belleswheels.com.