Who Are the Moderators of the Nevada Democratic Debate? NBC's Lester Holt and Chuck Todd Among the Five Journalists
The ninth Democratic debate takes place Wednesday night in Las Vegas, with six presidential candidates and five moderators.
Those five journalists are NBC Nightly News and Dateline NBC anchor Lester Holt, Meet the Press moderator and NBC News political director Chuck Todd, NBC News chief White House correspondent and MSNBC Live host Hallie Jackson, Noticias Telemundo senior correspondent Vanessa Hauc and The Nevada Independent's Jon Ralston.
After a recent jump in national polls and a change in the Democratic National Committee's requirements to participate, former New York City Mayor Mike Bloomberg will take the stage for the first time. He'll be joined by Vermont Senator Bernie Sanders, former Vice President Joe Biden, Massachusetts Senator Elizabeth Warren, Minnesota Senator Amy Klobuchar and former South Bend, Indiana, Mayor Pete Buttigieg.
Hawaii Representative Tulsi Gabbard and billionaire Tom Steyer did not meet polling or delegate thresholds to qualify for the event.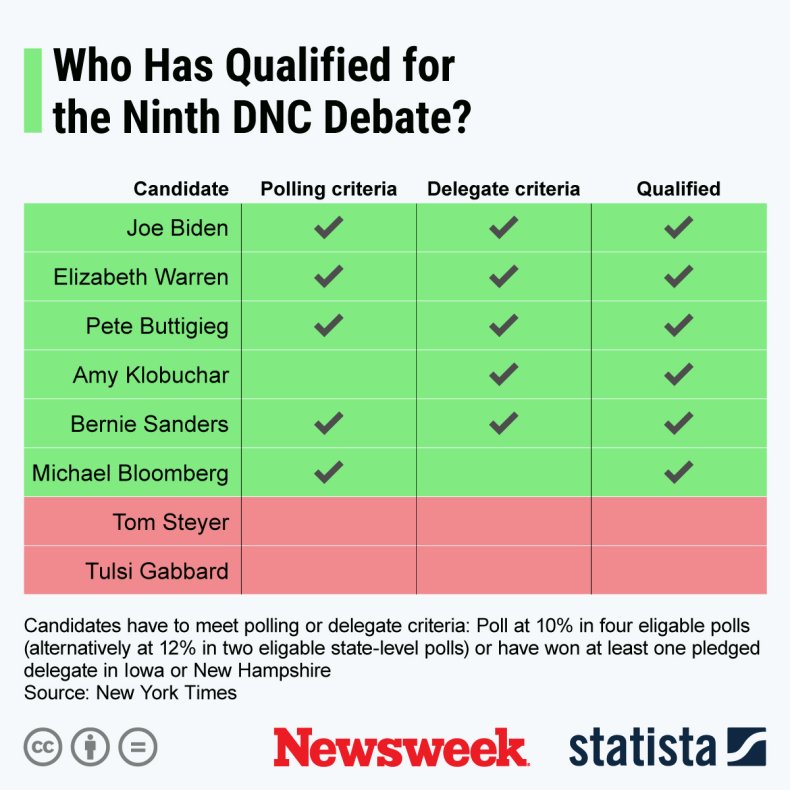 NBC News and MSNBC will air the debate at 9 p.m. EST from Vegas' Paris Hotel and Casino. NBC News and MSNBC will also air the debate on their websites and Facebook pages.
In addition, the event can be seen on the NBC News app and on The Nevada Independent's website. The debate will air in Spanish on the Universo TV channel and the Noticias Telemundo mobile app, website and Facebook page. Noticias Telemundo is the news division of the Telemundo network.
Here is some background on the five moderators for the Nevada debate, which takes place just three days before the Nevada caucuses.
Lester Holt
Holt anchors both NBC Nightly News and Dateline NBC. Before joining MSNBC in 2000, Holt worked as a reporter, anchor and international correspondent for CBS.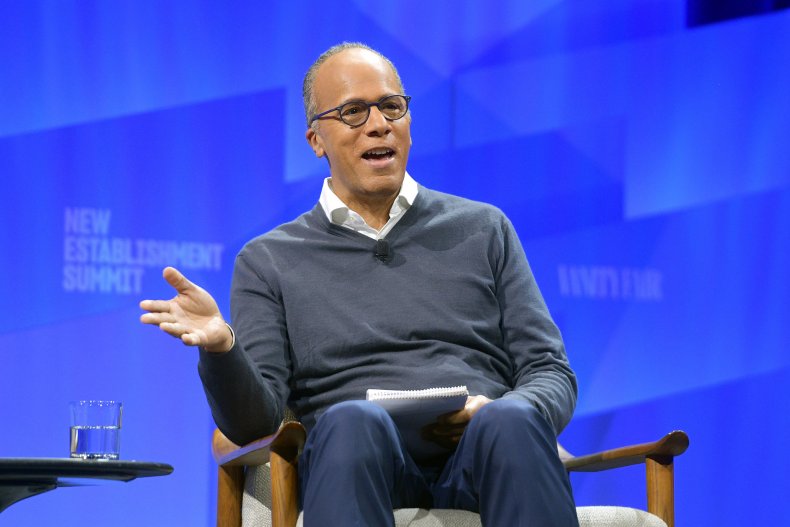 In 2016, Holt moderated both the first Democratic debate and the first presidential nominees' debate. President Donald Trump praised Holt following the 2016 debate, calling his moderating "very fair," according to CNN. Holt was a moderator during the first two 2020 Democratic debates.
Chuck Todd
Todd has been with NBC since 2007, delivering political analysis on a number of political talk shows, including Morning Joe, Hardball and The Rachel Maddow Show. He began hosting Meet the Press in 2014.
Todd moderated the first two Democratic debates in 2020, alongside Holt, José Diaz-Balart, Savannah Guthrie and Rachel Maddow. Todd was criticized for speaking too much during the first two debates, with a Slate headline saying he'd "mucked it up." Todd spoke more than seven of the candidates during the first night of the debate, according to an analysis by FiveThirtyEight.
Hallie Jackson
Jackson's journalism career began at WBOC-TV in Maryland and Delaware in 2006. In 2008, she went to CBS affiliate WFSB in Hartford and New Haven, Connecticut. She began working for Hearst, reporting from Washington, D.C., in 2012.
Jackson joined NBC in 2014, where she was embedded in Senator Ted Cruz's presidential campaign. In 2017, she was named chief White House correspondent and moved to 10 a.m. time slot as an anchor on MSNBC.
Vanessa Hauc
Hauc is a senior correspondent for Noticias Telemundo. She has appeared in many TV documentaries in the 24 Hours of Reality series.
In 2014, Hauc won a news and documentary Emmy for "outstanding coverage of a breaking news story in Spanish" for her coverage of Pope Francis.
Jon Ralston
Ralston launched The Nevada Independent in January 2017. He has provided analysis of Nevada's elections for many networks, including MSNBC, NBC, Fox News and PBS. He has hosted shows on local Nevada TV stations and wrote a twice-weekly column for the Reno-Gazette Journal. In 2016, Ralston predicted the results of the presidential election and Senate race in Nevada.
Ralston has a B.A. in English from Cornell and an M.A. in journalism from the University of Michigan.