How Nevada Democrats Bucked the Donald Trump Wave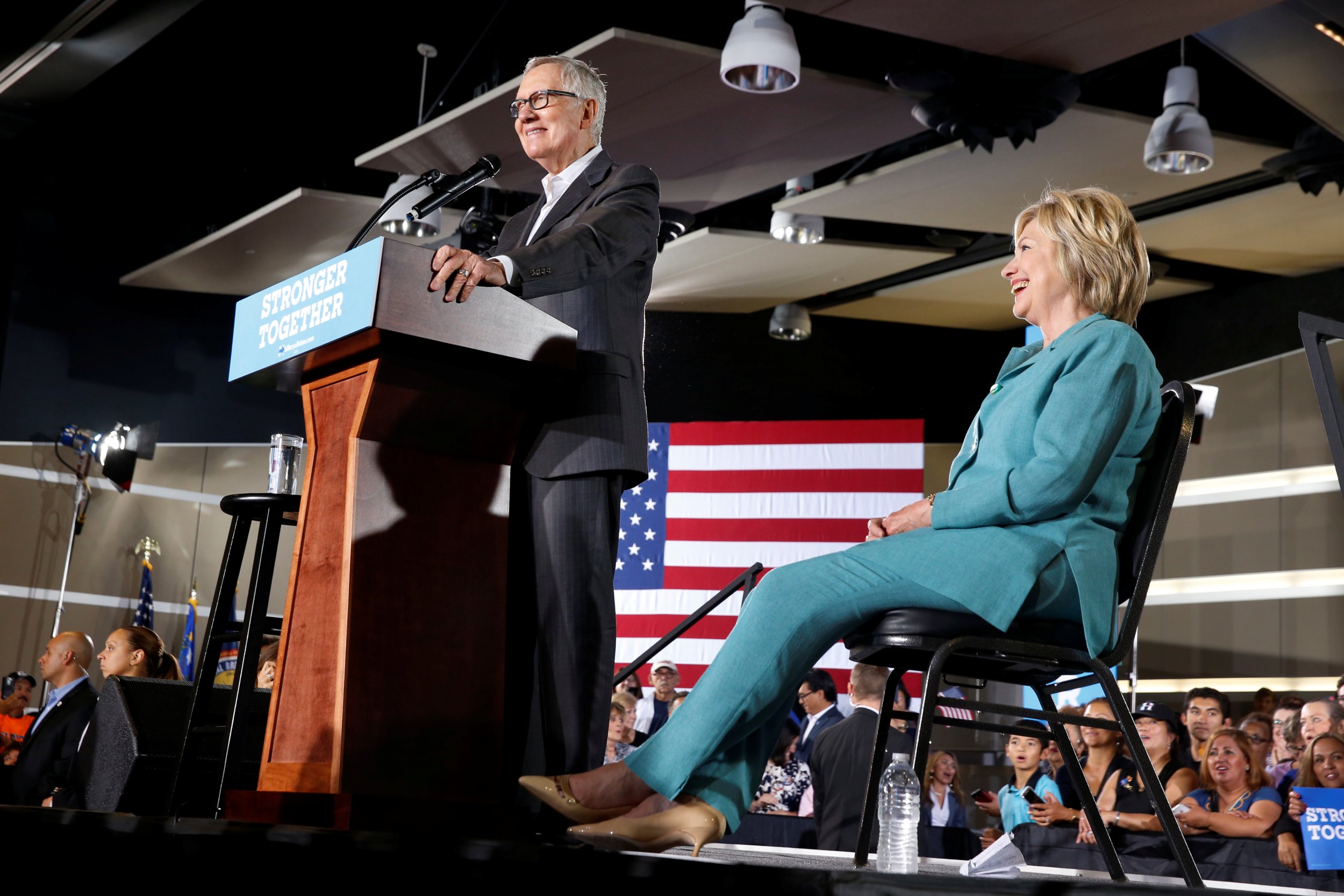 Most Democratic lawmakers returned to Washington this week in a state of mourning, still reeling from the gut punch they took in last week's election. One delegation of Democrats, however, had reason for a (restrained) victory lap.
In a quiet corner of Capitol Hill Monday afternoon, Senate Minority Leader Harry Reid declared himself "elated" at the election results—in his home state of Nevada. Gesturing at the semicircle of grinning new members of Congress behind him, the veteran senator gushed like a proud papa about "the talent and determination of the people standing here with me today."
"We ran the table," third-term Representative Dina Titus of Nevada chimed in, pointing to Hillary Clinton's victory over Donald Trump in the state's presidential voting—a race Trump led in the polls until the final weeks—as well as the win in the heated Senate race to succeed the retiring Reid. On top of that, Democrats snatched two Las Vegas-area House seats from Republicans and took control of the state Senate and Assembly. "From the top of the ticket to the bottom, we elected Democrats," Titus crowed.
The results in Nevada are particularly eye-opening given how much the party disappointed elsewhere—losing the presidential votes in so-called blue states such as Pennsylvania and Wisconsin while also whiffing on golden opportunities to take back Senate and House seats there. In Florida, another diverse swing state, mobilizing the Latino vote wasn't enough for Democrats, as Trump scored another crucial victory and Republicans held onto a Senate seat and several House seats that Democrats once thought were within grasp.
What made Nevada different: How did it successfully buck a voting wave that swept Trump into the White House and solidified the GOP's hold on Congress?
'Reid Machine'
"The 'Reid machine,' of course," was the Senate minority leader's answer to that question Monday, delivered in his famously dry, soft-spoken tone and followed by a quick laugh. But it's no joke, observers say. Veteran Nevada political journalist and analyst Jon Ralston thinks the political machine Reid has built in Nevada is "the overwhelming, No. 1 factor" in the Democrats' success there in 2016. "That machine is real," he says, adding that Reid "hires tremendous people in the state to help run it. It has produced results that you just can't argue with." Barack Obama's victories there in 2008 and 2012 and Reid's own hard-fought re-election in 2010 are just a few examples.
Also onboard with this idea is Eric Herzik, a political science professor at the University of Nevada, Reno. He credits the pugnacious former boxer with nearly single-handedly transforming a state party that was in disarray in the early 2000s into a powerful force this decade. "They didn't have any candidates, they were fighting amongst themselves. And so Reid brought them all together," Herzik says. Among other key moves, he installed savvy operators to helm the party operations in its two main population centers—Clark County, home to Las Vegas, and Washoe County, home to Reno—and brought in a young strategist, Rebecca Lambe, whom analysts have deemed one of the nation's most skillful political operatives, to oversee it all.
The party's revved up ground operations helped Democrats build a big advantage in voter registration in the state, after years of running more or less even with Republicans. "By 2008 they had over 100,000 more registrations than the Republicans," says Herzik, and their lead "continues to this day." It doesn't hurt that their counterparts in the state GOP have been a dysfunctional mess for years. As Ralston puts it: "The state Republican Party would have to be upgraded to be called a laughingstock."
In addition to installing new staffers and infrastructure and bringing in the money needed to pay for it, Reid pushed national Democratic leaders to move Nevada to the beginning of the primary calendar. His argument, former senior aide Jim Manley recalls, was that neither Iowa nor New Hampshire—the traditional early-primary states—represented the country as a whole, given their overwhelmingly white, rural populations. The pitch was: "The West deserved a say, as well," Manley recounted. Reid managed to twist enough arms to get Nevada's caucuses moved up on the calendar, joining South Carolina, New Hampshire and Iowa among the privileged "first four" primary states beginning in 2008. Soon afterward, presidential candidates and campaign dollars were pouring into the Silver State. The result: Voter enthusiasm spiked in a state that has historically had some of the country's lowest rates of voter turnout.
Even with a national spotlight shining on it, Nevada's young, transient population still makes get-out-the-vote efforts a laborious process. The state party's vaunted operations have helped, but experts say the real credit goes to Las Vegas's powerful Culinary Union Local 226, which represents more than 50,000 hospitality workers on the city's famed Strip and beyond. Not only does the union wield tremendous economic clout within the state's gaming industry, but its leaders have also become "very sophisticated in terms of how they collect data and how they communicate with their members," says Ralston. As a result, "you have an organized labor movement here that does not exist anywhere else in the West," says David Damore, a University of Nevada, Las Vegas political science professor.
Exit polls underscore just how much of a turnout advantage Democrats built in Nevada compared to some of the key swing states Clinton lost. Registered Democrats made up 36 percent of the Silver State's electorate in 2016; Republicans were just 28 percent, according to CNN's poll. Compare that to Florida, where Democrats trailed Republicans 32 percent to 33 percent, and North Carolina, where Democrats led by a narrower 36 percent to 31 percent margin.
Tough to Adopt Nevada's Model
As one of just a few bright spots during an otherwise grim Election Day for Democrats, Nevada offers some possible answers to a party with lots of question marks. But while the lessons themselves are pretty straightforward, the dynamics of applying the Nevada model to other battlegrounds are not. "Replicating what happened here…is just going to be very, very tough to do," says Damore, pointing to Nevada's relatively small, concentrated population—just 2.8 million people, three-quarters of whom live in Clark County—which make it an easier to target voters than in bigger states. "And you don't have the people who are going to knock doors the way Culinary does," Damore adds.
Another challenge: Harry Reid can't be cloned—and he is leaving the national stage come 2017. "It's hard to replicate [Democrats' success] without that singular person like...Reid," says Herzik. "Every election, he put his weight behind other races." Reid's outsize clout in the state helped the party recruit candidates and then clear the field for them. While politically effective, the approach represents the kind of backroom dealing voters in both parties rebelled against in 2016. The outrage among progressives over party powerbrokers' favoring Clinton in the Democratic primary still hasn't faded away entirely; Nevada Democrats, in particular, faced a backlash from Bernie Sanders's supporters for the way they handled the state party convention last March. Those progressives are unlikely to be any more welcoming of heavy-handed intervention from party bosses going forward.
Leading Democrats in other swing states can, however, follow Reid's example of working to draw money and national attention to their state parties and their infrastructure. It's a process, the senator said Monday, that requires time and patience. "I've learned over the years that the state party organizations, you can't get them up and running in six months," he told reporters.
Though the state is small, turning out voters in the kinds of numbers Nevada saw in 2016 is still an impressive feat. As Manley notes, the population flux and lack of voting tradition present their own organizing challenges. "Nevada shows if you spend the time and energy, if you build good infrastructure, you can get folks out to vote," he says. It also requires hiring as well as Reid did. Herzik's recommendation to other state parties that want to adopt the Nevada Democrats' model: "Go steal his staff."
Even if Democratic operatives bring in top staffers, money and infrastructure to state parties in Pennsylvania and Michigan, though, they will still run up against a fundamental challenge not faced by their counterparts in Nevada. While the Silver State was hit hard by the foreclosure crisis and the economic downturn last decade, "most of those jobs came back," observes Ralston. For many voters in the Rust Belt, "their jobs there are never coming back."