President Donald Trump's reelection campaign, in coordination with the Nevada Republican Party, filed an emergency motion on Tuesday to stop local elections officials from processing mail-in ballots electronically. Their last-minute filing came shortly after a Nevada district court judge rejected the campaign and the party's joint lawsuit seeking the same.
Tuesday's motion aimed to secure an expedited appeal from the Nevada Supreme Court, alleging that electronic tabulation could lead to ballot manipulation and fraud. The court denied the appeal's request to suspend ballot counting in Clark County later on Tuesday, although further legal proceedings related to the suit are scheduled to continue through at least early next week.
Trump's campaign and the Nevada GOP filed their original lawsuit to halt electronic ballot counting in Clark County—the state's most populous jurisdiction, where a majority of voters are registered Democrats—on the grounds that its mechanical tabulation system compromised the civic process. The suit pushed for increased observation over the procedures through which Clark County collects and counts mail-in ballots, arguing that human witnesses must be present to verify signatures and suggesting that cameras be installed to surveil tabulation.
Carson City District Court Judge James Wilson denied the request in a decision released last Thursday. His ruling noted that the Nevada state legislature passed a statute in August specifically permitting elections departments to tabulate ballots through electronic means, as part of a set of provisions for "conducting elections adversely affected by certain emergencies or disasters," such as the new coronavirus pandemic.
Wilson said the Trump campaign and Nevada GOP Party "failed to show the use of [Nevada's electronic tabulation system, Agilis] caused or resulted in any harm to any party, any voter, or any other person or organization," in that decision.
But the emergency motion, filed on Election Day, insisted that certain elements of Clark County's tabulation process, as it relates to mail-in ballots, "creates a process ripe for error or abuse." The motion reiterated concerns laid out in the Trump campaign and Nevada GOP's initial lawsuit, which focused on electronic verification of voter signatures. It suggested that Joseph Gloria, the Clark County Registrar who is named as a primary defendant, "is prohibiting observers from witnessing the duplication of mail ballots." Duplication refers to a scenario in which ballots with physical defects are copied so tabulation machines can properly read them.
Tuesday's motion alleged that, without physical witnesses to observe, Clark County's duplication procedures are "particularly susceptible to fraud through ballot manipulation." Dan Kulin, a Clark County Election Department spokesperson, previously noted that the jurisdiction does not prohibit observers from witnessing the tabulation process.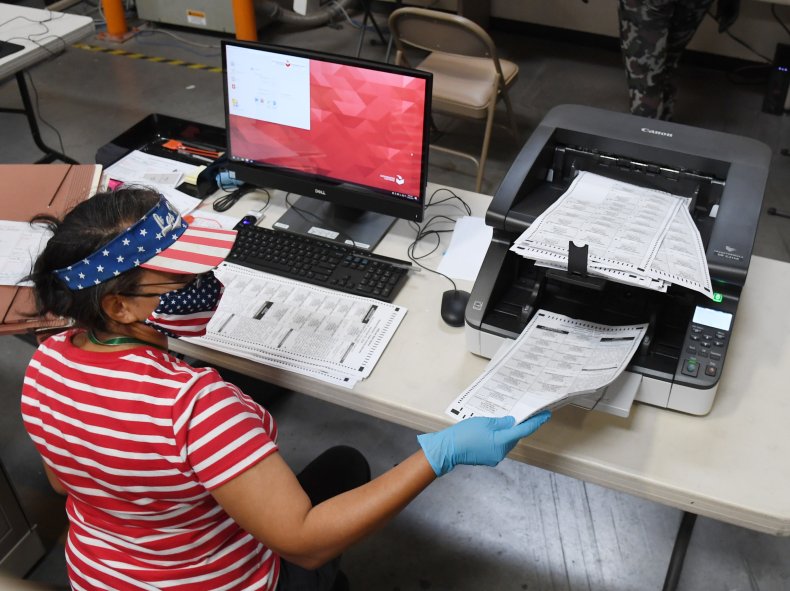 Local elections officials in Nevada, as well as Aaron Ford, the state's attorney general, described the lawsuit as an attempt at voter suppression in a large and heavily blue county.
The Trump campaign and the Nevada Republican Party's original lawsuit also asked that Clark County stop processing mail-in ballots altogether, a request Wilson rejected at the end of October. Trump has made his opposition to expanded participation in vote-by-mail procedures clear throughout the pandemic, falsely claiming that widespread use of mail-in ballots would lead to voter fraud during the election.
"The president's deliberate attempts to undermine Nevada's elections have failed yet again," said Ford in a statement released Monday, following Wilson's most recent decision. "He has made every attempt to control the outcome of this election without any regard for the health and safety of residents or Nevada's state laws designed to protect the sanctity of the ballot. Today's ruling makes clear that there is a proper procedure to observe an election that even the president must follow, and it's most certainly a victory for the constitutional rights of all Nevadans."
Newsweek reached out to the Trump campaign, the Nevada Republican Party and the Clark County Registrar for further comments, but did not receive replies in time for publication.
This story was updated at 9:12 p.m. ET to include the Nevada Supreme Court's response to Tuesday's emergency motion.