Nevada's Democratic Governor Vetoes Bill to Reject Electoral College in Favor of National Popular Vote Winner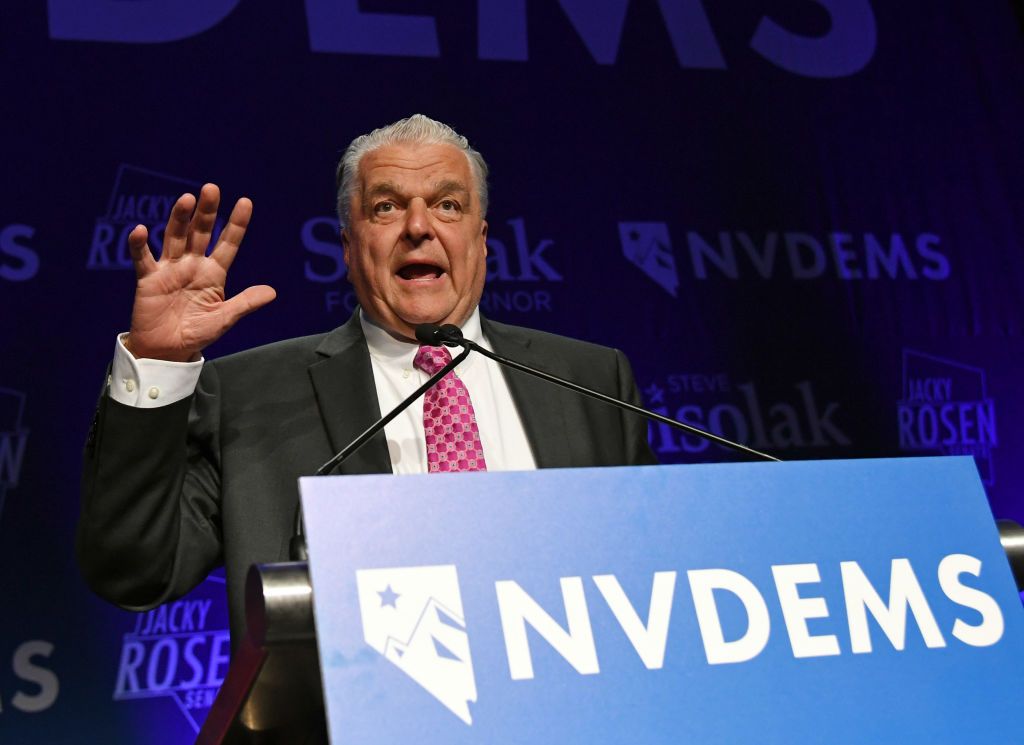 Nevada Governor Steve Sisolak used his first veto of the 2019 legislative session to reject a Democratic-led proposal that would have pledged the state's six electoral votes to presidential candidates who won the popular vote.
Sisolak, a Democrat who was elected to office in November, rejected AB186, which would have joined a pact of several states looking to disregard the Electoral College in the next presidential election. Instead, the bill sponsored by late Democratic Assemblyman Tyrone Thompson would have tied Nevada's electoral votes to the national popular vote winner in future presidential elections.
Nevada Republicans applauded the Democratic governor's move, claiming "radical Democrats" in the state legislature tried to push the bill through.
Fourteen states and the District of Columbia had agreed upon the National Popular Vote Interstate Compact (NPVIC) to ensure the presidential candidate who wins the nationwide popular vote would be assigned the state electoral votes.
"Once effective, the National Popular Vote Interstate Compact could diminish the role of smaller states like Nevada in national electoral contests and force Nevada's electors to side with whoever wins the nationwide popular vote, rather than the candidate Nevadans choose," Sisolak said in a public statement after vetoing the bill Thursday.
Although President Donald Trump did not win Nevada in 2016, he was the second recent Republican Party presidential candidate, after George W. Bush in 2000, who claimed victory despite losing the overall U.S. popular vote. Democrats across the country have since banded together in an attempt to essentially invalidate the Electoral College on a state-by-state level.
"I recognize that many of my fellow Nevadans may disagree on this point and I appreciate the legislature's thoughtful consideration of this important issue," Sisolak continued in the statement. "As Nevada's governor, I am obligated to make such decisions according to my own conscience. In cases like this, where Nevada's interests could diverge from the interests of large states, I will always stand up for Nevada."
Nevada has attempted to pass similar pieces of legislation in 2017 and 2009 that failed once they reached the governor's desk for approval. Votes in the Nevada Assembly were not along party lines, with several Democrats opposing the bill which was approved by a 23-17 vote.
Democratic Assembly Majority Leader Teresa Benitez-Thompson said Thursday she was simply respecting that Nevada has a prominent place in the current presidential election process.
"I'm not ready to cede that power to anyone, or to a state that's bigger than us," she told The Nevada Independent Thursday.
Democratic Assemblyman Alexander Assefa disagreed, telling The Nevada Independent: "The idea that our votes can be nullified and not count toward the election of the president is an erosion and disregard to the sacrifices made for our right to vote."
The Nevada state Senate had advanced the bill on a 12-8 vote.
In regard to primaries, Nevada is one of the first states nationwide to hold caucus or primary elections along with Iowa, New Hampshire and South Carolina. Nevada state law states that voters must be affiliated with a political party to vote in its primary and winners in primary elections are determined by plurality vote.