Nevada Governor Says Trump Showed 'Callous Disregard' to Hold Indoor Rally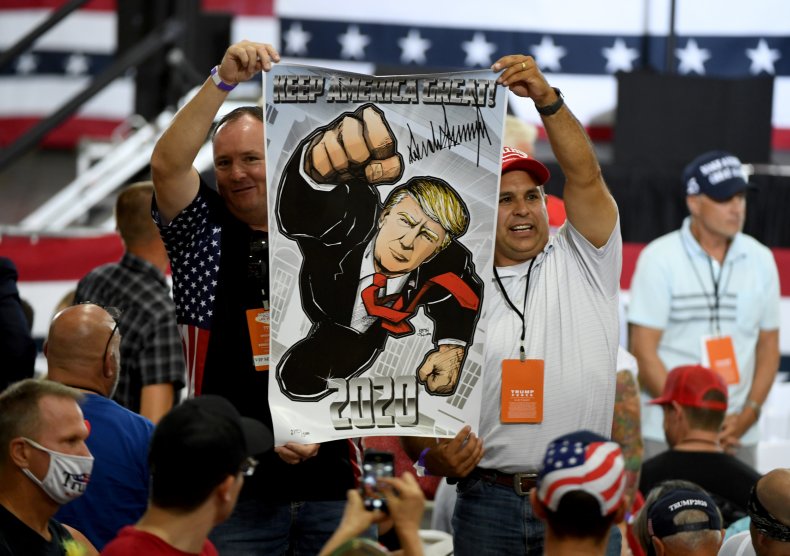 Democratic Nevada Governor Steve Sisolak said President Donald Trump had no problem making the decision to hold a "reckless" indoor rally amid the COVID-19 pandemic on Sunday because he "only cares about himself."
Sisolak made the remarks during a Monday night interview with CNN's Erin Burnett. The governor said that the Henderson, Nevada rally, which appeared to feature many attendees failing to wear masks or observe social distancing, did not concern Trump because he was personally protected from the public health threat.
"He had a rally here with several thousand people yesterday. He cared about himself being protected," Sisolak said. "He didn't care about the other thousands of people that were in there and the three million residents I have in the state of Nevada that are at potential of having disease transmitted because of what he did."
"He only cares about himself," added Sisolak. "He knew what the rules were. He chose to show callous disregard in a reckless, selfish, irresponsible way. There is no other way to put it."
The rally happened despite Sisolak's ban on gatherings of more than 50 people. Trump insisted that the restrictions did not apply to him, a claim that Sisolak described as "absurd." The president also said that the indoor rally happened after several outdoor versions of the event were forced to be cancelled by Sisolak.
Trump and his allies blasted the governor for hypocrisy in denouncing the rally while allowing crowds to gather at Black Lives Matter protests and on the Las Vegas strip, where many casinos have been allowed to reopen. Sisolak insisted that the president's justification for the indoor rally "doesn't make any sense."
"He's comparing this to a protest," Sisolak said. "He's like a little kid saying, 'So and so did it so I can do it, too.' I wish that we didn't have large gatherings anywhere, whether they're on the Las Vegas strip or it's a protest or it's at one of his rallies."
"The justification of it's okay that I did it because somebody else did it, that just doesn't make any sense," he added. "He's the president of the United States. He should be an example for everybody. Not play to the lowest common denominator... he is the lowest common denominator."
Trump seemingly admitted that the rally crowd could represent a public health threat during a recent interview with the Las Vegas Review Journal. The president said he was not worried about contracting the virus because his speech was given from a stage that is "very far away" from rally attendees, while noting that he was "more concerned" for the health of paper's reporter, who was closer to the crowd.
Newsweek reached out to the Trump campaign for comment.