Nevada Gun Event Makes Racist Jokes About 'Firearm Safety for Black People'
A firearm instructor in Nevada held a racist segment during a conceal carry weapon (CCW) event, telling Black people to "lick the chicken grease off your fingers" before shooting.
Vegas CCW instructor Nephi Khaliki made the controversial comments during an event at the Clark County Library on April 10 where Republican candidates were listed as special guests.
Among those listed as special guests were former Miss Nevada and U.S. Senate candidate Sharelle Mendenhall and Nevada governor candidate Joey Gilbert.
A video of the controversial part of the class was shared on Twitter by the 443,000-follower-strong account Patriot Takes, which called the segment "racist."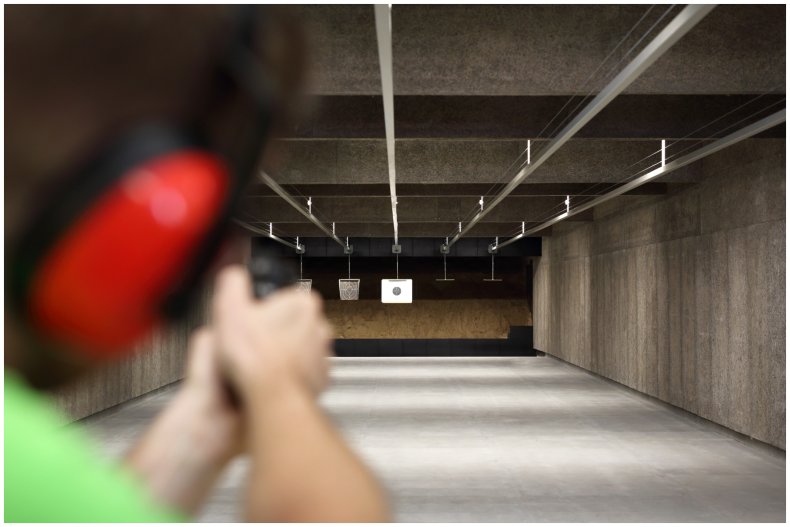 In the clip, Khaliki tried an attempt at humor and said firearm "rules are different for the races, right?"
He later showed a slide of a Black man, implied to be a gang member, holding a gun sideways and repeated the bullet points, which read:
Always shoot the gun right side up
Always lick the chicken grease off your fingers before shooting
Always make sure there's a white person around so you have someone to blame for everything that goes wrong in your life
Always aim for small children to ensure you actually hit another gang member
The attempt at humor was initially met with laughs before the audience became split over the slide's content.
Khaliki was later criticized online over the attempt at humor, leading the firearms instructor to address the controversy in a Monday Twitter post.
The Afghan American said: "People got equally roasted in my class at the library last Sunday. I am a minority FYI."
He then shared an earlier part of the segment where he lampooned white people, using a picture of a stereotypical hillbilly to illustrate his point.
Khaliki shared another clip from the same event on Wednesday where he spoke about his own background and being associated with terrorists.
He added: "Look, I think racism's funny. Cause, in order to be a racist you gotta be so ignorant. Cause, to me, racism is about fear. I fear you so, I want to control you because I'm afraid that if you're left to your own devices you will rise above me and you will be my ruler."
In a statement to Newsweek, Mendenhall said she spoke briefly at the event. "I support Nevadans obtaining their CCW so I agreed to speak at this event. I gave a quick speech supporting the 1st and 2nd amendment and the rights to get a CCW here in Nevada and then I left.
"As I was leaving I heard him say at the beginning of the class: This is an R-rated class and I bust on everyone equally."
Gilbert, who said he did not go to the event, told Newsweek: "The slide that was used at the CCW class I was invited to, but did not attend and had no involvement with whatsoever, is abhorrent and I condemn the blatant racism."
Newsweek has contacted Vegas CCW for comment.
Vegas CCW is influential enough to feature Donald Trump Jr., who spoke about the Second Amendment to the audience in a video message that was shared during the event on April 10.
Update: 13/04/22, 1 p.m. ET: This article was updated with a comment from Joey Gilbert.