Nevada Joins List of States Setting Single-Day Record of Coronavirus Cases Since Pandemic Began
Nevada has joined a growing list of states that are now seeing their highest single-day increases in new cases of the coronavirus, even as all 50 states have eased stay-at-home orders.
The state reported 379 new cases of the novel virus on Tuesday. Nevada's previous record high for a single day was 295 new confirmed infections, on May 22. The state has now confirmed 11,658 infections and 467 deaths, according to the Nevada Department of Health and Human Services (DHHS).
Most of Nevada's new infections are in Clark County, where Las Vegas is located, and the county also saw its highest single-day increase on Tuesday. The majority of Nevada's new infections (342), as well as most of its total number of cases (more than 9,000), have been detected in the county.
Meanwhile, new deaths related to COVID-19, the disease caused by the virus, have remained in the single digits since the end of May. The highest number of fatalities this month came on June 2, when six people died.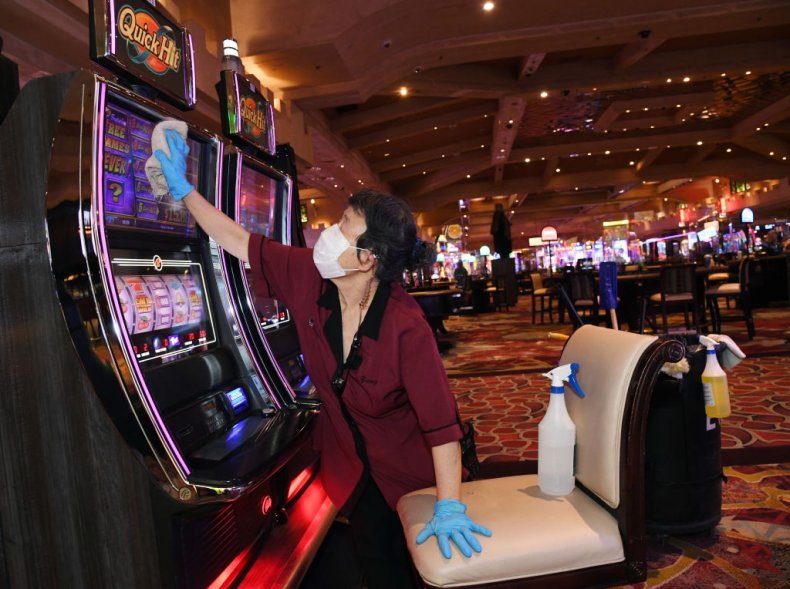 "Today's single largest day increase of positive cases can be partially attributed to delayed reporting from the weekend but also continues the upward trend of daily new cases seen in the last three weeks," Shannon Litz, public information officer for the DHHS, told Newsweek in a statement.
Litz said Nevada "had the expectation that as a result of reopening and an increase in testing, our positive cases were likely to increase..... We continue to encourage all Nevadans to maintain good hand hygiene, wear a face covering in public and observe 6 feet of social distance with those who are not in your household."
On May 29, Nevada entered Phase 2 of its reopening plan. But as the number of new infections has risen, the state's governor has decided to hold off on moving to Phase 3 for now.
"We're not in a post-COVID time," Governor Steve Sisolak, a Democrat, said Monday in an address to Nevada residents. "We're in the middle of a COVID-19 pandemic. We're right dead smack in the middle of it."
He added: "Now is not the time to abandon these protective measures. It is the time to double down on them. We can only stay open if we stay safe."
Alabama, Alaska, Arizona, Arkansas, California, Florida, North Carolina, Oklahoma, South Carolina and Texas, have all seen their highest single-day increase in new cases over the past week. As a result, some states and cities have decided to pause or hold back on their reopening plans.
While health experts have expected to see an increase in new infections as testing has ramped up across the country, allowing those with minor symptoms and those who are asymptomatic to get tested, many are concerned about the surges in new cases. Hospitalizations have increased in several states, as the percentage of positive tests has also been on the rise. This would suggest that there is an increase in more serious cases of the virus.
Nationwide, more than 2.1 million people have been infected with the virus, and over 116,000 people have died. The U.S. continues to be the country with the highest number of infections and deaths.
Meanwhile, Dr. Anthony Fauci, director of the National Institute of Allergy and Infectious Diseases, told British newspaper The Telegraph on Sunday that the future duration of the pandemic in the U.S. will likely be measured in months.
"It's going to be really wait and see," Fauci told the newspaper. "My feeling, looking at what's going on with the infection rate, I think it's more likely measured in months rather than weeks."