Nevada Judge Rejects GOP Request for Restraining Order Blocking Ballot Counting
A Nevada judge on Friday denied the state's Republican Party's request for a temporary restraining order that would halt the counting of ballots in Clark County.
Carson City District Judge James Wilson made the ruling hours after the lawsuit was filed by the Nevada Republican Party and the campaign for President Donald Trump's re-election, according to the Las Vegas Sun. Republicans asked for the counting to be stopped until a plan is in place for them to observe the process. Wilson denied the request, but will hold an evidentiary hearing on Wednesday.
Republicans requested in April that they would be able to monitor the process, but did not receive proper approval for their plan from Nevada Secretary of State Barbara Cegavske, according to court filings. A different plan to install video equipment at election headquarters was also rejected.
The lawsuit accuses Clark County Registrar of Voters Joe Gloria of "obstructing the observation process," saying Gloria "refused to timely provide a plan to the Secretary for approval." The suit also argues that a signature-matching machine has a "tolerance number" that is set too low, decreasing the number of ballots rejected.
Trump campaign co-chair Adam Laxalt told the Sun that he found it "hard to believe" that only 1 percent of ballots had been rejected. In 2016 and 2018, approximately 1.2 percent of mail-in ballots were rejected nationwide, according to an ABC News analysis. The primary reasons for rejecting were invalid signatures and ballots returned after the deadline, ABC News found.
Clark County disputes the claims in the lawsuit, saying that observers have been welcomed in areas open to the public. Critics of the lawsuit call it an attempt to suppress votes.
"The demands articulated in the GOP's lawsuit amount to voter suppression, plain and simple. Like the Trump campaign's last attempt to interfere with Nevada's election, this suit is nothing but a sham. Nevadans are tired of the GOP's bad faith cowardice, and that is why they will remain laser-focused on rejecting Trump for the next eleven days," Nevada Democratic Party Chair William McCurdy II said in a statement.
Nevada Attorney General Aaron Ford agreed, tweeting, "Again I say, we will always protect the right to vote, and we won't let it be suppressed."
Newsweek reached out to the Nevada Republican Party for comment.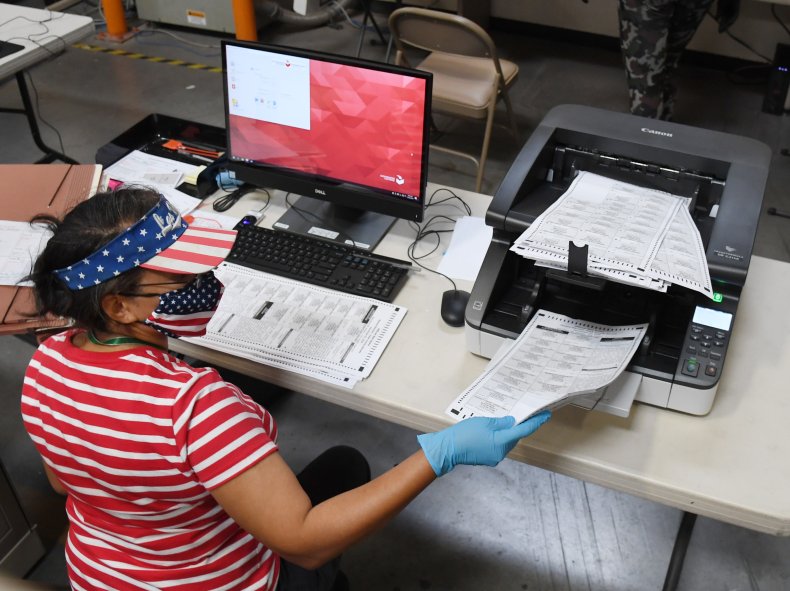 Voter turnout in Nevada is high, with over twice as many mail-in votes already received than in the full 2016 election, according to the Associated Press. As of Monday, almost 176,000 ballots had been received in the state, compared with nearly 79,000 mail-in ballots in 2016.
Two months ago, Nevada lawmakers passed Assembly Bill 4, requiring all active voters be mailed ballots due to the COVID-19 pandemic. In-person voting centers are open for early voting until October 30.
Trump has repeatedly criticized mail-in voting in recent months, alleging that it opens the election process up to fraud. However, almost all studies of mail-in voting have shown no evidence of widespread voter fraud. According to the Brennan Center, incident rates of voter fraud are only between 0.0003-0.0025 percent, stating it is more likely an American "will be struck by lightning than that he will impersonate another voter at the polls."