Lighting Strike Kills Man on Jet Ski, Burns Several Others in Water Nearby
A Nevada man has died after being struck by lightning while on a jet ski in California. The lightning struck the man and his son, who was badly injured, at Stampede Reservoir in Sierra County on Saturday, as reported by KTVU.
Eugene Arao, aged 47, from Reno, died when he was struck by lightning and went under the water near a boat ramp. Divers later found Arao's body 20 yards from the shoreline.
Arao's son was in the water next to the jet ski and was knocked unconscious and "severely burned," according to eyewitness Shelly Bryant.
Rescuers performed CPR on the son before paramedics arrived. He was reportedly taken to Truckee Hospital where he is recovering.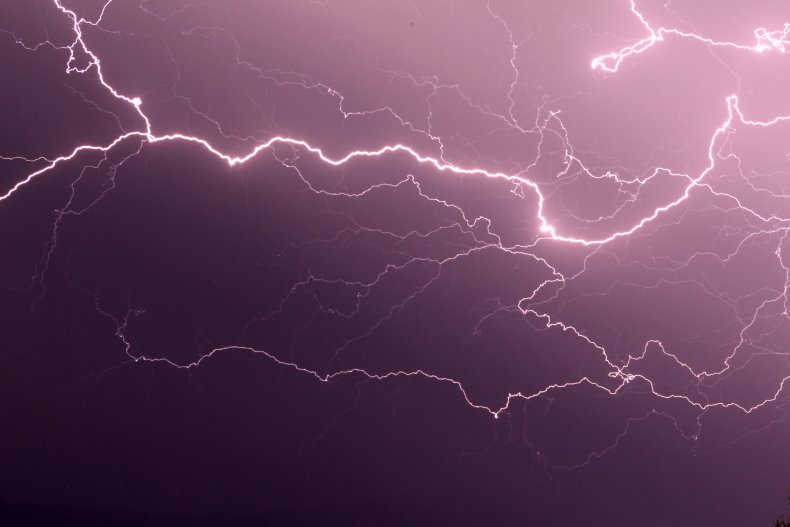 Bryant, who says she was 30 feet from Arao when he was struck by lightning, said in a Facebook post: "We had some minor damage to our boat....our sonar was fried from the strike and it knocked the wind out of our nine-year-old. She has some minor chest pain today but is doing well."
Bryant said that her husband took herself and her daughter to the dock and then they ran to somewhere safer and that her husband later returned to help find Arao's body.
Bryant said in a comment that it was the "scariest thing" she had experienced and also said: "What a horrific tragedy...remember tomorrow is not promised."
KOLO reported that four people were struck by lightning on Saturday afternoon and that two of them were described as "shocked" and were released from the scene with no medical issues.
According to the National Weather Service, there have been nine lightning fatalities in the U.S. in 2020. This is the first incident to take place in California this year, with other deaths recorded in Colorado, Florida, Georgia, Indiana, Pennsylvania, South Carolina, and Texas.
Between 2010 and 2019 there were 258 lightning fatalities in the U.S. and between 1959 and 2016 there have been 34 lightning fatalities in California.
The National Oceanic and Atmospheric Administration has published guidelines to follow during a thunderstorm: "When you hear thunder or see lightning, you should immediately seek safe shelter — a building with electricity and/or plumbing or a metal-topped vehicle with the windows closed. Picnic shelters, dugouts, small buildings without plumbing or electricity are not safe.
"Once inside, follow these important safety tips: Stay off corded phones. You can use cellular or cordless phones. Don't touch electrical equipment or cords. Avoid plumbing. Do not wash your hands, take a shower, or wash dishes. Stay away from windows and doors, and stay off porches. Do not lie on concrete floors or lean against concrete walls.
"Nowhere outside is safe when thunderstorms are in the area. Run to a safe building or vehicle when you first hear thunder, see lightning or observe dark threatening clouds developing overhead. Stay inside until 30 minutes after you hear the last clap of thunder."