Nevada Man Who Claimed Someone Voted As His Dead Wife Charged With Voter Fraud
Donald Kirk Hartle, a 55-year-old Republican voter who publicly protested a 2020 ballot being cast in his dead wife's name, has been charged with voter fraud.
The Nevada Republican Party and other conservative groups cited Hartle's claim as proof of "widespread" voter fraud hyped by then-President Donald Trump. However, Nevada prosecutors now say that Hartle himself submitted the fraudulent ballot under his dead wife's name.
In November 2020, Hartle told KLAS-TV that he discovered that a ballot had been submitted into the 2020 election under the name of his deceased wife, Rosemarie Hartle, who died in 2017 at age 52 from breast cancer.
Hartle told the news station that his wife's mail-in ballot never arrived at his house. Her name was, in fact, on a state list of active voters. The signature on her ballot matched her signature on file in Clark County voting officials' records.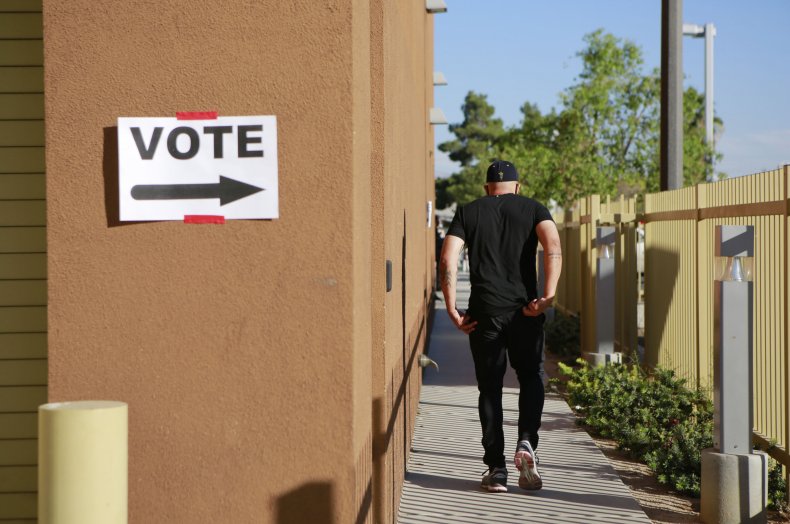 At the time, Hartle told KLAS-TV, "That is pretty sickening to me, to be honest with you. ... It made no sense to me, but it lent some credence to what you've been hearing in the media about these possibilities and now it makes me wonder, how pervasive is this?"
Interviewers asked Hartle whether he thought her ballot could've been stolen from his mailbox. He responded by saying that he hadn't speculated on how her ballot might've fallen into a fraudster's hands.
A November tweet from the Nevada Republican Party also cited Hartle's claim.
"How did the forged signature pass [Clark County's] signature verification machine?" the tweet read. "And this isn't the only case of a deceased person voting in NV."
Hartle has been charged with two felonies for allegedly submitting his dead wife's ballot, the criminal complaint said. Both felonies are punishable by up to four years in prison and fines of up to $5,000.
"Voter fraud is rare, but when it happens it undercuts trust in our election system and will not be tolerated by my office," Attorney General Aaron Ford said in a statement about Hartle's charges. "I want to stress that our office will pursue any credible allegations of voter fraud and will work to bring any offenders to justice."
The Nevada GOP alleged that 1,506 deceased Nevadans had submitted ballots in the 2020 election, according to their report given to Nevada Secretary of State Barbara Cegavske. Only 10 of the alleged dead voters were actually deceased, according to Nevada's Office of Vital Statistics. Those 10 were referred to law enforcement officials for investigation, The Nevada Independent reported.
In mid-November 2020, the re-election campaign of President Donald Trump filed a lawsuit in Nevada claiming that voter fraud had caused him to lose the state. The suit aimed to either block the certification of the state's election results or award Nevada's electoral votes to Trump.
In early December, a judge ruled against the Trump campaign's lawsuit, stating that it hadn't provided any proof of its allegations.
Newsweek contacted the Nevada GOP for comment.