Nevada, Massachusetts State Treasurers Want to Dump Gun Company Investments
The top financial officials for Nevada and Massachusetts are seeking policy changes that would allow them to divest millions in gun manufacturers and related businesses.
The Democratic state treasurers in Nevada and Massachusetts on Thursday announced plans to unload taxpayer money invested in the gun industry that will require approval from other governmental bodies in both states. With gun control proposals uncertain after last week's school shooting in Uvalde, Texas, that left 21 dead, the treasurers are using divestment as a strategy to address gun violence.
Nevada Treasurer Zach Conine explained in a video posted online his rationale for cutting financial ties with companies that manufacture or benefit from the sale of "assault-style weapons" from the $47 billion in state assets managed by his office.
"In my opinion, they expose the state to too much risk," said Conine. "As a chief investment officer of Nevada, managing risk to Nevada's taxpayers is my responsibility. The moral risk for investing in these companies is too high and is more than we are willing to bear, and investment is fundamentally plans for the future."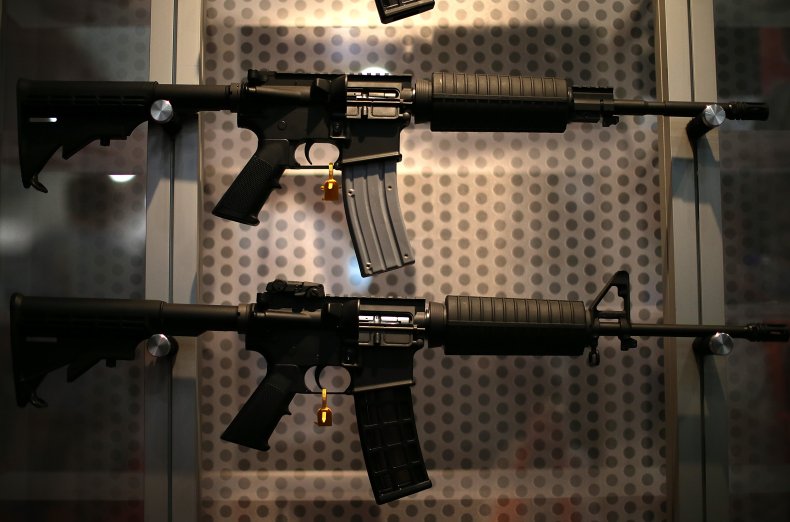 Conine said his office has identified approximately $89 million that could be subject to divestment under his proposed policies, which must be adopted by the State Board of Finance as well as the board overseeing the state college savings program.
At the moment, Conine said his office will not sell off investments in targeted companies at a loss. Instead, it'll hold the investment until maturity and then never buy it again.
According to Conine, Connecticut, Rhode Island and New York City have already made similar divestments.
Mark Oliva, director of public affairs for the National Shooting Sports Foundation, told Newsweek that plans by state treasurers to divest from the firearms industry detract from what should be their overriding focus: making profitable investments.
"They have a fiduciary responsibility to the investors," he said. "When they're making public policy decisions on how they're going to use their funds to push a particular ideology, they're not serving those investors in their best interests. They're literally abdicating their responsibility."
Oliva said there are three major publicly traded companies in the firearms industry: Sturm, Ruger & Company, Inc.; Smith & Wesson Brands, Inc.; and Vista Outdoor. He described each company as profitable.
In Massachusetts, Treasurer Deborah Goldberg is proposing her state go further by requiring the state's $101.5 billion pension fund to divest $2 million from "companies that manufacture and distribute guns and ammunition for civilian use," according to a statement from her office.
"It is unacceptable that we as a country continue to live in a seemingly endless cycle of gun violence," Goldberg said in a statement. "Traditional approaches are not working, and we must do what we can to potentially save lives."
Goldberg's proposal would come in the form of legislation that would direct Massachusetts Pension Reserves Investment Management Board to pull its money from publicly traded companies that derive 15 percent or more of their revenues from selling or manufacturing "ammunition, firearms or firearm accessories for civilian purposes."
Her office said it expects impacted companies to include Ammo Inc.; Smith & Wesson; Sturm, Ruger & Co., Inc.; and Vista Outdoor.
Following the the 2018 massacre at Stoneman Douglas High School in Parkland, Florida, some companies cut ties with the National Rifle Association.
Goldberg said she made the same proposal to lawmakers after the 2018 shooting. However, the bill didn't pass.
Previously, the Massachusetts state investment board has been directed to divest money from companies profiting from tobacco or doing business with Sudan, Northern Ireland and Iran.
Oliva said he hadn't reviewed the specifics of each treasurer's proposal, but added that his group will be engaged with state lawmakers.
Update 6/3/22, 5:15 p.m. ET: This story has been updated with comment from the National Shooting Sports Foundation.