Nevada, Missouri and These 4 States See Highest Rise in Child COVID Cases As Nearly 100K Test Positive in 2 Weeks
As pediatric cases of the novel coronavirus rise across the country, health officials in six U.S. states recently reported the most significant increases in infections diagnosed among children.
An analysis of local and state health department data, included in a recent report by the American Academy of Pediatrics and Children's Hospital Association, showed close to 100,000 new COVID-19 cases seen in children between July 16 and July 30. The jump represented a 40 percent increase in pediatric diagnoses nationwide, bringing the U.S. total to nearly 339,000 cases reported in children since the pandemic began.
Alaska, Idaho, Missouri, Montana, Nevada and Oklahoma reported the most significant increases in pediatric cases during that two-week period, according to the report. The majority of those states—Alaska, Missouri, Montana, Nevada—classify children as anyone under 19 years old. Nevada and Oklahoma's classifications are slightly narrower, ending at 17 years old.
Newsweek reached out to health departments in the six U.S. states where upticks in pediatric cases were most significant but did not receive replies in time for publication.
The new report noted that roughly 70 percent of pediatric COVID-19 cases reported during the latter half of July came from southern and western states. The trend aligned with regional spikes in virus cases, as well as related hospitalizations and deaths, confirmed by health authorities in those areas throughout the summer.
In Arizona, where overall infections soared during the earlier part of the season, data showed the pediatric per capita infection rate was higher than any other U.S. state, at nearly 1,100 cases per 100,000 children. Tennessee, South Carolina, Louisiana, Florida and Nevada trailed Arizona's per capita pediatric case rates with similarly high numbers.
Newsweek reached out to the American Academy of Pediatrics and Children's Hospital Association for comments but did not receive replies in time for publication.
The rise in COVID-19 cases diagnosed in U.S. children immediately preceded the reopening of schools in several states for the 2020-21 academic year. In Georgia, Paulding County School District administrators became subject to widespread criticism and concern after students at a local high school shared photos online of crowded hallways and minimal use of face masks.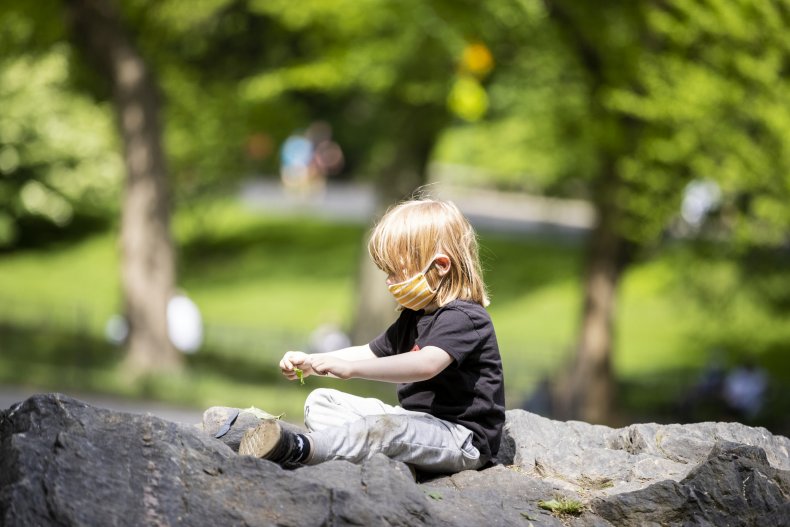 Six students and three faculty members at the school tested positive for COVID-19 following the first week of classes, prompting the district's superintendent, Dr. Brian Otott, to announce North Paulding's brief transition to remote learning on Sunday. Paulding County School District confirmed more than 50 positive COVID-19 cases between July 1 and August 5, according to a report published by WSB-TV.
Schools in Indiana, Mississippi and Tennessee also began to reopen in early August, with plans for educational institutions across several additional states to do the same over the next few weeks.
While individuals older than 65 and those with underlying medical conditions are thought to carry the greatest risks of developing severe illnesses after contracting COVID-19, a growing occurrence of multisystem inflammatory syndrome (MIS-C) in children earlier this year pointed to the virus' potentially harmful effects on younger people. According to the Centers for Disease Control and Prevention, at least 570 cases of MISC-C were confirmed across 40 states, and Washington, D.C., as of Thursday, August 6. At least 10 children have died as a result of the illness.