Nevada Newspaper Editor Sees 'No Path Left for Trump' in State as Biden Holds Lead
A Nevada newspaper editor and veteran political journalist tweeted that he sees "no path left for Trump" in his state as Democratic candidate Joe Biden continues to hold a lead in the surprise swing state.
Jon Ralston, editor of the nonpartisan news website The Nevada Independent, began a lengthy Twitter thread just after 12 p.m. ET Thursday providing an update on the vote count. All eyes are on Nevada at the moment, as its six electoral votes would clinch Biden's claim to the presidency.
Biden leads President Donald Trump by about 11,000 votes in the state, according to the most recent estimates. Reports arrived Thursday from Clark and Washoe Counties, as well as several of the state's rural counties.
Clark, which is home to the Democratic stronghold of Las Vegas, favored Biden to Trump two to one in the batch of ballots already reported Thursday, according to MSNBC. The state still has about 63,000 outstanding mail-in ballots, Ralston wrote in his tweet, with the majority of them coming from Clark. Sixty thousand provisional ballots are also remaining in the state, he wrote.
But the Democratic Party is expected to benefit from the mail-in ballots and "should win them decisively," while the provisionals have been evenly split among Democratic and Republican tickets, he added. "I see no path left for Trump here," Ralston concluded his thread.
During an appearance on MSNBC Thursday afternoon, Ralston again stressed that the remaining votes in the state from Clark County will almost certainly favor Biden, saying "there is no path for Trump to cut into Biden's lead." Instead, Biden's lead is expected to expand, Ralston said.
The editor also addressed the time which it's taken elections officials in the state to count these outstanding votes, as the race has essentially come down to mail-in ballots. Ralston told MSNBC the slow pace is "frustrating" for him to witness, but thought that officials have been overwhelmed because Nevada doesn't typically have mail in balloting.
Counties likely weren't staffed properly ahead of Election Day and thus weren't set up to handle the massive influx of mail-in ballots, Ralston said. But he speculated that there would be a significant amount of external pressure placed on Clark County in particular to release more votes Thursday, as an immediate victory for Biden hinges upon the state.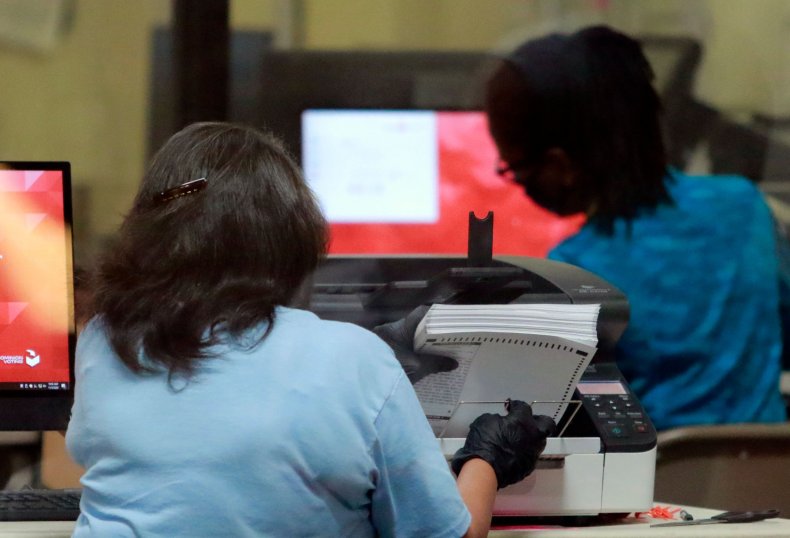 For its part, the Trump campaign has taken to filing lawsuits in several states, repeating claims of fraudulent ballots and other irregularities. In Nevada, Trump advisers announced they are filing a lawsuit alleging that up to 10,000 people voted fraudulently by mail.
"We firmly believe that there are many voters in this group of mail-in people that are not proper voters," former Nevada Attorney General Adam Laxalt said in a news conference Thursday morning.
"We are also confident that there are thousands of people whose votes have been counted that have moved out of Clark County during the pandemic." Laxalt said, claiming that there have also been dead voters counted throughout the state, and that some voters received up to 18 ballots at their homes.