Two Teens Accused of Bludgeoning Their Mother to Death Because of Her 'Complaining'
Two Nevada teens are accused of stabbing and bludgeoning their mother to death because they were tired of "her complaining." The teenagers were arrested on Wednesday, the Nye County Sheriff's Office said.
Dakota Saldivar and Michael Wilson, both 17, are charged with murder, conspiracy to commit murder and domestic battery with a deadly weapon. The two teens, who did not enter a plea during their court appearance, were denied bail on Thursday.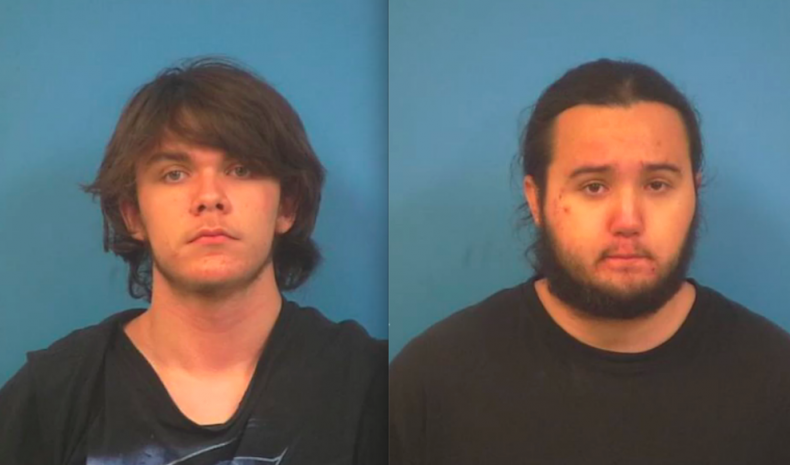 Sergeant Adam Tippetts of the Nye County Sheriff's Office said Dawn Liebig, 46, was first reported missing on Monday. Deputies responded to Liebig's home on the 6300 block of Wedgewood Street in Pahrump, where they encountered Saldivar and Wilson, Tippetts said in a Facebook video.
The two initially told detectives that Liebig had disappeared and that they had not heard from her. However, they gave inconsistent stories, prompting deputies to conduct additional interviews and search their cellphones, Tippetts said.
The teens then changed their accounts and told detectives that their mother had asked them to kill her. They claimed they stabbed her to death at her request, before admitting to stabbing her following an argument.
Wilson, who said he had been adopted by Liebig, told officers that he and Saldivar had buried their mother's body in a 2-foot-deep grave, KVVU-TV reported. He then led investigators to Liebig's shallow grave in the desert and the buried murder weapons.
A follow-up interview, Saldivar revealed the two had decided to murder their mother on July 19 because "they couldn't take her complaining," according to KVVU-TV.
The teens confessed they had an argument with Liebig before attacking her and said they were tired of her parenting style, Tippetts said. Wilson and Saldivar told investigators they waited for Liebig to go to sleep before attacking her.
Police records revealed that the two planned to stab Liebig in the jugular vein so she would die quickly. Wilson allegedly stabbed her in the neck and Saldivar hit her in the head with a hammer 20 times, according to statements in the police report.
The attack reportedly lasted about half an hour as Liebig fought for her life, the two told police.
Tippetts said Saldivar and Wilson were arrested for open murder, conspiracy to commit murder and domestic battery with a deadly weapon. They were booked as adults at the Nye County Detention Center. The two are due to appear at Pahrump Justice Court on August 9.