Nevada's Democratic Convention Brawl Shows Growing Rift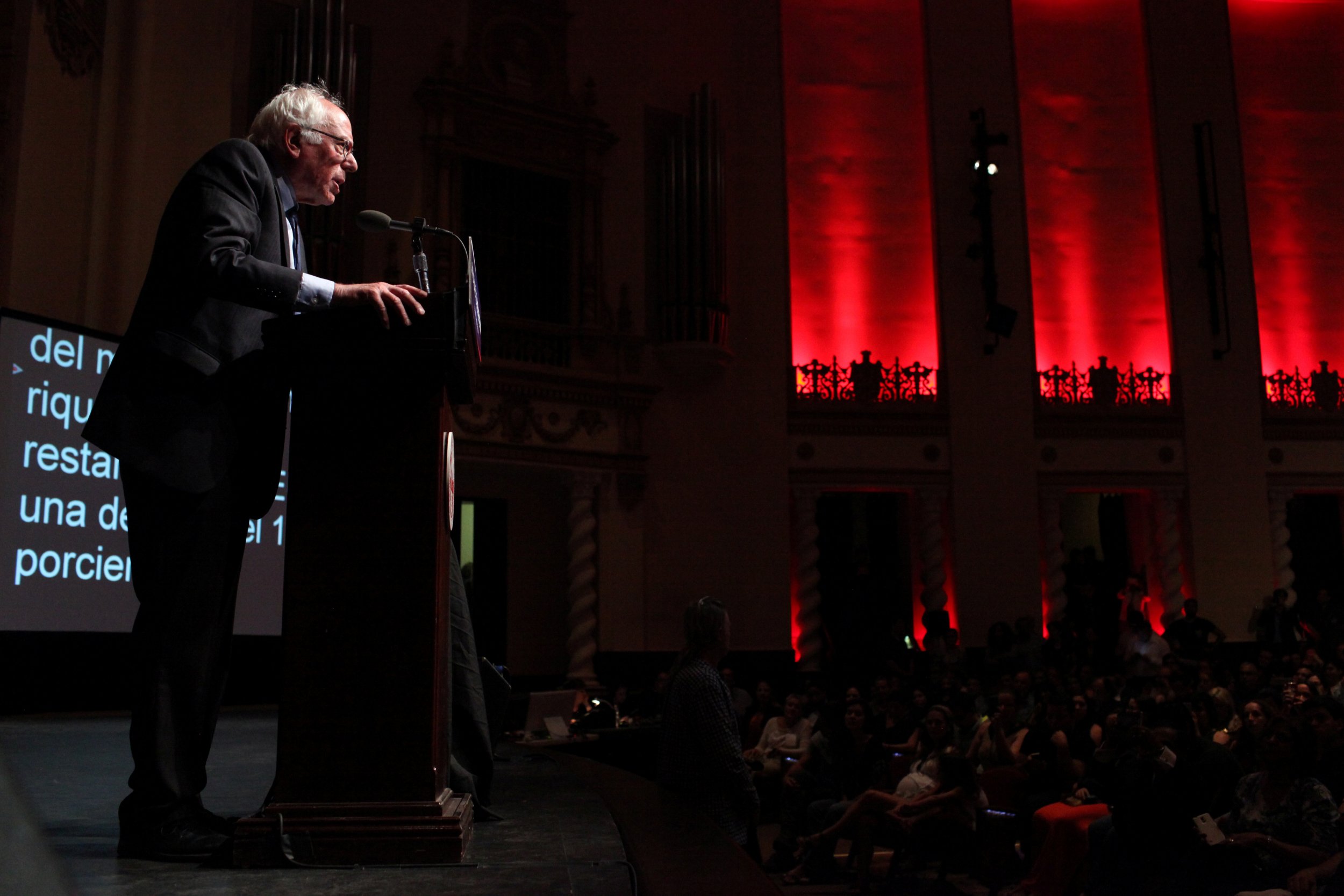 Bernie Sanders joined his supporters in criticizing the Nevada Democratic Party after violent outbursts disrupted their state convention on Sunday when his supporters became angry about the process.
One Sanders supporter threw a chair, unhappy about being blocked in a rules vote as part of an effort to help the senator from Vermont win more delegates to the national convention. Others applied chalk graffiti to a party building. And the state's party chairwoman has been receiving death threats since then.
Hillary Clinton won Nevada's caucuses in February. On Tuesday, she and Sanders were facing off in Kentucky and Oregon, two states where he was expected to do well.
The Nevada outburst could be a preview of how contentious the July 25-28 Democratic National Convention in Philadelphia could be. Sanders is unlikely to arrive at the conclave with more delegates than Clinton. But if he refuses to drop out, a contested convention could prove to be raucous.
Sanders on Tuesday framed Nevada's incident as a warning.
"If the Democratic Party is to be successful in November, it is imperative that all state parties treat our campaign supporters with fairness and the respect that they have earned," Sanders said in a statement on the Nevada incident.
Sanders - who said he condemns violence and personal harassment of individuals - leveled some of the same complaints his supporters at the convention did, arguing that state party Chairwoman Roberta Lange did not allow a headcount on a disputed rules change. He also argued that 64 delegates to the state convention were not given a hearing before being ruled ineligible.
The state party said the delegates were disqualified because they had not changed their registration to Democratic in time, making them ineligible.
Sanders supporters began circulating a picture of Lange on the internet that included her cellphone number and encouraged others to contact her to express their unhappiness.
Lange said in an appearance on MSNBC that she has been receiving death threats, including many containing vulgar language. Public messages sent to her Twitter account included a barrage of derogatory statements.
MSNBC played some of the voicemails, including one saying "people like you should be hung in a public execution."
"What you heard is a few of the thousands of emails and texts and Facebook messages and Twitter messages that I've gotten," Lange said on MSNBC. "Threats to my family, to my grandson, to my husband.
"They have attacked the place where I have a daytime job." Lange is a manager at a Las Vegas restaurant, according to her LinkedIn profile.
WORRY ABOUT SANDERS
Sanders' continued presence in the race is prompting concerns among Clinton allies that he will damage her ability to take on Republican Donald Trump and hurt her in the fall.
But Sanders supporters shrug off that worry, arguing that Trump is such a flawed candidate that Clinton will easily dispatch him if she faces him in November's election.
"Either way we're going to get a Democratic president," said Alisha Liedtke, 28, a Sanders supporter from Ellensburg, Washington.
In interviews, 14 voters who back Sanders said they did not believe Trump, who is all but certain to be the Republican nominee, could win the Nov. 8 election.
They said Sanders should keep fighting until July's Democratic convention, to push Clinton to the left and challenge her ties to Wall Street and support for free-trade agreements.
TOUGH SLOG FOR CLINTON
Clinton allies have held back from making overt calls for Sanders to exit the race. Moves by her campaign to try to push him out could backfire and risk angering Democratic voters.
So Clinton must continue her primary fight in Kentucky and Oregon, where analysts predicted she would have a hard time winning.
The Democratic race is unlikely to wrap up before California, New Jersey and several other states vote on June 7.
Sanders has insisted that he will stay in the presidential race until the convention.
Democratic strategist Jim Manley, who supports Clinton, said Sanders should be careful he does not wind up helping Trump.
"I have no problem with Senator Sanders staying in until the end," said Manley. "If that's what he chooses to do, I just hope he plays it smart and doesn't give the Trump campaign any more ammunition than it already has to take on Hillary Clinton."