'Never Have I Ever' Cast: Meet the Netflix Show's Stars Maitreyi Ramakrishnan and Darren Barnet
Never Have I Ever is the new coming-of-age series from Mindy Kaling, released on Netflix on Monday. Its cast features a whole host of young breakout stars, but fans have already found themselves drawn to main character Devi (played by Maitreyi Ramakrishnan) and one of her main love interests, Paxton (Darren Barnet).
Ramakrishnan is appearing in their first ever on-screen appearance, while Barnet has made appearances on a number of big shows. Viewers may have seen Barnet in episodes of This Is Us, where he played the younger version of Jack Pearson (Milo Ventimiglia) in a 2017 episode of the NBC show. He has also starred in S.W.A.T., Criminal Minds and Facebook Watch series Turnt.
Ramakrishnan gained the role as Devi after show creator Mindy Kaling posted an open casting call on Twitter and Instagram. According to Time, she beat 15,000 applicants to win the role. Prior to gaining the role in Never Have I Ever, her acting background had mostly been in school productions.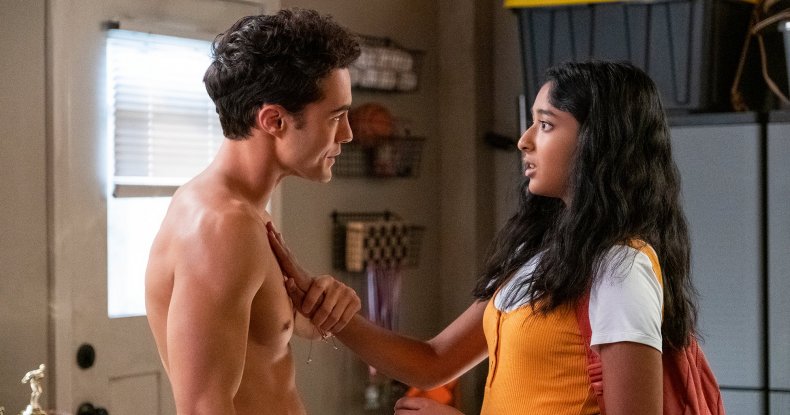 Speaking to Brown Girl Magazine, Ramakrishnan said of the audition process: "First I had to send in a self-tape from the Instagram post, then I sent in another tape when they called me back to send in some more footage of myself, then I went to LA two times to do some screen-testing and the whole process was so interesting to see how actors get roles and find themselves in the industry."
Barnet said of his audition process to MEAWW: "I had my initial audition and it just seemed to click. Next thing I knew, I was in front of Mindy Kaling testing for the role." He said of his character, "The role was really fun and I enjoyed the fact that Paxton has layers below the cover he is judged by. I can relate to that."
Barnet said of his previous experience as an actor to Pop Culturalist: "I told my parents that I wanted to be an actor at four or five years old. I was always doing impersonations, accents, all of that. My parents—understandably so—really wanted to redirect my passions....To [their] chagrin, I dove headfirst, and I haven't looked back. I'm starting to work more consistently, which is amazing, and getting my footing in this industry."
Diversity is central to Kaling's work, and this is reflected in the identity of the show's leads. Ramakrishnan told HuffPost Canada: "I made it very clear to my agent and publicist that Tamil Canadian is very, very important to me ... my identity isn't being Sri Lankan. That's not my country. My country is Canada. But my culture is definitely Tamil."
According to Teen Vogue, Kaling and show co-creator Lang Fisher changed the ethnicity of Barnet's character to make him part Japanese after they heard the actor speaking the language.
Never Have I Ever is streaming now on Netflix.