'Never Have I Ever' Ending Explained: What Happened at the End and What It Means for Season 2
Never Have I Ever is the latest teen comedy from Netflix, and like many teen comedies before it comes to an end with a love triangle and a reunion between mother and daughter. In the Mindy Kaling co-created series, it is Devi (played by Maitreyi Ramakrishnan) who makes up with mother Nalini (Poorna Jagannathan) while trying to decide between Ben (Jaren Lewison) and Paxton (Darren Barnet).
At the start of Never Have I Ever Episode 10, titled "...said I'm sorry," things are bad between Devi and Nalini. The former is staying at the house of Ben after she fought with her mother, who wanted to move them to India. If this was not enough turmoil for Devi to be going through, she is also being given the cold shoulder from Paxton after the pair of them kissed.
With Nalini's dead husband (and Devi's dad) Mohan's birthday coming u[, Nalini visits Devi's therapist and breaks down over the fights she and her daughter have had. After this emotional breakthrough, Nalini asks Devi if she will help her scatter Mohan's ashes.
She agrees to help, but misunderstands the situation, thinking that Nalini wants to scatter the ashes just to get rid of them before they move. Devi even asks Ben's father if she can emancipate her from her mother so she can stay in America.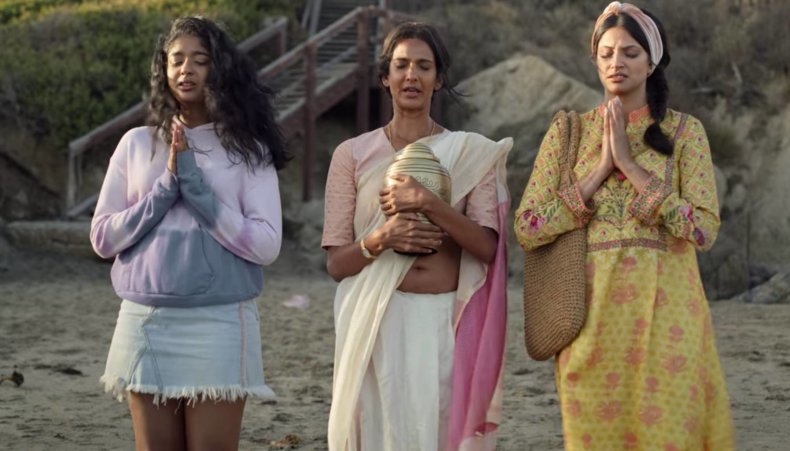 Worried about her, Ben talks to Devi's best friends Eleanor (Ramona Young) and Fabiola (Lee Rodriguez). They then advise Devi to agree to scatter her father's ashes.
In the Never Have I Ever finale, this leads to Ben and Devi heading to Malibu to meet with Nalini. Ben's bad driving nearly makes them late, but Devi eventually makes it, and mother and daughter make up on the beach and then they and Devi's cousin Kamala (Richa Moorjani) say goodbye to Mohan.
All this time, Ben has been waiting in the car, where Devi finds him sleeping. This makes her realize her feelings for Ben who, unlike Paxton, is always there when she needs him. As the pair start to embrace, she gets a voicemail from Paxton who seems to have changed his mind and is ready to take the relationship further.
This seems to set up a major love triangle for Never Have I Ever Season 2, with Devi trying to choose between the kind and dependable Ben and Paxton, the aloof crush of her dreams.
However, that love triangle may meet a major roadblock due to Nalini's plans to move the family. Though mother and daughter have made up, the plan to move to India seems to still be on the cards.
Although it is likely that the show will find some way to keep Devi in America for Season 2 if the show is renewed, this could set up another season whether the Netflix series spends at least some of its time in India, with the very American Devi trying to find her feet in an unfamiliar country.
Never Have I Ever is streaming now on Netflix.