'Never Have I Ever' Cast: Who Stars in Season 2 of the Netflix Drama?
Never Have I Ever season two is holding onto its top spot on the Netflix Top 10 worldwide. The second series saw supermodel Gigi Hadid join the cast as Paxton's (played by Darren Barnet) inner monologue, alongside legendary tennis player John McEnroe who takes on the role of Devi's (Maitreyi Ramakrishnan) inner voice and Andy Samberg who voices Ben (Jaren Lewison).
There are also some other new faces in the cast alongside the series regular cast. Newsweek has everything you need to know about the cast of the much-loved series.
Who is in the cast of 'Never Have I Ever' Season 2?
Devi—Maitreyi Ramakrishnan
Maitreyi Ramakrishnan is back as Devi Vishwakumar in Never Have I Ever season two.
The second series of Never Have I Ever will see Devi as part of a complicated love triangle featuring Paxton (Darren Barnet) and Ben (Jaren Lewison).
Never Have I Ever is Ramakrishnan's first major TV role, having been picked by show creator Mindy Kaling out of 15,000 people who applied for the open casting call.
It was recently announced Ramakrishnan would star in the upcoming Netflix romantic comedy The Netherfield Girls.
Paxton—Darren Barnet
Darren Barnet returns as Devi's high school crush, Paxton, in the second series of Never Have I Ever.
Never Have I Ever is Barnet's biggest role to date, but viewers may recognize him from several small roles in huge television shows including Criminal Minds, This Is Us, Agents of SHIELD, and Family Reunion.
He is also well known for playing Grant in American Pie Presents: Girls Rules and Tag in the film Love Hard.
Ben—Jaren Lewison
Jaren Lewison stars as Devi's enemy-turned-love-interested Ben in season two of Never Have I Ever.
At the end of season one, Nevi got surprisingly close to Ben and the frenemies even shared a kiss.
Never Have I Ever is Lewison's biggest role so far, but you may recognize him from the television movies Away and Back and Bad Fairy.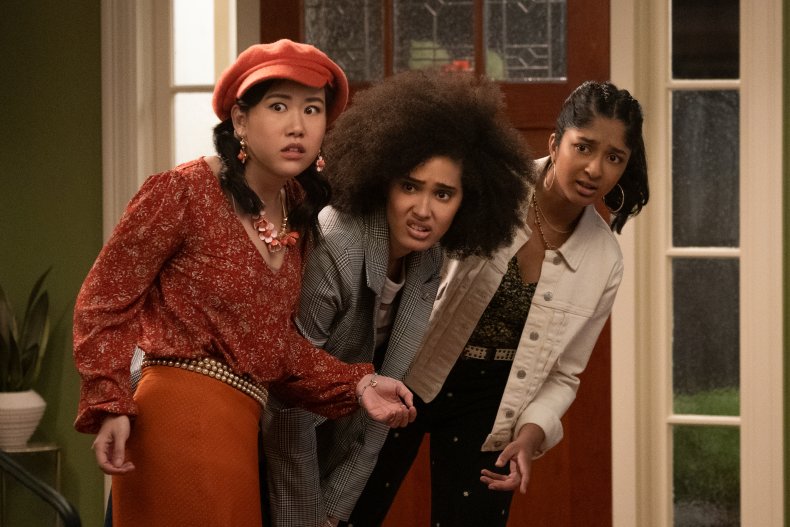 Nalini—Poorna Jagannathan
Poorna Jagannathan is back as Devi's mother Nalini in Never Have I Ever season two.
In season one, Nevi set out to rebuild her relationship with her mother after a huge family fight over a potential move to India.
Jagannathan is best known for her role as Safar Khan in The Night Of and Elizabeth Vogel in Defending Jacob.
Her other recent credits include Messiah, Big Little Lies, and The Act.
Kamala—Richa Moorjani
Richa Moorjani stars as Devi's cousin Kamala in Never Have I Ever season two.
She has had guest roles in several television shows including The Mindy Project, NCIS: Los Angeles, and 9-1-1.
Eleanor—Ramona Young
Ramona Young stars as Eleanor, one of Devi's best friends.
Young is best known for playing Angelica in Blockers and Mona Wu on Legends of Tomorrow.
Her other credits include Kaya on Z Nation, Allison on The Real O'Neals, and Ramona on Santa Clarita Diet.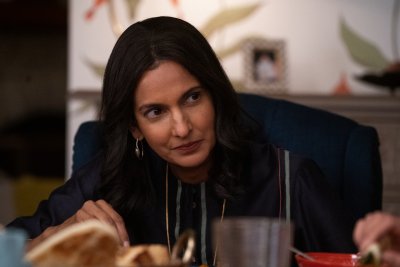 Fabiola—Lee Rodriguez
Lee Rodriguez takes on the role of Fabiola, Devi's other close friend.
Rodriguez is an up-and-coming actor whose other credits include Class of Lies and Grown-ish.
Dr. Chris Jackson—Common
Rapper and actor Common joins the cast of Never Have I Ever as Dr. Chris Jackson, a dermatologist who is Nalini's love interest.
Common is best known for appearing in the 2014 film Selma, in which he portrayed civil rights movement leader James Bevel.
He also won the 2015 Golden Globe Award for Best Original Song and the Oscar for Best Original Song for "Glory," co-written and performed with John Legend, which featured in Selma.
His other well-known film credits include John Wick: Chapter 2, Date Night, Run All Night. Rex and Smokin' Aces.
Dr. Jamie Ryan—Niecy Nash
Comedian and actor Niecy Nash is back as Dr. Ryan, Devi's therapist in Never Have I Ever season two.
Nash is best known for playing Raineesha Williams in Reno 911! and Denise 'DiDi' Ortley in Getting On.
Mr. Kulkarni—Utkarsh Ambudkar
Utkarsh Ambudkar plays the role of Mr. Kulkarni, Devi's favorite teacher.
Utkarsh Ambudkar is an actor and rapper, best known for appearing in The Mindy Project, Pitch Perfect, and Key & Peele.
He will appear in the upcoming U.S. remake of Ghosts as Jay. He will appear alongside Rose McIver, Danielle Pinnock, Asher Grodman, Richie Moriarty, Sheila Carrasco, and Román Zaragoza.
Aneesa—Megan Suri
Megan Suri stars as Aneesa, a new student at Sherman Oaks High who is Devi's rival.
Never Have I Ever is Suri's biggest acting role to date but you may recognize her from Atypical and Fresh Off the Boat.
Malcolm—Tyler Alvarez
Tyler Alvarez takes on the role of Malcolm, a former Disney star who becomes a student at Sherman Oaks High.
Viewers may recognize Alvarez from his role as Diego Ruedo in Every Witch Way and Benny Mendoza in Orange Is the New Black.
His other credits include American Vandal, Fresh Off the Boat, and Veronica Mars.
Never Have I Ever seasons 1 and 2 are streaming on Netflix now.