Megan Suri Age, Instagram and Career of 'Never Have I Ever' Cast Member
Megan Suri is one of the several new cast members starring in season 2 of Netflix's Never Have I Ever. She entered the world of Devi Vishwakumar (played by Maitreyi Ramakrishnan) alongside Gigi Hadid, Common, Lee Rodriguez, Tyler Alvarez, Utkarsh Ambudkar, P.J. Byrne, and Ranjita Chakravarty. Newsweek has everything you need to know about Megan Suri including her age, Instagram, career, and more.
Who is Megan Suri?
Megan Suri, 22, stars as Aneesa Qureshi in Netflix's Never Have I Ever.
Aneesa is a new student at Sherman Oaks High and quickly catches the eye of Devi's former flame Ben (Jaren Lewison).
She finds herself caught in the middle of Devi's love triangle with Ben and her high-school crush Paxton (Darren Barnet).
Speaking to J-14, Suri shared she was Team Paxton "just so that Devi stays with him", wanting Aneesa to have Ben all to herself.
She added: "Honestly, I've gotta go with Team Paxton in season two.
"Not because of Paxton but because of the simple fact that Davi chose herself and Paxton came along. It wasn't like the season 1 Devi where she was chasing after Paxton, hoping he'd give her the time of day. So, Team Paxton for that reason."
Megan Suri's Instagram
You can follow Megan Suri on Instagram at @megansuri.
A quick scroll through her Instagram will tell you she is partial to a few selfies, showcasing her work and behind-the-scenes pictures.
Taking to Instagram in November 2020 to celebrate joining the cast of Never Have I Ever, Suri posted a screenshot of the Deadline article confirming the news. She captioned the picture: "IT'S THE DOPE WAY TO END THIS INSANE YEAR FOR ME
"So excited to be joining the amazing cast and production of @neverhaveiever for season 2 - and for you all to meet Aneesa! I'm feeling the love heavily already and am incredibly grateful for everyone who has made this possible.
"Also, hey guys, dreams DO come true; Don't stop chasing them even as crazy as they may seem!!! #NeverHaveIEver."
You can also follow Suri on Twitter @megansuri where she has been tweeting about the new series of Never Have I Ever and the fan's reaction.
Ahead of the show's premiere, Suri tweeted she was "filled with gratitude" and share her excitement for viewers to meet Aneesa.
She tweeted: "Idk what to feel but right now, I am mostly filled with gratitude. So excited for u all to meet Aneesa & to watch the new season.
Thank U to this cast, crew, Netflix & of course, the sweet fans. It's all been an absolute dream. @neverhaveiever S2 is ALMOST HERE."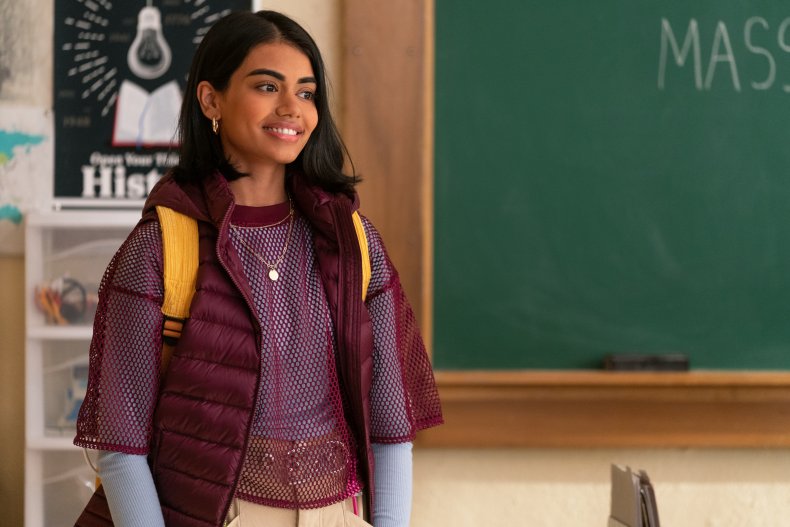 Megan Suri's Career
Outside of Never Have I Ever, Suri is best known for her role as Quinn in the first two seasons of Netflix's Atypical.
In Atypical, she starred alongside Kier Gilchrist, Brigette Lundy-Paine, and Nik Dodani.
Suri is also well known for her role as Samira in The Brink, starring opposite Jack Black, Pablo Schreiber, and Tim Robbins.
Her first major acting role was as Rani in the film Valentines Day which was released in 2010.
In Valentines Day, she appeared alongside some major Hollywood stars including Julia Roberts, Jennifer Garner, Patrick Dempsey, and Anne Hathaway.
She recently starred in the lead role of Bindu Chaudry in the 2020 film The MisEducation of Bindu and has just wrapped filming on the TV Movie Under the Bridge.
Suri will star in the horror film Searching 2 as Veena, which is currently in production.
She has also had appeared in small roles in numerous TV series including 13 Reasons Why, Dramarama and Guidance.
Suri also appeared in episodes of Bones, Speechless and Modern Family.
Suri has also performed in a Cirque du Soleil show, the renowned Montreal-based entertainment company.
At the moment, Netflix has not announced whether Never Have I Ever will return for a third series but hopefully, Suri will be back as Aneesa if so.
Never Have I Ever seasons 1 and 2 are streaming on Netflix now.