'Never Have I Ever' Season 2 Netflix Release Date, Cast, Trailer, Plot
Never Have I Ever took the world by storm when it landed on Netflix in April 2020. The coming-of-age comedy-drama, created by Mindy Kaling and Lang Fisher, follows the story of Devi (Maitreyi Ramakrishnan) through high school and she grieves the loss of her father.
The series was seen as a watershed moment for South Asian representation in Hollywood and received positive reviews from critics when it landed. It is no surprise the show is back for a second outing.
Newsweek has everything you need to know about Never Have I Ever including release date, cast, trailer, plot, and more.
When is 'Never Have I Ever' season 2 out on Netflix?
There is good news for fans of Never Have I Ever. The coming-of-age comedy-drama series is coming to screens very soon. Season two of the show will premiere on Thursday, July 15 on Netflix worldwide.
All 10 episodes will drop in one go, which means fans will be able to stream and download the new series over the weekend.
Creator and star Mindy Kaling announced the release date via her personal Instagram.
Alongside a photo of the script for season two, episode one, Kaling wrote: "I was 8 months pregnant in quarantine during the hottest summer ever when I wrote this. I write in bed and my belly almost covered the laptop. It was so fun to disappear into the world of these fun Sherman Oaks teens! I can't wait for you guys to see it on July 15th!"
To watch Never Have I Ever, you must be a Netflix customer. You can subscribe to Netflix now for $8.99 per month.
Netflix also has a download option which means you can watch episodes of Never Have I Ever on the go via the Netflix app.
Who will star in 'Never Have I Ever' season 2?
The entire main cast will be back for the second season of Never Have I Ever on Netflix. This means Maitreyi Ramakrishnan is back as the show's main character, Devi Vishwakumar.
Fans will also be reunited with Devi's mother, Nalini, played by Poorna Jagannathan, and her cousin Kamala, played by Richa Moorjani. Ramona Young and Lee Rodriguez will be back as Devi's best friends Eleanor and Fabiola.
Fans will also be over the moon to hear Devi's high school crush Paxton, played by Darren Barnet, returns alongside her enemy-turned-love-interest Ben, played by Jaren Lewison. Sendhil Ramamurthy will return as Devi's late father, Mohan, appearing in flashbacks throughout the second series.
Four new faces are joining the cast of Never Have I Ever season two including Megan Suri, Tyler Alvarez, Utkarsh Ambudkar, and P.J. Byrne. Rapper Common joins the cast as Dr. Chris Jackson, a dermatologist who is Nalini's love interest.
What will happen in 'Never Have I Ever' season 2?
The second series of Never Have I Ever will see Devi continue to navigate her way through high school, friendships and romance. Fans can expect to see a love triangle on the cards in the new series.
At the end of season one, Nevi got surprisingly close to her former enemy Ben (Jaren Lewison) and the pair even shared a kiss in the season finale. The second series will see Nevi explore her feelings for Ben and her lifelong crush, Paxton (Darren Barnet).
Nevi also reconciled with her mother, Nalini (Poorna Jagannathan), after a huge family fight over a potential move to India. Elsewhere, her mother may have a chance at love again after crossing paths with an irresistible dermatologist, Dr. Chris Jackson.
The official synopsis for the new series reads: "Indian American teenager Devi (Maitreyi Ramakrishnan) continues to deal with the everyday pressures of high school and drama at home, while also navigating new romantic relationships."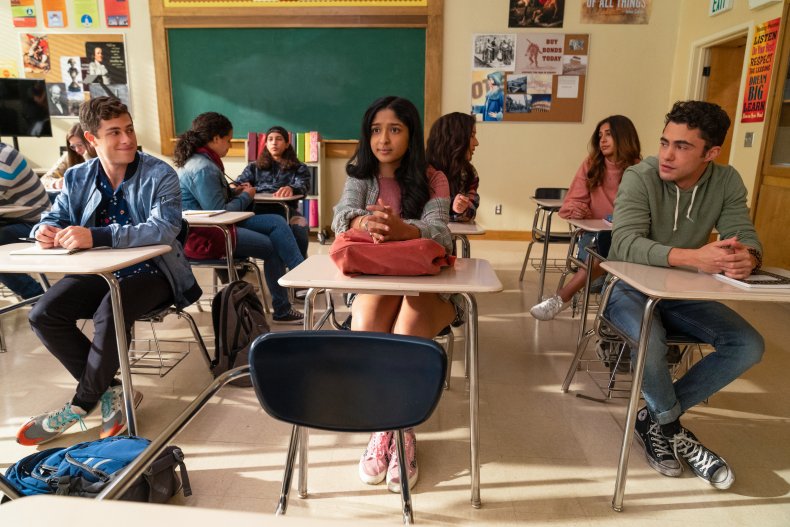 Is there a trailer for 'Never Have I Ever' season 2?
No, there is no trailer for Never Have I Ever season two on Netflix—yet. Netflix has teased a "fan-focused trailer event" on Thursday, June 17 which will feature games, a fan Q&A and clips from the new series.
The full-length trailer will then premiere at 8 p.m. PT after the Never Have I Ever event has ended. In the meantime, the entire first series is available to stream and download on Netflix now.
Never Have I Ever season 2 premieres Thursday, July 15 on Netflix.