'Never Seen Anything Like It': Troopers Amazed Woman Walks Away From Flattened Car
Washington State Patrol troopers are at a loss for words as to how a local woman walked away from a seemingly unsurvivable car accident with only minor injures.
Trooper Rocky Oliphant, who responded to the accident Tuesday in Mt. Vernon, Washington, stated that "It is nothing short of a miracle in my opinion, I don't know how [the woman] survived this."
"There is no explanation to why she's alive, let alone suffer minor injuries," Oliphant added, stating that he had never seen anything like it during his 14-year law enforcement career.
The 46-year-old woman was reportedly driving her Nissan Altima across the Skagit River Bridge when she was forced to slow down after the car in front of her slowed. The large semi-truck behind her, however, did not stop, and rolled on top of her Nissan, bending it in half and crushing the car into a mangled wreck.
By the time the dust settled, the semi-truck was sitting completely on top of the Nissan, and first responders feared the worst.
However, when law enforcement approached the remains of the car, they were astonished to hear the woman inside yelling for help, and seemed to be in stable condition apart from being stuck.
Oliphant described the shock of the initial trooper that approached the wreckage, saying, "he walked up, he walked around the car and he heard, 'Help!' and he said, 'Oh my goodness.'"
A tow truck was brought in to lift the semi-truck off of the Nissan, and the woman was able to clamber out to safety through a gap in the passenger window. Not only did she escape the vehicle, but Oliphant also added that "she was able to pull herself out with her own power, which is incredible."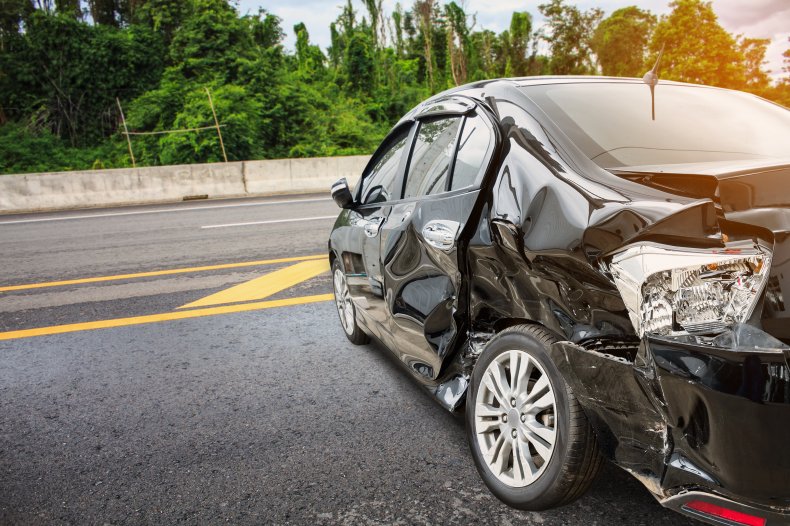 The woman received minor treatment at the scene and reportedly only had pain in her ribcage and head, but was otherwise unscathed.
The driver of the semi-truck was reportedly uninjured, and Oliphant stated that he was given a citation for following too closely behind.
Witnesses to the accident were just as dumbfounded as law enforcement, stating that they did not understand how anybody could survive such a collision.
Mike DeWitt saw the crash and described it as "just a loud bang."
"They're like there's no way, no way somebody survived that," DeWitt told KABC-TV, adding that he saw first responders rushing towards the scene as if under the impression there would be fatalities.
Following the accident, the entire roadway was closed to allow for cleanup and investigation, officials stated. However, both directions of traffic were reopened after a few hours.
Oliphant told Newsweek that he had reached out to the woman to see if she was interested in doing any interviews with the press, but she never replied to him.