'Nevermind' Album Cover 'Baby' Spencer Elden Sues Nirvana For Child Porn
The now 30-year-old man who was photographed as a naked baby on the cover of Nirvana's 1991 album Nevermind has filed a suit against the band and its record company, alleging they violated federal criminal child pornography laws and caused him to suffer "lifelong damages."
Spencer Elden alleges that his "identity and legal name are forever tied to the commercial sexual exploitation he experienced as a minor which has been distributed and sold worldwide from the time he was a baby to the present day," according to the complaint filed in Los Angeles federal court Tuesday.
The defendants, which include the former members of the grunge-rock trio, various record companies, art directors and others, "knowingly produced, possessed, and advertised commercial child pornography depicting Spencer, and they knowingly received value in exchange for doing so... Despite this knowledge, defendants failed to take reasonable steps to protect Spencer and prevent his widespread sexual exploitation and image trafficking," according to the suit.
Elden's lawyers also allege his parents never signed a release authorizing the use of the photos taken of their four-month-old baby and Elden received no compensation.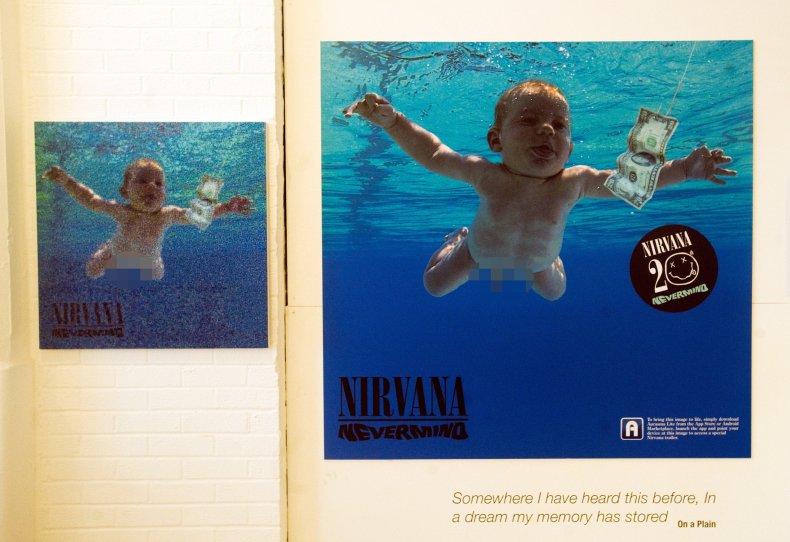 Photographer Kirk Weddle recalled being asked to shoot the album cover for the band in an interview with Time magazine back in 2015.
"I got a call from an art director, Robert Fisher, at Geffen. He was looking for a picture of a baby underwater and he was hoping I had one," Weddle said. "I didn't, and he kept searching and couldn't find one, so he called back and asked me to shoot the cover. It was a great concept, a baby underwater unable to breathe, going after money on a fishhook."
Weddle reportedly called his friend Rick, Elden's father, and asked if he could photograph his four-month-old baby son for the cover.
"[He] calls us up and was like, 'Hey Rick, wanna make 200 bucks and throw your kid in the drink?,'" Rick Elden told NPR in a 2008 interview. "I was like, 'What's up?' And he's like, 'Well, I'm shooting kids all this week, why don't you meet me at the Rose Bowl, throw your kid in the drink?' And we just had a big party at the pool, and no one had any idea what was going on!"
The shoot reportedly lasted just 15 seconds and Elden's parents were paid $200. A fish hook with a dollar bill was later added digitally to the image.
After the album's successful 1991 release, the cover image became one of most recognizable album covers of all time. The album includes songs like "Smells Like Teen Spirit" and "Come as You Are", selling more than 30 million copies worldwide.
However, the lawsuit contends that the album cover photo suggests a "sex worker grabbing for a dollar bill" and Weddle "activated Spencer's 'gag reflex' before throwing him underwater in poses highlighting and emphasizing Spencer's exposed genitals" in order to "trigger a visceral sexual response from the viewer."
The suit continued to allege that the defendants "used child pornography depicting Spencer as an essential element of a record promotion scheme commonly utilized in the music industry to get attention, wherein album covers posed children in a sexually provocative manner to gain notoriety, drive sales, and garner media attention, and critical reviews."
As a result, Elden "has suffered and will continue to suffer lifelong damages," according to the complaint. The suit seeks either $150,000 from each of the 17 defendants or unspecified damages to be determined at trial.
Over the years Elden has appeared to show mixed responses in relation to his image being featured on the cover from such a young age.
In 2016, the Los Angeles-based artist recreated the iconic album cover on the 25th anniversary of the album's release, posing underwater in a lap pool at The Rose Bowl Aquatics Center in Pasadena, California.
"I said to the photographer, 'Let's do it naked.' But he thought that would be weird, so I wore my swim shorts," Elden told the New York Post at the time. "The anniversary means something to me. It's strange that I did this for five minutes when I was 4 months old and it became this really iconic image... It's cool but weird to be part of something so important that I don't even remember," he added.
He also sports a large tattoo with the word "Nevermind" on his chest.
However, Elden also reportedly looked into pursuing legal action against Geffen Records years ago but was unsuccessful. "It's hard not to get upset when you hear how much money was involved," he told Time back in 2016. "[When] I go to a baseball game and think about it: 'Man, everybody at this baseball game has probably seen my little baby penis,' I feel like I got part of my human rights revoked."