New 2023 BMW 7 Series Is a Lesser Rolls-Royce Phantom
Broad, bold design, powerful powertrains, and a refined sense of luxury propel the new, seventh-generation BMW 7 Series to the forefront as one of the most luxurious new models coming to market this year.
BMW will sell the latest iteration of the luxury large car in three versions: 740i, 760i xDrive, and i7 xDrive60. The first two are powered by gasoline engines and the third is an all-electric model.
The differences extend further than the powertrain. The 2023 BMW 740i and 2023 BMW 760i xDrive have different fasciae as well.
Its look is anchored by a vertically prominent kidney grille that takes its origins from the reinterpretation of the classic look that debuted on the 4 Series a few years ago. An illuminated grille surround is available.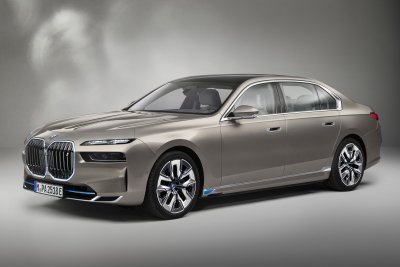 Anchoring the grille are split headlights, which integrated fully into the fascia alongside air curtains that allow the car to slip better through the air, says BMW. Adaptive headlights are standard. Buyers can upgrade their 7 Series to have headlights that feature Swarovski crystals paired with 22 LED lights.
A welcome and goodbye illumination sequence utilizes a variety of lights to acknowledge key holder actions.
The body sides and C-pillar of the car give it grand proportions that echo that of a Rolls-Royce Phantom. A long hood and flush door panels up the elevated appeal. Rolls-Royce and BMW are brands both under the BMW Group umbrella.
BMW has created the new 7 Series to be wider, taller, and longer than its predecessor, allowing for more passenger and cargo space.
Automatic doors are available. They are capable of being opened and closed by touch or by using the key fob.
Buyers can order their new 7 Series in their choice of one non-metallic or 10 metallic colors. A two-tone paint job is available.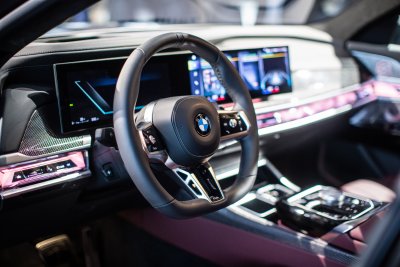 The BMW 740i comes powered by an updated version of the automaker's twin-turbocharged 3.0-liter six-cylinder engine. Opting for the BMW 760i xDrive gets buyers access to the power of a twin-turbocharged 4.4-liter V8 engine. Both engines are paired with an eight-speed automatic transmission.
BMW has installed mild-hybrid 48-volt technology in both of the gasoline-powered cars. This allows for less fuel sipping when taking off and maintaining speed, two functions that cause less than ideal gas mileage in any engine.
The all-electric i7 variant is propelled by two electric motors that have a combined output of 536 horsepower and 548 pound-feet of torque. The car sprints from zero to 60 miles per hour in 4.5 seconds. BMW estimates that the car will have a range of up to 300 miles on a full charge.
New technology allows for hands-free driving at speeds up to 80 miles per hour.
Buyers can order their new 7 Series in their choice of one non-metallic or 10 metallic colors. A two-tone paint job is available.
BMW designers have lessened the number of buttons in the cockpit and added a large digital display that features a 12.3-inch instrument cluster and 14.9-inch infotainment system display screen. The new BMW Interaction Bar debuts on the 7 Series and embeds the controls typically relegated to buttons into a touch-sensitive panel that spans the dashboard.
The steering wheel and gear selector are also fresh, with new haptic feedback experiences, scroll wheels and rocker switches. Each model's iDrive Controller, start/stop button, volume control, and vehicle function controls are located between front row occupants.
Rear seat passengers get access to a 5.5-inch color touch screen display on each door that allows them to adjust a variety of entertainment, climate control, seat adjustment, lighting and sunshade functionalities.
Quad-zone automatic climate control and radiant heat, which heats a variety of door and seating adjacent surfaces are available.
A panoramic glass room and comfort seats are standard for rear seat passengers. Executive Lounge seats are available.
BMW offers a variety of materials wrapped around the 7 Series cabin's surfaces. Veganza material is standard on the BMW 740i while Marino leather and cashmere are available. An Alcantara headliner, open pore woods, and gloss trims complete the look.
Buyers can opt for a 31-inch BMW Theater Screen for rear passengers that has built-in Amazon Fire TV and 8K resolution. The screen folds into the roof when not in use.
An 18-speaker Bowers & Wilkins Diamond Surround Sound system is available and pairs with the rear entertainment screen to provide an immersive entertainment experience.
The German automaker is installing its latest safety and driver assist features on the new model, including those that use augmented reality to better achieve informed and safe driving, BMW says.
The 2023 BMW 7 Series starts at $93,300 for the 740i. The 760i xDrive60 has a starting MSRP of $113,600. Opting for the i7 xDrive60 will set a buyer back at least $119,300. All models have an attached $995 destination and delivery fee that is not included in the MSRP.
This pricing is similar to the Mercedes-Benz S-Class and EQS all-electric luxury sedan, the models' biggest rival. Purchasing a Rolls-Royce Phantom is likely to set a buyer back four times as much as the new 7 Series.
The 2023 BMW 7 Series will launch in the U.S. in late 2022. Pre-orders open April 20.