New Ad Calling on Trump to Protect Dreamers Will Air During 'Fox And Friends'
A new ad campaign demanding President Donald Trump protect Dreamers (undocumented residents who were brought to the U.S. illegally as children) is reportedly set to air where it is most likely to catch the U.S. leader's attention—during the cable show Fox and Friends.
The ad campaign, which reportedly cost six figures, was launched just a day before the March 5 deadline the president had given lawmakers to fix the Deffered Action for Childhood Arrivals (DACA) program in a joint effort by the American Civil Liberties Union (ACLU) and United We Dream.
The ad features footage of Trump's previous promise to "deal with DACA with heart. Because, you know, I love these kids."
Immediately following the video of Trump, the ad diverts to images of Dreamers overlaid with the words: "Trump, time to show the love. Millions of lives are at stake."
"You killed DACA. Then you derailed 3 bipartisan plans to fix it," the ad continues. It calls on the president to not "deport immigrant youth" and "fix what you broke before it's too late."
The ACLU told broadcaster KTLA5 it plans to buy commercial time during Fox and Friends, which Trump is known to watch often, quoting and commenting on the show frequently on social media.
While the ad campaign has been coordinated to launch ahead of Monday's DACA deadline, the March 5 deadline has lost much of its meaning after a January federal court ruling determined the Trump administration had not justified its decision to end the program.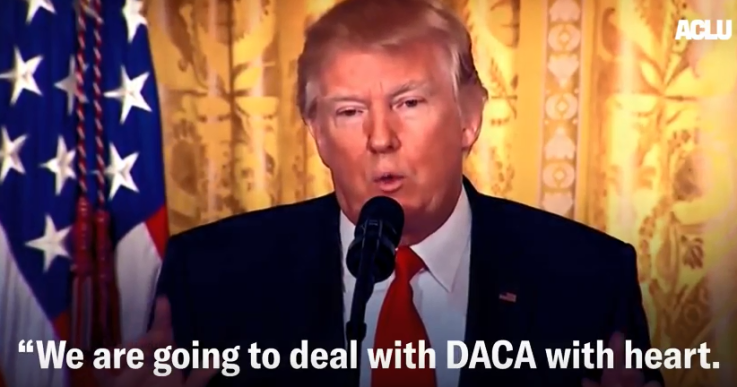 The U.S. Supreme Court also refused to hear an appeal by the Trump administration on the ruling, made by San Francisco District Judge William Alsup, without it having been heard first by a lower appeals court.
The court process could take months, which effectively leaves Trump's decision to end the DACA program tangled up in the legislative process for the time being.
In an online statement, the ACLU said: "Last September, President Trump rescinded the DACA program and threw the lives of 800,000 Dreamers into chaos. Since then he has failed to produce a solution to the crisis that he created and has repeatedly held Dreamers hostage in an attempt to advance a hardline anti-immigrant agenda."
"Enough is enough," it added. "On the eve of President Trump's manufactured DACA deadline, we are going to The White House to remind him of his responsibility to Dreamers across the country whose futures remain uncertain. Now is the time for Trump to keep the promise he made to Dreamers if Congress failed to take action," the ACLU said, quoting the president on his vow: "If they can't, I will revisit this issue!"
The president has yet to respond to the ad campaign.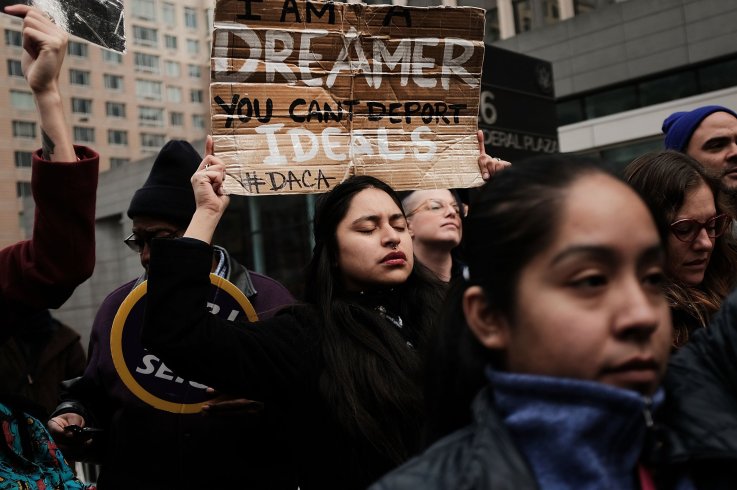 He has hit out at Democrats in recent weeks, however, alleging that they are "no longer talking DACA."
"Dems are no longer talking DACA!," he tweeted on February 24. "'Out of sight, out of mind,' they say. DACA beneficiaries should not be happy. Nancy Pelosi truly doesn't care about them. Republicans stand ready to make a deal!"
The comments come after the U.S. Senate rejected four immigration proposals last month, including one backed by Trump, leaving the fate of hundreds of thousands of Dreamers in limbo.
Read more: What DACA Supreme Court ruling means for Dreamers' futures
Two of the deals would have offered some of the 1.8 million Dreamers a pathway to citizenship in exchange for $25 billion spent on border security.
Since then, there has been little action taken to end uncertainty for beneficiaries of the DACA program, especially with the March 5 deadline rendered meaningless.
However, activists and immigration advocates are still marking March 5 with demonstrations and campaigns, including the ACLU and United We Dream ad campaign.
The next government funding deadline falls on March 23, which could be an opportunity for lawmakers to once again use the threat of a government shutdown as leverage for passing a new deal on DACA.
A brief shutdown in January ended after three days when Democrats compromised on a short-term spending measure to re-open the federal government with the promise of continued talks around DACA.
New Ad Calling on Trump to Protect Dreamers Will Air During 'Fox And Friends' | U.S.