In New Ad, Roy Moore Claims He Was a Victim of a Smear Campaign Like Clarence Thomas, Brett Kavanaugh
In an ad for his second try at a U.S. Senate seat, former Alabama Chief Justice Roy Moore declared that he was the victim of a "smear campaign," similar to those allegedly run against Supreme Court Justices Clarence Thomas and Brett Kavanaugh.
The video opens with onscreen text reading, "In the modern era, political smear campaigns are not new. In 1991, Justice Clarence Thomas was smeared." This is followed by footage of Thomas testifying before the Senate in 1991, after being accused of sexually harassing Anita Hill.
The footage cuts to Moore speaking at a press conference, calling the accusations against himself "fake news."
"In 2017, they smeared Judge Roy Moore," onscreen text says. This refers to multiple allegations that Moore sexually harassed and molested several teenage girls in his thirties, which he denied.
"A few months later, in 2018, it was tried against Justice Kavanaugh," the chyron concludes, before cutting to footage of Speaker of the House Nancy Pelosi describing a "wrap-up smear." The footage of Pelosi previously went viral among conspiracy theorists after it was miscaptioned to make it seem that Pelosi was describing a tactic Democrats used to prevent Kavanaugh from being confirmed. In the original clip, Pelosi was actually talking about Republicans using smear tactics.
"Smear can be defeated when good people take a stand," the screen reads. The footage then switches to individuals speaking out against the allegations pressed against Kavanaugh, including Senator Lindsey Graham and Steve Bannon.
The ad then switches focus to Project Birmingham, a group which was accused of spreading false information information during the 2017 Senate race by using tactics similar to Russian actors in 2016 to allegedly manipulate the campaign against Moore. In the NPR article cited in the video, Washington Post reporter Craig Timberg says that there has been no connection proven between Project Birmingham and Moore's democratic opponent, Doug Jones.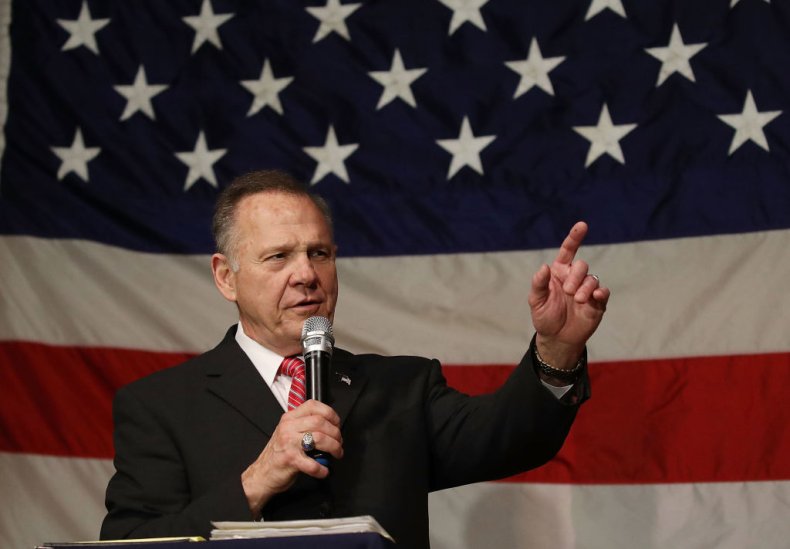 "They're angry, they're tired. After Kavanaugh's revelations came out and after Kavanagh survived them, they realized and they saw through what had happened to me," says Moore at footage from a press conference.
"To those Alabamians who are among the 652,000 that stood with Roy Moore in 2017... you have the establishment's attention," the ad concludes. "Stand up and let your voice be heard again."
In 2017, Roy Moore lost his bid for election against Democrat Doug Jones after he was accused by Leigh Corfman, Beverly Young Nelson and Tina Johnson of sexual assault. Corfman alleged she was 14 and Moore 32 when her assault took place; Young Nelson said she was 16 and Moore 30; Johnson said she was 28. Allegations also surfaced that Moore had been banned from the Gadsden Mall for attempting to pick up teenage girls.
Moore filed a defamation suit against Corfman and four other individuals in April of 2018. In July 2019, a judge put Moore's suit on hold until another defamation case from one of Moore's accusers against him was resolved.