Megan Thee Stallion, Mandy Moore and More Release New Albums: What You Should Listen to Today
There's a staggering amount of new music released every Friday—so much so that it can be overwhelming to try and keep up. Luckily, we're here to help. Every week, Newsweek will highlight a handful of albums that are hitting streaming services, so you can always be up to date on the most exciting new releases.
Megan Thee Stallion, Suga
After some public back-and-forth with her record label (1501 Certified Entertainment), Megan Thee Stallions has released her proper debut album, Suga. In an Instagram Live video on March 1, the Texas rapper said that the terms of her contract were not clear when she signed with 1501 and that she was being prevented from putting out her new album. Soon after going public with her claims, Megan filed a lawsuit against 1501; a district judge in Texas then granted her a temporary restraining order, allowing Suga to be released. The head of 1501, Carl Crawford, has denied Megan's claims.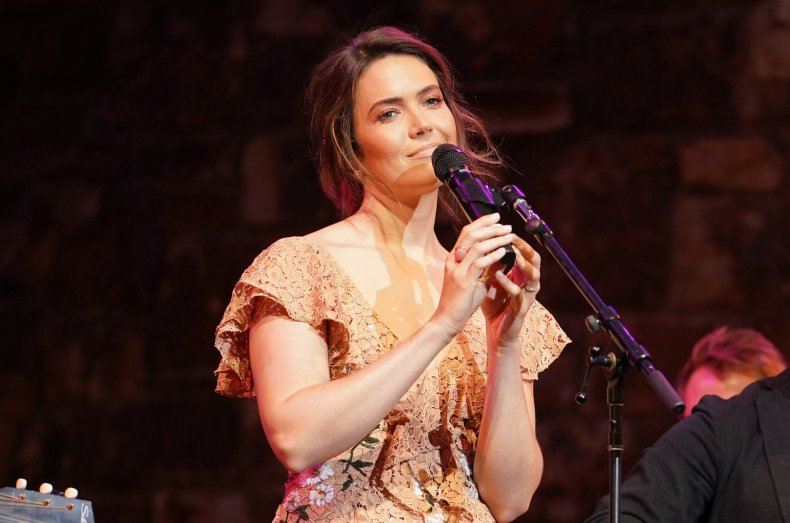 Mandy Moore, Silver Landings
Mandy Moore has returned to music. With Silver Landings, her first album in 11 years, the This Is Us star revisits the sort of contemplative songs that she began exploring with her self-titled third album, released back in 2001. The singer is introspective on songs that reflect on daily problems, like being too attached to a phone ("I'd Rather Lose"), and she immediately follows those stresses with a reminder to be kind to oneself ("Save a Little For Yourself"). Standout single "Fifteen," meanwhile, has Moore looking back on her formative teen years and making peace with the bubblegum pop of her first two albums. "No regrets with a few exceptions/Every wrong turn was the right direction," she sings on the song's chorus. Welcome back.
U.S. Girls, Heavy Light
Peculiar-pop whiz Meghan Remy's seventh album under the U.S. Girls moniker is scathing and cautionary. Despite its bounce, album opener "4 American Dollars" is a satirical and harsh critique of societal obsessions with money. On the song's chorus, the Canadian artist reminds the person she's singing to that no matter how much money you make, everyone still dies. (Comforting!) Soon after, Remy uses the instrumentation on "Overtime" to exemplify that song's themes of addiction: The track's rhythmic base and the repeated backup vocals singing "Overtime" over and over highlight the cyclical nature of addiction, and the killer sax solo conjures the reckless abandon that an alcohol-fueled night entails.
Stephen Malkmus, Traditional Techniques
On his first folk album and latest solo effort without The Jicks, Stephen Malkmus processes modern tribulations through '60s-inspired folk-rock. Malkmus juxtaposes what he described to Newsweek as his "incense-drenched" psychedelic sounds with contemporary references to "Amazon wheatfields," "rivers of Red Bull" and "left bros parody[ing] TED talks." Elsewhere, the indie-rock elder statesman takes on the persona of a public defender on "The Greatest Own in Legal History." Despite hyping up his client, he might not be the best lawyer for his young defendant: "I can tell you I don't sleep that much/Faces of hegemony, if you really wanna bum out/I got spreadsheets on that stuff."
Jhené Aiko, Chilombo
Jhené Aiko called Chilombo a "free-flowing jam session" in a February Billboard interview and lead singles "Triggered" and "Happiness Over Everything" both encapsulate the laid-back nature that the R&B singer tried to create with the album. While recording in Hawaii, Aiko used sound bowls, which supposedly have healing powers, on every track to invoke certain chakras in listeners' bodies. But even on angrier songs like "Triggered," Aiko's voice has a sense of calm to it.
Hot Mulligan, you'll be fine
Michigan's Hot Mulligan mostly ditch whiny screams and rougher production on their third album, instead favoring streamlined pop-punk tracks like the infectious "Feal Like Crab." While the quintet still delivers many tapped-out riffs like an amped-up American Football, songs like "Digging In" and "BCKYRD" catch the band more in the spirit of the Warped Tour, rather than the basement shows that their first two albums sound like they were written for.
Disq, Collector
On their debut album, Wisconsin's Disq take unexpected turns with their gritty garage rock, shifting easily between slacker-chill riffs and frantic punk explosions. Album opener "Daily Routine" best encompasses the band's unpredictable nature: By building a simple riff into a howling bridge and an extended outro, vocalist Isaac de Broux-Slone finds panic in life's monotony. Tender songs like the romantic "D19" and self-reflective "I Wanna Die" add a bit more color to the album's raw suburban anthems, while the genre-bending instrumental "Fun Song 4" embraces electronic elements that sound like they could've come from a classic NES game.