Soccer Mommy, Caribou and More Release New Albums: What You Should Listen to Today
There's a staggering amount of new music released every Friday—so much so that it can be overwhelming to try and keep up. Luckily, we're here to help. Every week, Newsweek will highlight a handful of albums that are hitting streaming services, so you can always be up to date on the most exciting new releases.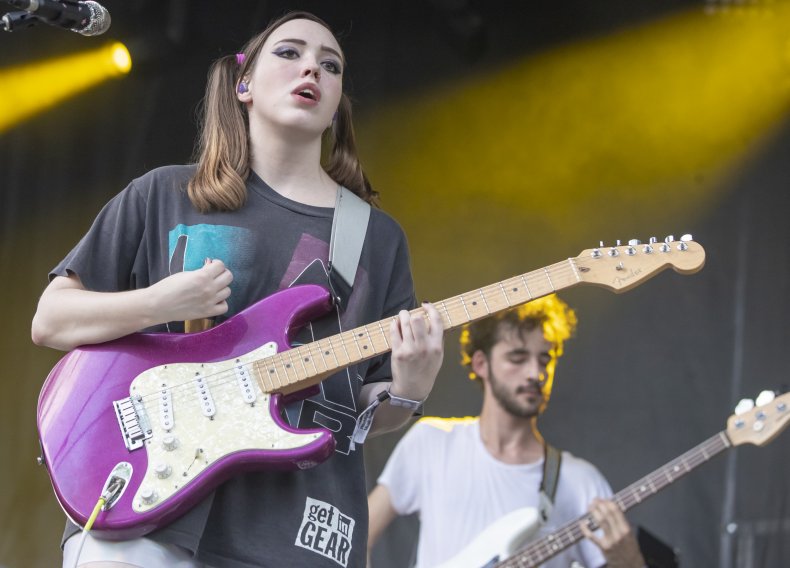 Soccer Mommy, color theory
Sophie Allison's third LP under the Soccer Mommy moniker sees the 22-year-old singer expand on her brand of thoughtful indie rock. While lead singles like "lucy" and "circle the drain" bare resemblance to the same hook-heavy persona established on 2018's Clean (Allison's fluent in early-2000s pop-rock), "yellow is the color of her eyes" is an atmospheric, seven-minute epic, one that expands the parameters of Soccer Mommy's sound.
Real Estate, The Main Thing
Real Estate find themselves leaning more into grooves than mellow jams on their latest album. "Paper Cup," which features Sylvan Esso, and title-track "The Main Thing" shake up the band's usually relaxed jangle-pop. Bassist Alex Bleeker recently told Apple Music that The Main Thing was an answer to the fact that he and his bandmates had gotten tired with the "toe-tappin' summer sounds of Real Estate, crack-another-beer, it's-so-chill thing." With slightly more distortion, the five-piece still offers relaxing music, but with a little more of a kick.
Caribou, Suddenly
On Suddenly, Dan Snaith offers more dreamy electronic music that listeners can drift off to. With intensely personal songs that discuss a family member's death, his father's health scare, and also the birth of his daughter, the singer-producer reflects on the turbulence of his life since he released 2014's Our Love. Lead singles like "Never Come Back" and "You and I" often shift from calming synths to semi-chaotic glitchy vocal samples. Even a track with lyrics as repetitive as "Never Come Back" goes through emotional shifts of anxiety and despair—even as Snaith sings, "And you never come back" over and over again.
Lil Baby, My Turn
The follow up to Lil Baby's 2018 mixtape Street Gossip, My Turn feels like something of a victory lap for the 25-year-old Atlanta rapper. By including "Catch the Sun" from the Queen & Slim soundtrack on the track list, as well as collaborations with Lil Wayne and Lil Uzi Vert, Lil Baby imbues the new album with a palpable sense of excitement. Despite the thrills, he does acknowledge that it's been a climb. "Work hard and determine, it's safe to say I earned it," he raps on the chorus to lead single "Woah."
Five Finger Death Punch, F8
Five Finger Death Punch's eighth album, to put it simply, shreds. Throughout F8's singles, the band combines elements of nu metal and metalcore. On "Inside Out," vocalist Ivan Moody alternates between rapping lyrics and howling choruses. Like a combination of Fred Durst and David Draiman, Moody swears to right those who have wronged him with the earnestness of a ticked-off teenager.
James Taylor, American Standard
Taylor's 20th album features the 71-year-old singer-songwriter reinterpreting songs from the American songbook. Accompanied by his guitar, the singer covers standards like M.K. Jerome and Jack Scholl's "Easy as Rolling Off a Log" and Billie Holiday's "God Bless the Child" in soothing arrangements, accompanied by an impressive backing band featuring strings, brass and woodwind players.
Correction 9:50 AM ET: An earlier version had listed Hot Mulligan's You'll Be Fine as a new album out February 28. It is out March 6.