New Allbirds Trail Runner SWT Shoes Go Off Road in a Natural Way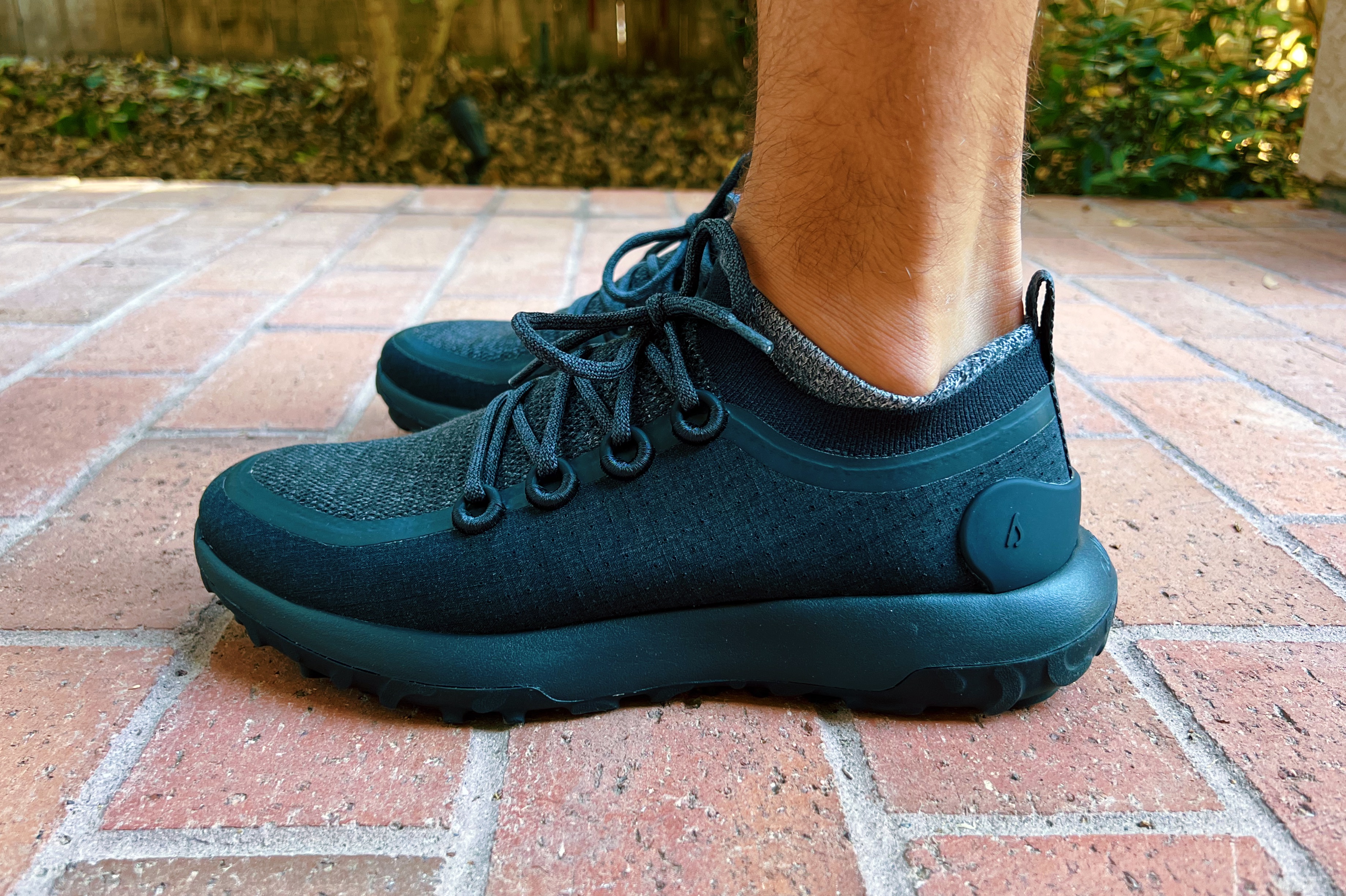 The sense that Allbirds' new Trail Runner SWT shoes are "made from nature for nature" is deeply ingrained into the product. That's because the shoes incorporate sustainable materials like ​​merino wool and Allbirds' proprietary SweetFoam, but also because these words are literally written into the sides of the midsoles.
With thick rubber nubs on the outsole for traction and a cushioned midsole for comfort, the Trail Runner SWT has a lot to offer feet traversing non-sidewalk ground. I took them out running on trails and can confirm that fans of Allbirds Tree Dashers will indeed be tempted by this off-road version.
TL;DR
Pros:
Thick, absorbing midsole
Water-resistant
Familiar Allbirds fit and feel
Cons:
Outsole lugs for traction may be too big for nontrail use
Buy at Allbirds.
Allbirds Familiar Fit
At the heart of the Trail Runner SWT is a familiar Allbirds fit and feel. I slipped on these new shoes, and the foot opening and sock-like knit fit felt incredibly similar to the Allbirds Tree Dashers road running shoes. Both shoes have a minimal amount of embedded eyelets for the thick laces. On the new Trail Runner SWT shoes, the upper is ripstop material made with merino wool and recycled poly for what Allbirds says is increased durability.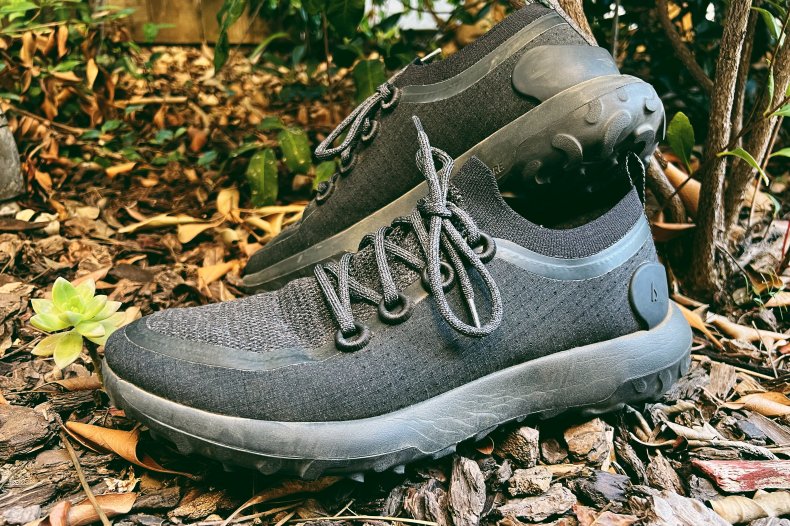 Obviously, these new shoes have a thicker midsole and the rubber lugs on the bottom change how the Trailer Runner SWT feel when walking around. They are a little clunkier than other Allbirds shoes. Allbirds also says their SweetFoam midsole can provide enough rebound without needing a plastic plate embedded inside.
The new shoes are purpose-built to navigate the outdoors, and they feel like it. While you could wear these around for general, daily use, I would be hesitant. Walking around the house, I found them to feel bulky, and it would be easier to trip from the extra outsole traction. Outside the house, however, I found them to be a worthy addition to the Allbirds' lineup.
Hiking and Trail Running
I took the Trail Runner SWT shoes camping and did some trail running to see how they performed. Overall, I am satisfied with the traction and comfort they provide. While running across dirt, rocks and uneven terrain, I never lost my footing. I also didn't feel like I needed to focus on how my feet landed on the different items littering the trail floor.
The thick midsole cushioned my feet from sharp objects, and no rocks were able to inflict pain. I compared these shoes directly against The North Face Flight Vectiv, which do have a carbon fiber plate. I preferred these SWT shoes because they weren't as stiff and seemed to still have enough bounce and energy return.
These Trail Runner SWT shoes are a bit heavier than Allbirds' road running counterparts, likely due to that thicker midsole. The weight wasn't enough for me to consider not wearing them out on a trail run, though.
Beyond running, I did plenty of walking in these shoes, too. That's a viable use for people with an active outdoor lifestyle. With a water-repellent exterior, extra rubber protection on the heel and an overall more rugged design, these could make a good hiking shoe, too. They don't provide any ankle support, but they are otherwise supportive.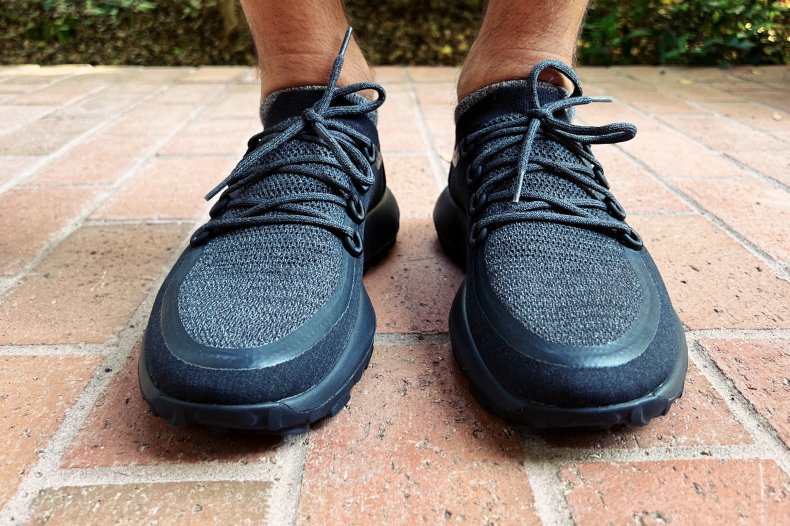 Should You Buy the Allbirds Trail Runner SWT Shoes?
The Trail Runner SWT is exactly the type of trail running shoe I would have guessed Allbirds would make at some point. And now that it's here, it performs as well as I would have hoped. It has that classic wool-lined interior with a supportive heel hook. It looks like a sustainable shoe from Allbirds, just with more traction and a thicker midsole.
In the time I spent with these new shoes off-road, I thought they did what they needed to do and let me run off the beaten path. The look and feel are a bit chunky, and the design might not be for everyone. But they do get the job done.
Buy at Allbirds for $138.
Newsweek may earn a commission from links on this page, but we only recommend products we back. We participate in various affiliate marketing programs, which means we may get paid commissions on editorially chosen products purchased through our links to retailer sites.